11 Sex Toys That Changed The Game In 2015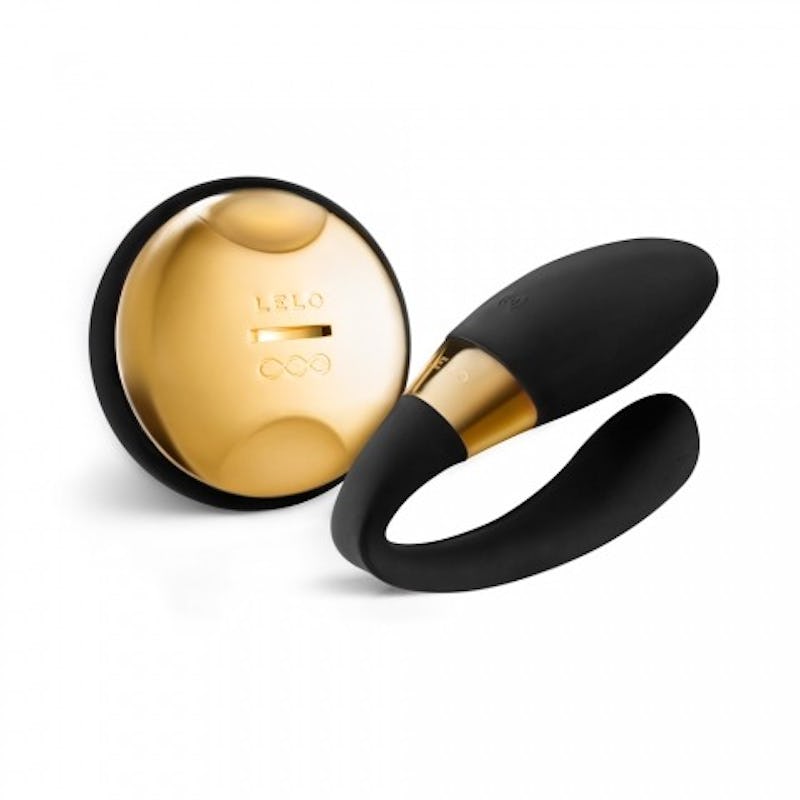 As we come to a close of yet another year, it's time to recap some of the revolutionary sex toys of 2015 — the ones that really changed the game of sex and masturbation. It was a wild year for sex technology. From the floating water vibrator, Gnarly Rider, to the couple's sex toy by LELO that offers breakup insurance should you and your partner split, these innovations show just how far and how mainstream, sex toys have come. It's awesome.
Sex toys are getting better, more customizable, and more innovative. And while you've already exchanged gifts for the holidays, it's never too late to get yourself or your relationship a sexy gift to guarantee even better orgasms in the next year. A vibrator, dildo, butt plug, couple's toy, or intro BDSM kit is like giving someone a book ― it's a gift that keeps giving and really never goes out of style. And these sex toy innovations are the best of the best — more high-tech, creative ways to get you off.
If you're ready to really upgrade your orgasms in 2016 — which is a perfectly acceptable New Year's resolution — check out these 11 game-changing sex toys from 2015.
1. Womanizer
Womanizer, $189, Babeland
Don't be fooled by its name. The Womanizer is groundbreaking. Created by a German inventor, the Womanizer is every clit's best friend, but not in the usual way that vibrators are besties with your clitoris. What the Womanizer does is create a suction while stimulating the clitoris with pressure waves of air, making it the only "PleasureAir stimulator" in the world, yes, THE WORLD.
Not only does this particular toy have a 75 percent orgasm rate, based on their internal research, but it even ups your chances at multiple orgasms. In the words of Liz Lemon, "I want to go to there," and you do, too.
2. 3Fap
3Fap, $49, Indie Go Go
Again we have a sex toy with a rather unfortunate name, but we can't judge a book by it's cover just like we can't judge a sex toy by its name. Although, to be clear the reason for the name, as the 3Fap Indiegogo site explains, "'Fap' is the onomatopoeic intransitive verb representative of the sound of male masturbation. Cows go 'moo', guns go 'bang', and jerking off goes 'fap fap fap'. It's actually the sound of your scrotum slapping against your upper thighs."
From Brian Sloan of Letsgasm, comes the 3Fap. The 3Fap allows anyone with a penis to put their favorite member into one of three holes: an anus, a mouth, or a vagina. Each hole is meant to mimic the sensation of when one puts their dick in, well, those aforementioned three holes.
3. LELO TIANI 24k
LELO TIANI 24k , $400, Lelo
This particular toy is for the couple who shares a love for the finer things in life, but also realize there's a good chance they won't be together forever. However, LELO believes that in having this sex toy in your relationship, you're not going to break up. Like, ever.
The LELO TIANI 24k isn't just made of gold and offers Couples Insurance should you and your partner break up within 12 months of purchasing it, but it's made so each partner can enjoy it when it's worn during intercourse. It also has a remote in case you want to play with it across the room.
4. Eva
Late last year, Dame Products turned to Indiegogo to get financial backing for their sex toy, Eva. Originally their goal was to get $50,000, with the promise that for every Eva sold, one dollar would be donated to fight female genital mutilation in West Africa. By the time 2015 rolled around, the women behind the invention had gotten enough money and Eva became a reality.
Eva is pretty extraordinary. It's not just a vibrator that you wear during sex, but Eva snuggly fits into place against your clitoris, making it hands-free. It also works if you're not having sex and are, say, just hanging out at home. With its three levels of intense vibrations, it should definitely be on your list.
5. Little Bird
Little Bird, $125, B Sensory
When the French do something, nine times out of 10, they do it very well. I mean, look at their cheese and wine selection for starters.
So in keeping with the theme that the French know what's up, comes the vibrator Little Bird and it's app, B.Sensory. Created by Christel Le Coq, Little Bird can be connected to erotic stories via the app on your phone, so you can read your Marquis de Sade, enjoy your vibrator, and not even feel like you're multi-tasking! Oooh la la, mon dieu!
Similar to Eva, Little Bird also got its start on Indiegogo, so if there's anything to learn here it's that crowdfunded sex toys are the way to go. They really break the mold, and that's what we all want.
It's available for pre-order now.
6. Bi Stronic Fusion
Bi Stronic Fusion, $220, Fun Factory
At first glance, the Bi Stronic Fusion might look like your regular ol' vibrator, but there's so much more than meets the eye. Where The Rabbit vibrator is known to stimulate the clitoris with its ears, the Bi Stronic Fusion, which is made from the highest quality body-safe silicone on the market, has wings that flutter against the labia for women who love to feel an overall sensation that encompass more of the vagina than just the clit or G-spot.
But while that is definitely a selling point, where this particular toy really stands out is that there are 64 ways in which you can enjoy pulsing or vibrating, either together or separately. Sixty-effing-four!
7. Hello Touch X
Hello Touch X, $123, Jimmy Jane
Earlier this year, Jimmyjane updated their Hello Touch vibrator with the Hello Touch X. Although it looks like something out of a sci-fi movie, don't let it frighten you. Worn as a bracelet of sorts, the Hello Touch X is connected to Pleasure Pods (that are worn on your fingers) to provide electrostimulation all over the body. According to Jimmyjane, E-stim has gone hand-in-hand with the S&M community since the 1980s. However, even if you've yet to submerge yourself into that world, it doesn't mean you can't give it a try. You just might find that E-stim is exactly what your sex life has been missing.
Side note: As Jimmyjane advises, if you have a metal IUD, definitely consult a doctor first, as we are dealing with electricity here.
8. LELO Hugo
Although many sex toys are geared toward women, why should men go without? They shouldn't! Enter: The LELO Hugo prostate massager.
The prostate is basically the G-spot on a man, so massaging it either manually or with a toy can only lead to a good time for your male partner. With its remote control, the LELO Hugo can be used either solo or with a partner, because who doesn't want to tease and titillate their partner's ass via remote from across the apartment?
9. Gnarly Rider
Gnarly Rider, $20, Gnarly
To be honest, when I first read about this one I muttered, "WTF," and figured the Gnarly Rider wouldn't have a chance in hell of getting the financial backing to make it a reality, but I was wrong. In fact, the Gnarly Rider, the silicone saddle that is strapped to a pool noodle for wet and wild fun, is now a nominee for the 2016 "O" Awards. The Gnarly Rider combines everything you could possibly want: Fun in the sun, orgasms, and a pool or ocean. According to the site, the "silicone saddle harnesses the unique benefits of floating combined with sexual stimulation."
Hey, it's not too early to be thinking about next summer.
10. Je Joue Ooh
Je Joue Ooh , $105, Babeland
When Je Joue released their mix and match line of vibrators, Ooh, it was pretty exciting stuff. Not only do you get to choose your colors, but the Ooh battery fits into the Ooh cock ring, the Ooh vibrator, which is great for both internal and external stimulation, and the Ooh pebble, which is perfect for clitoral stimulation.
Not only can you "mix, match, and play," (the first toy of its kind), you can also just buy a whole set, all of which have fun names like "Ooh What Happens in Vegas" and "Ooh Her Name is Rio." Get more than one motor and your partner can enjoy cock ring vibrations while you enjoy G-spot stimulation. The couple that vibrates together, stays together.
11. Bubble Love
Bubble Love, $150, My Secret Luxury
Remember how much you loved bubble baths as a kid? So many bubbles for bubble mustaches and bubble hats. Well, now that you're a grownup, it's time for bubbles that do a lot more than make you look like Santa.
Bubble Love is a sex toy that's meant for bath time use only. The handheld bubble machine releases air, creating a vibrating bubble explosion that's perfect for clitoral stimulation. While there are many sex toys out there that are waterproof, I think we can agree that this one isn't just a gamechanger in how it stimulates, but in the bubble fun it creates in the process.
Want more of Bustle's Sex and Relationships coverage? Check out these sex positions to help him last longer:
Images: Babeland; LELO; Jimmyjane; Gnarly Rider; My Secret Luxury; Bi Stronic Fusion