11 Trends 'Lizzie McGuire' Predicted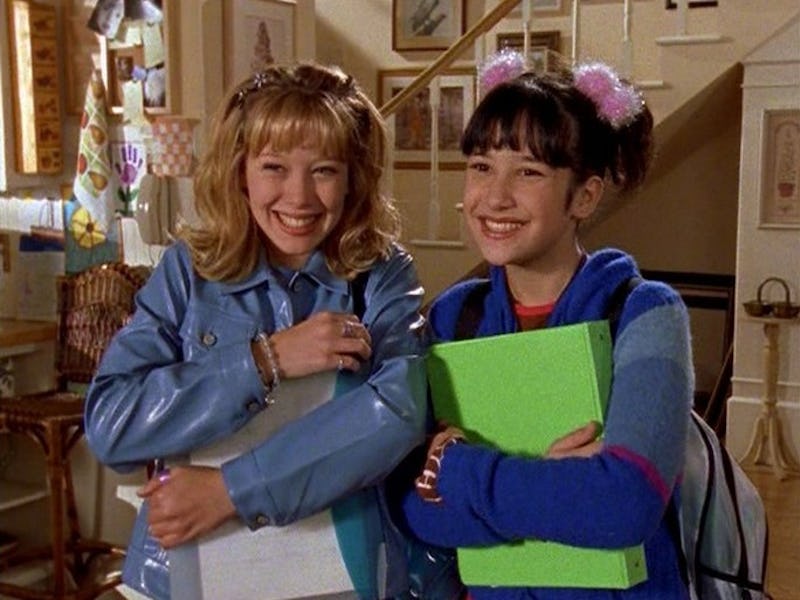 Lizzie McGuire might not be the first thing you think of when it comes to current fashion trends. But looking back, there's no denying that Lizzie McGuire predicted plenty of fashion and beauty trends. From colored hair to midi skirts, there's no denying the wardrobe on the show will make you sing, "hey now, hey now, this is what dreams are made of."
For being such a tween-driven show (with tween-relevant plot lines) Lizzie McGuire really stood the test of time — when it comes to style, at least. When I first watched the show so many years ago, I never realized that the outfits the characters rocked would reemerge in 2016, but looking back at screen caps from the show, that's exactly what has happened. The Disney Channel original did such a great job of remaining on trend that the series actually predicted many of today's trends, including bright prints, chokers, and colored hair, way back in the early 2000s.
So, here are 11 trends Lizzie McGuire predicted that officially establish the show as the unsung trendsetter of the early 2000s. Be prepared to shamelessly covet the pieces Lizzie, Miranda, and even Kate wore way back when for your wardrobe today. Because yes, it's all that good!
1. Chokers
There's no doubt chokers are having a trendy moment. From celebrities on the red carpet to super popular bloggers, everyone seems to be rocking a choker these days. And while it's definitely a '90s thing, Lizzie and the other characters on the show also wore them super often.
2. Colored Hair
Hey Kylie Jenner, looks like you weren't the first fashionista to rock colored hair. In fact, Lizzie's best friend Miranda was often wearing blue, green, or pink extensions. The look is admittedly very early '00s, but nevertheless, the colored strands definitely made Miranda a trendsetter considering the colored hair movement of today.
3. Sheer Fabrics
Lizzie's style was always super girly and cute, but she could dress it up in trendy pieces as well. She rocked the above sheer blue blouse over a blue tank top, and it became one of my favorite outfits on Lizzie McGuire ever. And it still is, because I would still love to wear that combination. Very 2000s, but also very "in" at the moment.
4. Neckerchiefs
Neckerchiefs, also known as neck scarves, have been all the rage these days. And while I hate to admit it, mean girl Kate in Lizzie McGuire was rocking the look wayyy before 2016. There's no denying her red sunglasses and neckerchief give her a trendy, fashionista-type look. Even though she was always so rude to Lizzie on the show, the girl had some killer style.
5. Biker Chic
If Miranda had a leather jacket over this look, it would be the epitome of the biker chic trend. But alas, even without the jacket, Miranda still rocks the flamed graphic shirt like a pro. Extra props for her matching flaming headband as well.
6. Graphic T-Shirts
I couldn't tell you what's going on with Miranda's hair here, but what I can tell you is that she always had a knack for wearing graphic T-shirts. Whether she layered them or even wore them under dresses, Miranda's graphic T-shirt style was definitely foreshadowing of a look people love today.
7. Flat Platforms
OK, so I know Lizzie's cartoon always wore the same outfit, but did you ever notice that she wore platform flip flops? Flat platform shoes, also known as flatforms, were so trendy last year and I have no doubt they'll be revisited this spring and summer.
8. Colorful Prints
Now that spring is upon us, colorful, printed clothes will be all the rage. Lizzie McGuire characters rocked that look many years ago with pants and blouses in fun, vibrant colors. Lizzie's getup in the screen capture above is fun and playful, and definitely Instagram-worthy. Follow her lead by mixing and matching similar toned prints for a 2016 take on the look.
9. Showing A Sliver Of Skin
As a tween TV show, Lizzie McGuire characters had to be a bit conservative when it came to showing skin. But even so, Miranda and Lizzie would occasionally show just a sliver of their stomachs between their shirts and low-rise pants. The look is very 2016, but there's no denying it first began in the 2000s. Next time your shirt's a little shorter than your pants, rock it like Miranda would — with confidence and style.
10. Statement Outerwear
During the winter, we're all bundled up in coats and outerwear to stay warm. Lizzie knew this, which is exactly why she opted for statement-making outerwear. So if you thought that was a 2015/16 trend, think again. Lizzie rocked a pleather jacket on Lizzie McGuire and made it look so chic and cool.
11. Midi Skirts
And finally, Lizzie McGuire even predicted midi skirts. This tye-dye version may not exactly be considered "stylish" at the moment (it's OK Lizzie, I think it's cool!), but the long silhouette definitely is. Next time you're looking for midi skirt inspiration, go no further than Lizzie herself; she really knows how to pull it off!
There you have it, 11 trends Lizzie McGuire predicted oh so many years ago. They're unexpected and totally surprising, but there's no doubt the show had a knack for cool, on-trend styles. So excuse me while I sing "this is what dreams are made of for the rest of the day," because it's stuck in my head!
Want more beauty tips? Check out the video below, and be sure to subscribe to Bustle's YouTube page for more hacks and tricks!
Images: Disney Channel (8), Giphy (3)