Why Spring Is The Best Season To Fall In Love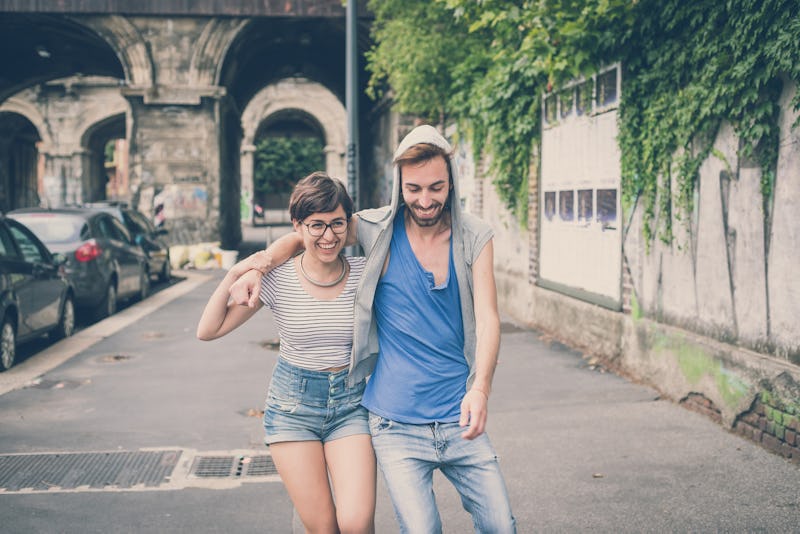 A new season is finally here. And, spring is the best time to fall in love and date — so get ready. Even statistics from dating site Zoosk show that 34 percent more first messages are sent each day in the spring. And why not, right? After all, less people are hibernating from the cold and binge-watching and those with Seasonal Affective Disorder (SAD) — a kind of depression that's related to seasons and is most common in the dreary fall and winter months — are venturing out again, also, now that the sun is here more than the snow.
Plus, now's the perfect time for spring cleaning — not just donating those not-worn-in-forever clothes that are taking up precious room in your closet, but as far as your dating life is concerned, too. With spring in the air, you can vow to stop contact with that lingering ex or finally stop a dead-end relationship. With all the dating sites and apps out there, not to mention via your friends and social events you attend, you can find someone more suited for you and whom you're on the same page with, not one who leaves you guessing or only temporarily fulfilled.
Because when it comes down to it, you shouldn't let the warm weather and 1,001 nice-day date activities go to waste. Here are just a few of the reasons why spring is the time to fall in love:
1. It's Nicer Outside, Clearly
I know, this one is obvious, but more people seem inclined to go out when it's nice outside rather than cold, dark, and gloomy. Sidewalk cafes open once again and more people seem to go to Happy Hour. Plus, people just seem happier, overall — the sun is shining, birds are singing, love is in the air. What's not to be happy about?!
2. Spring Means No More Dressing Like Snowmen And Women
Yes, there's something cute about being bundled in a stylish wool coat and knee-high boots, with rosy, wind-blown cheeks. And a guy in a scarf… forget it. H-O-T. But, all that said, Spring gives you the opportunity to dig out your warm-weather clothes, which are also probably a tad cuter than, let's say, your down winter coat.
3. More People Are Going Out Versus Staying In
Whether online or offline, more people are out and about when there's no snow and ice to sludge through. So join an app like Bumble, that local kickball league, and/or a social activities app and you'll see for yourself.
4. More People Are Messaging Each Other Online
You're not the only one who wants to date and fall in love in the spring. Study after study shows that more people are online dating in these warm spring months. As I mentioned before, Zoosk, which has 35,000,000 users worldwide, with three million messages sent per day (!), found that 34 percent more first messages are sent each day in the spring. So what are you waiting for?
5. Better Weather Equals More Outdoor-Oriented Activities To Do
Whether you joined a local Meetup group and are playing softball once a week (and may just find a teammate you want to see more of off the field) or joined a dating app that promotes meeting someone with common interests, like MeetMeOutside, there's an endless number of warm-weather things to do now that spring has (just about) sprung. You can go biking, kayaking, walking, running, bungee-jumping, sailing, have a picnic on the beach or overlooking a scenic point after you hike, you name it.
6. Warm-Weather Language Boosts Your Odds
During spring, you've probably got a lot of outdoor activities on your mind, which actually may help your chances online. Zoosk conducted a data pull and found that, in Chicago, Denver, and New York City, mentioning "beach" within a message increased response rates: Chicago by 7.2 times, Denver by 5.3 times, and NYC by 4.9 times
So, tweak your profiles (I know you have more than one — the more you're on, the higher your chances of meeting someone!) and add warm-weathered language: "beach," "volleyball," "biking," and so on. Through osmosis, you'll get your matches thinking about spring and having fun in the sun, too.
Want more of Bustle's Sex and Relationships coverage? Check out our new podcast, I Want It That Way, which delves into the difficult and downright dirty parts of a relationship, and find more on our Soundcloud page.
Images: Fotolia; Giphy