Bustle's Editors On Taylor Swift And The Obamas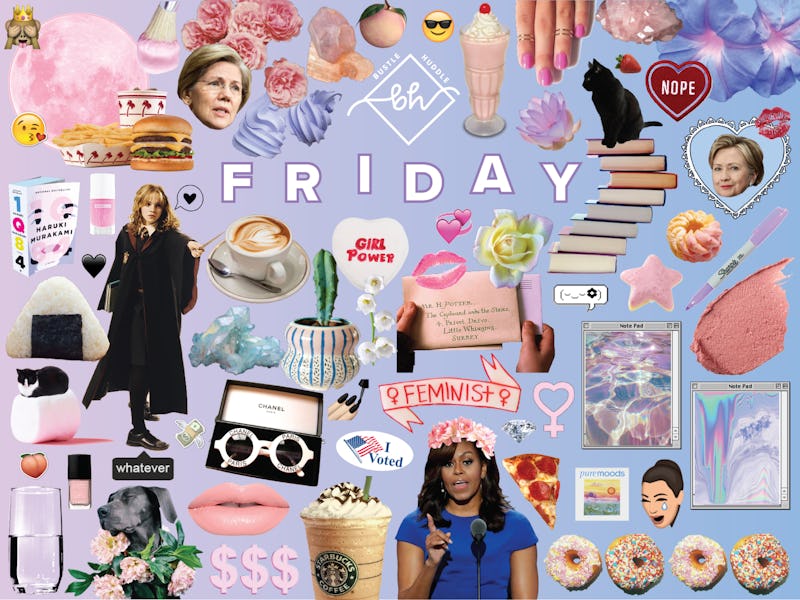 TGIF! It's certainly been a week. From Grammy nominations and Times's Person of the Year to Hairspray Live! and all the dolphin-lovin' ladies on Nick Viall's upcoming Bachelor season, the end of 2016 is as jam-packed as ever.
But here we are — you've *officially* made it to the weekend! Whether you're finishing up (or, um, starting) your holiday shopping or planning to marathon Fuller House season 2, hope you have a fab weekend. Before you head to happy hour, here's what Bustle's editors were talking about today.
Fuller House + NKOTB
Fuller House is back on Netflix for Season 2, with just as much nostalgia and cheesiness (in a good way!) as you'd expect. The best part of Season 2? All the meta references to Full House and the entire cast. No, Mary-Kate and Ashley Olsen still don't make any cameos, but that won't stop the cast from trying to get them back. You know who does make a cameo? None other than New Kids on the Block, and the shoutout to Donnie Wahlberg is *hilarious*.
For the Old School Fans: Not a fan of the reboot? We got you. Here's every holiday episode of Full House , ranked. Now you can enjoy a Tanner marathon sesh, too.
Taylor Swift + Zayn Malik
The second trailer for Fifty Shades Darker may have dropped earlier this week, but Taylor Swift and Zayn Malik's spicy new duet for the film is what's really driving the internet wild. "I Don't Wanna Live Forever" is super catchy and already causing a little commotion. Fans immediately started questioning whether or not Gigi Hadid — one of Taylor's best friends and Zayn's current GF — would be mad about it (spoiler: She tweeted about the song, so *probably* not), and a fake music video even started circulating.
Fifty Shades Darker might not hit theaters until February 2017, but at least we have this track to keep us going until then.
Sad News: Louis Tomlinson's mom died on Wednesday after a battle with leukemia. His former One Direction bandmates have been reaching out to send condolences and lend their support. </3 RIP
Kanye West + Kim Kardashian
It's been a year for Kanye West and Kim Kardashian. As if the robbery and Kanye's hospitalization weren't enough, a report broke this week that Kim wanted to divorce Kanye. This claim was shot down pretty quickly (phew), but that hasn't eased fans' worries, especially since the couple has been pretty MIA for much of the end of 2016. Until now, that is. Kanye West officially appeared in public post-hospitalization rocking a brand new look. Love it or hate it, it's nice to see him looking well.
Question of the Day: Is this a photo of Khloé Kardashian or Kendall Jenner? One Bustle editor found it this morning and the whole office is going crazy! (No, seriously, please send help.)
Love Is in the Air: Khloé's BFF Malika Haqq is dating a reality TV star and you'll *never* guess who it is. Hint: Sammi Sweetheart is NOT going to be happy.
The Obamas + Holiday Time
This has been the longest week ever and 2016 has not been kind to us at all (2017's not off to a great start either...), but today we were blessed with the Obamas' final holiday card from the White House, and it's literally stunning. Seriously, it's perfect and elegant in every way.
Bustle's Associate App Editor Erika Abdelatif perfectly captured all of our feelings seeing it for the first time tweeting, "Hands up if the Obama's Christmas card is legit givin' you the feels?! #wearenotworthy." Ugh, gonna miss this family.
Deal of the Day: Missed out on Rihanna's Fenty x Puma creepers? Same. Lucky for us, these options will help fill the void. *Especially* loving these Superga Velvet Sneakers (Sizes 5 - 10) ($118, Anthropologie).
What to Watch: Office Christmas Party — starring Jennifer Aniston, T.J. Miller, Jason Bateman, and Olivia Munn — opens in theaters today and looks funny AF. Plus, it'll probably give you a nice list of things *not* to do at your own work holiday party.
Will You Find Love This Weekend?: Yes, no, maybe so. You better check your weekend love horoscope, just in case.
Design: Chelsea LaSalle, Alyssa Foote/Bustle