Bustle's Editors On Berlin + Beauty Trends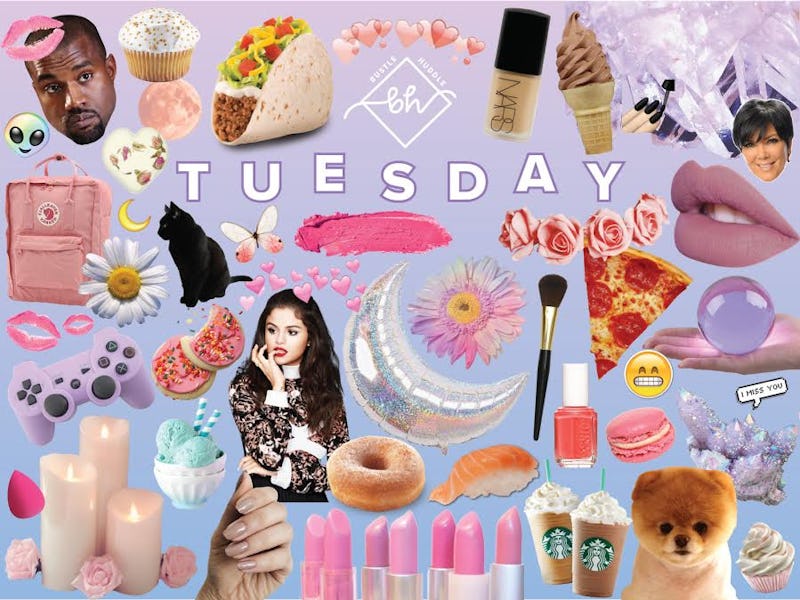 Five days until Christmas, guys! Even if you don't celebrate the actual event, hopefully you're planning to take the day to marathon holiday movies on Netflix and hang out with your friends and family. Even if you decide not to go anywhere or make any special plans, spend the holidays reflecting on the year that's passed and getting pumped for the events of 2017 — no matter what happens next year, it can't be worse than the mess that was 2016, right? Right.
As you get ready for the days to come, take a look back at all the things that caught Bustle's editors attention today, Dec. 20, from the Berlin Christmas market tragedy to Merriam-Webster's Word of the Year.
Berlin + How To Help
Tragedy struck Berlin on Monday night, when a semi-truck crashed into a Christmas market and killed at least 12 people while injuring many more. Officials are still investigating what happened, but according to new reports from Berlin police, the crash might have been intentional. It's an absolutely horrific incident, and if you're looking for ways to help the Berlin Christmas market crash victims and their loved ones, here's how.
Farewell, FLOTUS: With President Obama preparing to leave office soon, so is, sadly, the First Lady. On Monday night, Michelle Obama sat down with Oprah to discuss her time in the White House and her future plans, including whether or not she'll ever consider running for office. Spoiler alert: don't get your hopes up. Oh, well.
Black Girls + Education
In the final episode of Bustle's NSFWomen series this season, the team tackles the alarming issue of black girls being pushed out of schools. Due to a combination of factors like teachers' stereotypes, internalized biases, and family responsibilities, a startling number of black girls don't receive full educations — which can have major effects, as shown by the 43 percent of black women over 25 without a high school diploma who are living in poverty. This is unacceptable, and as the women and girls in the video make clear, it's time for a real change to be made.
How To Make A Difference: "If you want to learn more about pushout and the ways you can educate other people, check out Girls for Gender Equity," says Senior Video Producer Abbey Adkinson. "New York City began a city-wide initiative for girls called She Will Be. If you're interested in beginning a similar program in your town, check out their website."
Merriam-Webster + Word Of The Year
No, it's not fascism — phew! Merriam-Webster's Word of the Year is "surreal," a pretty good description of the events from the last 12 months. Honestly, nothing about 2016, especially the presidential election, has felt legit, so it's no surprise that many people would be searching "surreal" as a way to describe everything that's gone on this past year. Other big searches? "Revenant," "bigly," and "in omnia paratus." Guess that Gilmore Girls revival really took hold.
Book Recs: If you haven't read and obsessed over books like Gone Girl and The Girl on the Train, what are you waiting for? Novels about mystery and murder are all the rage right now, and this list of the 17 most anticipated thrillers of 2017 will have you heading to the nearest Barnes & Noble ASAP.
Gina Rodriguez + Young Women's Honors
On Monday night, Jane the Virgin star Gina Rodriguez hosted the Young Women's Honors awards, a ceremony celebrating the achievements of women in fields ranging from sports to education. With an introductory video courtesy of Michelle Obama, the show was an inspiring night filled with messages of empowerment and female solidarity, themes that matter more than ever considering the events of this past year. As Rodriguez herself told Bustle, "There's nothing greater than to make, glorify, and uplift women doing work in fields that aren't often spoken about in social media or pop culture." Amen.
All Hail Queen Bee: In a year filled with horrific political news, you could count on Full Frontal With Samantha Bee for a good laugh or a much needed wake-up call. As 2016 comes to an end, look back at some of Bee's most empowering moments from the year, from her powerful response to Hillary Clinton's concession speech to those leaked Access Hollywood tapes.
2016 + Biggest Beauty Trends
Remember when the Kylie Jenner Lip Challenge was the biggest thing back in 2015? Well, 2016 has brought its own share of crazy beauty trends, from all-glitter everything to the faux man bun (yes, seriously). Take a look back at the biggest 2016 beauty trends, some of which you'll want to bring in to the coming months — and others that you'll definitely want to leave behind.
Shopping Break: Still in need of holiday gifts for your family, friends, or co-workers? Take a look at Amazon's Most Wished For page, which is filled with genius items, from a hands-free umbrella to phone-charging speakers, that are bound to satisfy even the pickiest of shoppers.
Today's WTF Moment: "I know it sounds gross, but it might be delicious" — Rogue One star Diego Luna, on why he wants to touch Jabba the Hutt. Hey, whatever floats his boat.
What To Watch: Happy Scream Queens finale night! Tune in to FOX at 9 p.m. for the last episode of Season 2, in which the Green Meanie causes serious mayhem for the ladies.
Design: Chelsea LaSalle, Alyssa Foote; Image: Elly Ayres