If Those Rumors Are True, Who's The Bigger Diva?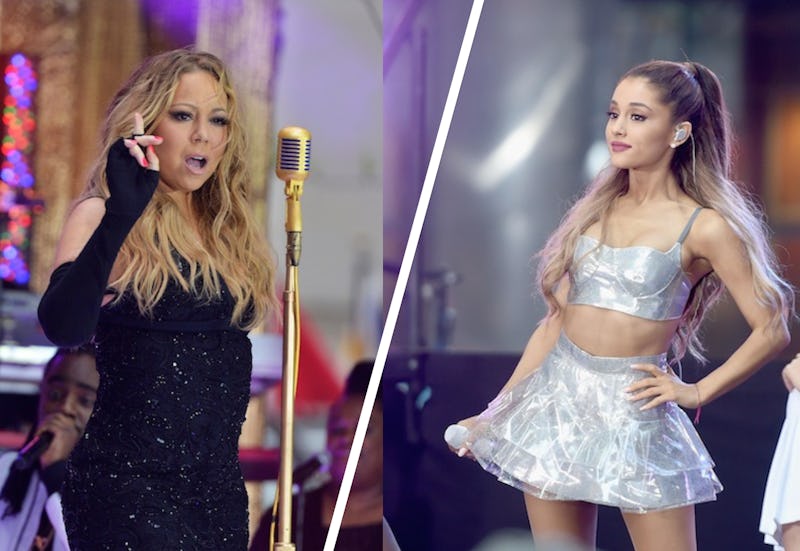 In the wise words of Beyoncé, "A diva is a female version of a hustler." Sure, if Bey says it, it sounds great. But is a reputation as a diva actually a good thing? I'm thinking no — especially for singers like Ariana Grande and Mariah Carey. It's one of those phrases that can't really be spun in a positive way. These two are often compared for their amazing vocal ranges, but there's another reason Ari is deemed "Mini Mariah," and this time it's not a compliment. She's racking up quite the rep as being demanding and difficult to work with lately. Despite Grande's denial, the rumors keep on coming... and they're only getting worse.
Of course, it's important to keep in mind that these are all rumors and nothing is confirmed. But let's explore the comparison anyway. One of these women may have said she wants her fans to die, meanwhile the other insisted her own music be blasted in the hospital room while she gave birth. (Take a wild guess which was which!) Even though this behavior may sound ridiculous to us, that's just a day in the life of a diva, I suppose.
Here's a category-by-category evaluation of who's the biggest diva based if all these crazy-sounding rumors are true:
Signature Style
Mariah: Apparently she demands to wear high heels always. She's even been filmed working out in stilettos. Explaining this obsession, she's been quoted saying, "I can't wear flat shoes. My feet repel them." I wonder if there is literally a scientific force that automatically pushes any sneakers away from her feet. That'd be kinda cool.
Ariana: The hair. She's insisted her hair looks "absurd and ratchet" underneath from all that dyeing while playing Cat on Nickelodeon. That could explain that half-up/half-down ponytail, or maybe she just refuses to try other styles.
The Verdict?
This one goes to Carey. At least Grande ocassionally tries letting her hair down once in a blue moon. But jeez, ladies! Can we please switch it up? I swear, no one will judge you if you wear tennis shoes or boho braids.
Famous Feuds
(Note that Keith Urban has to literally be a barricade between Minaj and Carey.)
Mariah: It's no secret that Nicki Minaj and Carey butted heads on set of American Idol . The two just couldn't get along and constantly fought. Some claim it's because Carey expected to be the only female judge.
Ariana: Which should we start with? The rumors that she didn't get along with Victoria Justice way back when? Or the more recent feud with ex-BFF Jennette McCurdy? Let's just say she doesn't have a history of staying buddy-buddy with her co-stars.
The Verdict?
Grande's rumored feuds are definitely worse. After all, apparently it led to the cancellation of Sam & Cat . Luckily Minaj and Carey's rivalry wouldn't put an end to American Idol. By the looks of it, that show will probably still be on 20 years from now.
Photo Preferences
Mariah: When she appeared on a London show called GMTV in 2009, Carey reportedly "had an entourage watching to ensure she was being filmed at her best angle and brought her own toilet roll to the studios." Really? And more recently, among the Nick Cannon divorce rumors, one source describes her behavior saying, "She stays up all night, looking at every frame of herself in every photo and dissecting it to death."
Ariana: According to reports (and tons of photo evidence), Grande will only be photographed from the left side. Oh, and red lighting? It supposedly makes her want to "kill herself." These are the reasons she allegedly stormed off set at a photo shoot in Australia.
The Verdict?
It's a close call, but the toilet paper put it over the top. On one hand, you could give the girls props for owning their looks and knowing what looks best. But at the same time, do they really have to make the photographers' lives unnecessarily difficult?
The Conclusion
Sure, it was definitely a tight race. Both ladies seem to be more than a bit particular, but no one can beat Mariah Carey. She's even embraced the "diva" label, being quoted as saying, "I guess I am a diva in many ways. I can be difficult and a little bit rigid about what I want." So yeah, the real diva is the one who admits it.
While Carey is the top diva for now, if she's not careful, Grande could take the title soon enough. At the rate she's going now, no one would be surprised!
Images: Getty Images, WiffleGif