7 Costumes Celebrities Should Wear This Halloween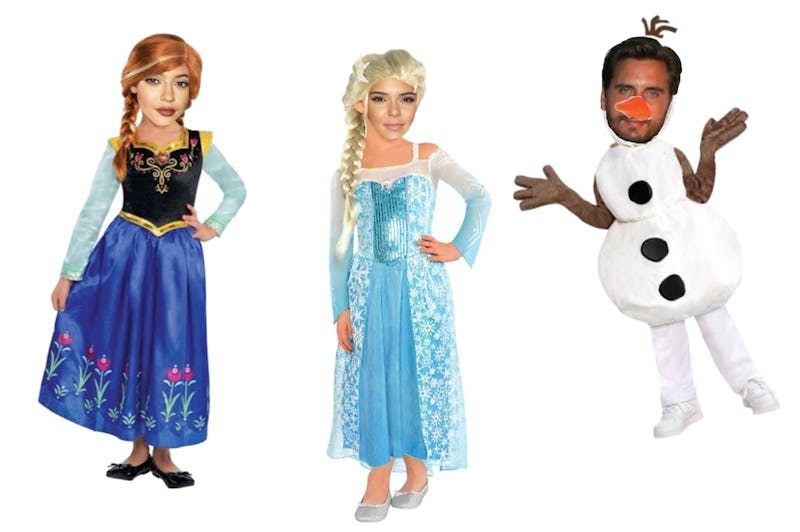 Finally, it's October! That means it's time to carve pumpkins, watch Hocus Pocus as much as humanly possible, and eat a ton of candy. There's also a very important question that needs to be answered ASAP: What are you going to be for Halloween?! Between deciding if you should do a group costume ( Game of Thrones ? The cast of Friends ?) or a couples costume (Kimye? TFIOS's Hazel and Augustus?), there are so many options. Too many options! Chances are we're not the only ones dealing with this "What should I be?" stress. Celebs need to choose their Halloween costume too, and they probably can't make up their minds either. Finding the perfect costume really is an art form.
To make their lives easier, I've decided to round up ideas for what some of our favorite celebrities should be this year. I'm not talking about Ariana Grande dressing like a cat, considering she does that on a daily basis now. Instead, I think she should do a group costume with her girls — Nicki Minaj and Jessie J. And the Hemsworth brothers should definitely dress up as something together!
While we'll have to wait until Halloween to see the costumes they actually choose (on Instagram, of course), let's imagine all the possibilities in the meantime!
The "Bang Bang" Trio as the Clueless Cast
So many people have been channeling Clueless lately, but these three could really own the look. Ariana Grande would be Cher, Nicki Minaj would make a perfect Dionne, and Jessie J would totally be Tai. Is there any better costume option? As if!
One Direction as *NSYNC
Since they can't say "bye bye bye" to the comparison, this newer boy band should dress like an old one. This particular look is a bit Indiana Jones, but there are plenty of *NSYNC styles for the 1D boys to try. As long as they're color-coordinated and very '90s, it will be a great costume — this I promise you.
Taylor Swift as Sailor Moon
This costume is perf for Taylor! She's basically a superhero in her own right. It also allows her cats to get in on the fun. They just need to put little moons on their faces. And she can get her lengthy list of BFFs to pose as her fellow Sailor Scouts. Wouldn't Lena Dunham make a great Sailor Mercury?
The PLL Girls As The SATC Ladies
Since the girls are friends in real life, it makes sense that Shay Mitchell, Troian Bellisario, Ashley Benson, and Lucy Hale could dress up as everyone's fave foursome: Sex and the City's Carrie, Miranda, Charlotte, and Samantha. They're basically a grown-up version of the already-super-stylish Pretty Little Liars characters anyway.
Kendall & Kylie as Anna & Elsa
Yes! Why not have these famous sisters play another pair of well-known siblings — Frozen's Anna and Elsa. Couldn't you picture Kylie singing "Do you wanna take a selfie?" to the tune of "Do you wanna build a snowman?" Oh, and Lord Disick can be Olaf! That would be the BEST.
Liam & Chris as Mario & Luigi
The Hemsworth brothers would make an excellent Mario and Luigi. All they need are overalls and those fake, goofy mustaches. Don't they have another brother too? I guess Luke can dress up as Wario or something.
Lorde as an Evil Queen
Lorde would totally choose a clever costume like this. Even though she sings about how she'll never be royal, here she is in a crown. Get it? Of course she's not really evil like the queen from Snow White, but Halloween is for playing dress-up anyway.
Images: Getty Images, Party City (7), Paramount Pictures, Taylor Swift/Instagram, Warner Bros. Pictures