The Best Memes & Tweets From The 2021 VMAs
With Doja Cat hosting, a memorable show full of outlandish outfits was guaranteed.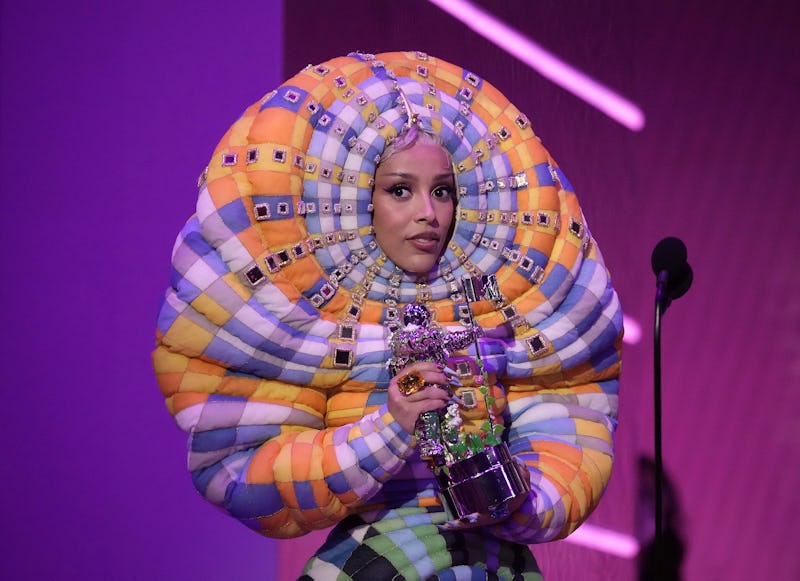 Jeff Kravitz/MTV VMAs 2021/Getty Images Entertainment/Getty Images
A return to awards season means a return to memes aplenty. On that front, the 2021 MTV Video Music Awards did not disappoint. Viewers tuned in for the star-studded evening Sept. 12, which saw multi-nominated musician Doja Cat kick things off as host, in addition to performing double duty as one of the show's many performers.
The lineup of fellow performers included Olivia Rodrigo and Lil Nas X, whose track record for memorable live performances (hello, SNL and BET Awards) made his VMA slot a major must-see. Each came into the show with a whopping five noms — an honor shared with Billie Eilish, BTS, Doja Cat, Drake, BTS, and Giveon.
As the show unfolded, memorable (and hilarious) moments abounded. Here are some of the best memes and tweets from the 2021 VMAs that recap the musical mayhem.
The Red Carpet
The most talked-about moments began on the red carpet. Even though Chloe of Chloe x Halle was making her solo debut, both Bailey sisters appeared together — each sporting an iconic ensemble.
For many fans, who wasn't on the carpet was even more of a conversation than who was — from musicians who simply didn't attend like Beyoncé, to those who intended to make an appearance but couldn't, like SZA.
The Performances
Once the show began, fans were quick to celebrate the first award of the evening, Song of the Year, which went to Olivia Rodrigo for "Drivers License," after a lively performance of "Good 4 U."
Fresh off the release of Star-Crossed, Kacey Musgraves made her VMAs debut with a live performance of the album's title track, though some fans found the Baz Luhrmann-esque display too short.
As part of her emotional solo debut, Chloe of Chloe x Halle was introduced by her sister before giving an instantly unforgettable performance of "Have Mercy."
Lil Nas X's mashup of "Industry Baby" and "Montero (Call Me By Your Name)" was steamy as ever.
Another performance that had Twitter talking for all the right reasons? Normani's "Wild Side," for which she was joined by Teyana Taylor.
Doja Cat's Outfits
Not one to leave all her signature style for the red carpet, Doja Cat sported a truly one-of-a-kind outfit as she accepted the award for Best Collaboration on "Kiss Me More" with SZA.
But it wasn't Doja Cat's only meme-worthy moment of the evening — from wearing literal furniture to that daring aerial performance, the "Need to Know" singer proved that she is more than capable of pulling double (or triple, or quadruple) duty when it comes to making a memorable show.