Bachelor Star Cassie Randolph's Sister Is In The Yellowstone Spinoff 1923
Here's why Elizabeth Strafford looks so familiar.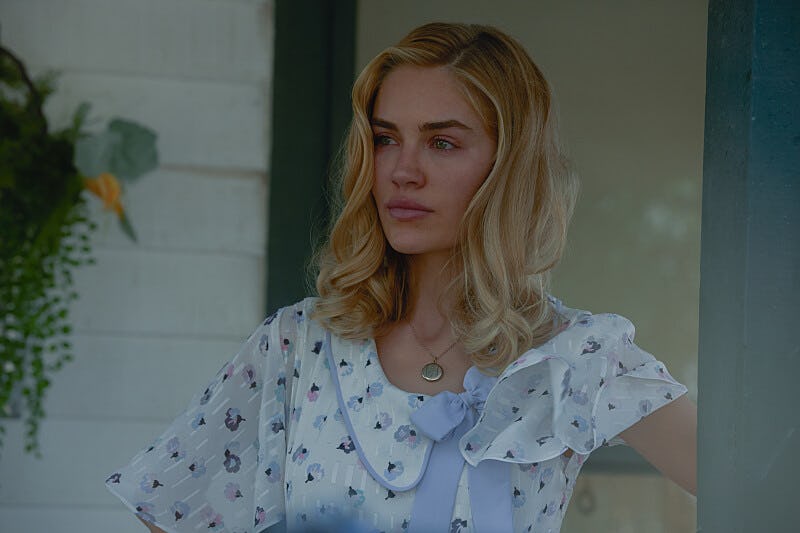 Paramount+
Though they may seem totally different at first glance, the Yellowstone and Bachelor franchises have a lot in common. No, really: they both started with a popular flagship show, they're both full of drama, they both feature frequent horseback riding. And now, they both feature members of the same family, too. Four years after Cassie Randolph won Colton Underwood's Bachelor season, her sister, Michelle Randolph, plays Jack Dutton's fiancée on 1923.
If you're a Bachelor fan, you may remember Colton visiting Cassie's family for his hometown episode in 2019 — in which Michelle gave Cassie some tearful, sisterly advice. "There are hundreds of other guys out there, too, you know? So if he's not 100% the one, if there's any doubt, like, don't shove that down," Michelle said. "I know you better than anyone, and I literally think that you're perfect. And so, I want you to be with somebody who's perfect."
Cassie's hometown visit made her more confused about her feelings for Colton, and she briefly left the show (resulting in that infamous fence jump) before reuniting with him by the finale. So in a way, Michelle's advice played a small role in chaotic Bachelor history.
Ultimately, Cassie and Colton broke up in 2020, and Colton came out as gay a year later. Of course, Cassie's isn't the only high-profile relationship saga in the family. Michelle is in a long-term relationship with British actor Gregg Sulkin, who recently celebrated her 1923 role in an Instagram post. "The first birthday in 5 years we aren't celebrating together but that's because you're a superstar and killing it on your new show 👏🙌," he wrote. "you deserve the world and I am so excited to see what the next year brings for you."
Michelle also gets plenty of support from Cassie, who praised her sister's 1923 job when it was first announced in September. "Even though it means I've lost you to Montana for 7+ months," she wrote. "This sister of mine has worked harder than anyone I know to make her dreams a reality, and I love more than anything watching them come true. You inspire me little sister! Every time I think about it I get goosebumps."
Though being part of the ever-expanding Yellowstone universe seems to be Michelle's biggest job yet, it's definitely not her first time in front of a camera. In 2018, she starred in A Snow White Christmas (a TV film that you can stream now) — and before that, she and Cassie shared a vlog channel.