Joe Jonas Just Changed The Lyrics Of A 2009 JoBros Song Because Of Taylor Swift
Let's name it, "Much Better (Joe's Version)."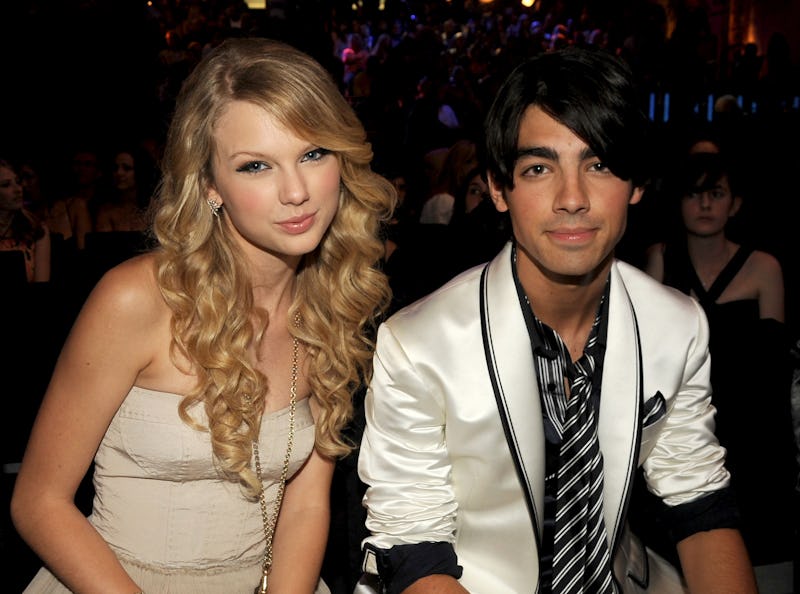 Jeff Kravitz/FilmMagic, Inc/Getty Images
Nearly 14 years after their 2008 breakup, Joe Jonas and Taylor Swift appear to be doing perfectly fine as friends — and there's new musical proof to back it up. During the Jonas Brothers' Las Vegas residency, which kicked off June 3, People reports that a lyric from the band's 2009 song "Much Better" was edited in a subtle yet impactful way.
In video footage on Twitter, Jonas sings "I get a rep for breaking hearts / Now I'm cool with superstars." In the original lyrics, he says, "I'm done with superstars." The 32-year-old musician smiles as he makes the lyrical switch. The next lyrics, which remain unchanged, are the reason many fans speculate that "Much Better" is about Swift: "All the tears on her guitar / I'm not bitter," an apparent reference to Swift's 2006 song "Teardrops on My Guitar."
The new lyric is the latest sign that Swift and Jonas are on great terms nowadays, a fact they've been acknowledging for several years now. In November, Jonas and his wife, Sophie Turner, visited Saturday Night Live to support Swift's live debut of her 10-minute "All Too Well" (famously rumored to be about ex-boyfriend Jake Gyllenhaal). Earlier in 2021, Turner even playfully aligned herself with Swift's breakup song "Mr. Perfectly Fine," which seems to be about Jonas. "It's not NOT a bop," she wrote on Instagram.
And in 2020, Swift seemed to reference Jonas in the lyrics to "Invisible String" from Folklore — which was born the same month as his baby with Turner. "Cold was the steel of my axe to grind / For the boys who broke my heart / Now I send their babies presents," she muses in the dreamy love song.
A year earlier, Swift told Ellen DeGeneres that she felt bad for "[putting] Joe Jonas on blast" on her show as a teenager. "That was too much," she said, referencing the time she revealed Jonas broke up with her over the phone (in 25 seconds, no less). "I was 18. We laugh about it now, that was mouthy — yeah, just some teenage stuff there."