Kaley Cuoco Already Has Plans For The Flight Attendant Season 2
HBO Max will extend the once-limited series.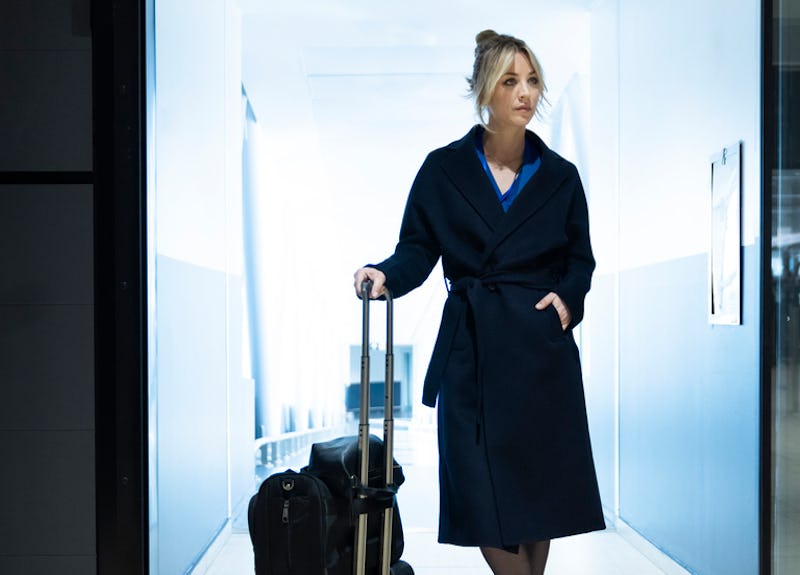 Colin Hutton/HBO Max
The Flight Attendant just became the latest limited series to be expanded into a second season. Prior to this news, Kaley Cuoco, the star and executive producer of the HBO Max series, hinted that there were already "plans for another season" of The Flight Attendant. At the same virtual press tour, co-showrunner Steve Yockey added that some storylines were built into the script that could be expanded further should the series continue. "We have a great producing team, we are a wonderful group of storytellers. I think we have everything in place should the show move forward after this initial mystery," he said. And on Dec. 18, The Hollywood Reporter shared that HBO Max gave the green light for The Flight Attendant Season 2.
Season 1 of The Flight Attendant was based on the book of the same name by Chris Bohjalian, and the initial run of episodes reached the conclusion of the novel's events. A Season 2 would need to explore beyond the source material, though the book, which was published in 2018, also sets up the premise for future stories.
At the end of The Flight Attendant book, (spoilers ahead for the novel!) Cassie gets a CIA job and goes undercover as a flight attendant when an informant is needed on board. If the same events happen in the series, Cuoco's Cassie could dive into any number of fascinating cases in Season 2 thanks to her new gig.
Speaking to THR's TV's Top 5 podcast in December, Cuoco posed some questions a new season could address. "As far as anything specific, it would be Cassie trying to live a sober life, which won't happen. The trauma she dealt with 30 years won't go away overnight," she began. "What did she learn? Is she a human asset? What's her flight attendant life?"
During her THR podcast discussion, Cuoco also explained when more episodes could hit HBO Max. "We would, in a perfect world, shoot this time [of year] in 2021 so the world could calm down," she said. "I'd like to keep it COVID-free." With that in mind, subscribers are looking at an estimated 2022 release date.
This article was originally published on