What Does Michael Peterson Think Of HBO's The Staircase?
"There are egregious fabrications and distortions of the truth in the HBO series."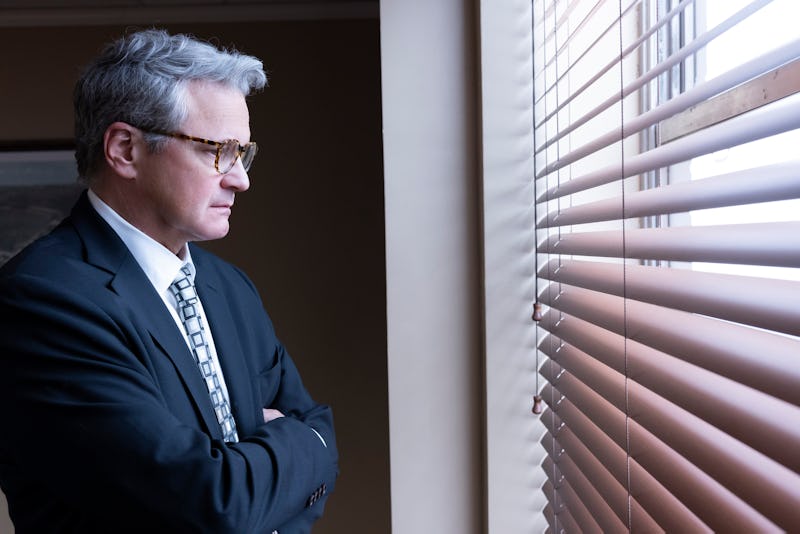 HBO Max
If you've been hooked on the HBO Max true-crime docuseries The Staircase starring Colin Firth, Toni Collette, and Sophie Turner, you're not alone. Based on Jean de Lestrade's 2004 documentary of the same name, the gripping eight-episode follows the murder conviction of Michael Peterson (Firth) following the tragic passing of his wife, Kathleen (Collette). And while fans may not get a Season 2 of the limited series, the real-life drama from the show's aftermath is proving to be just as gripping as the televised production. After giving the HBO miniseries showrunner Antonio Campos access to Staircase archives, de Lestrade told Vanity Fair he felt "betrayed" by the fictionalized portrayal of his own character in the new series, adding that it's "damaging" to his credibility.
Weeks later, on June 9, the real Michael Peterson, now 78, slammed the HBO Max series, claiming it had "distortions of the truth." Bustle reached out for comment to HBO Max, but they did not respond in time for publication.
What Is The Staircase About & What Happened To Kathleen Peterson?
In December 2001, Kathleen was found dead at the bottom of the staircase of her Durham, North Carolina, home. Though it was her novelist husband who frantically called 911 claiming that she had fallen down the stairs, Peterson was later convicted of first-degree murder in October 2003. But in 2011, the judge learned that one of the trial witnesses gave a misleading testimony so the judge's verdict was vacated. The case finally came to its conclusion at a retrial in 2017, where Peterson took an Alford plea deal for voluntary manslaughter, a deal in which he maintained his innocence but conceded that there was enough evidence to convict him. He was released from prison thereafter.
The twisty details of the case — including a theory about a murderous owl, a similar fatal staircase-related tragedy in Peterson's past, and the revelation that he was communicating with a male escort — made for a complicated and compelling narrative, one that director de Lestrade ended up telling. During the trial, de Lestrade and his team were given full access to Peterson for the project, including filming during strategy meetings for court hearings. The Staircase documentary, released in 2004, was a critical success and even won a Peabody Award in 2005.
The HBO Max series, released in May 2022, used the original documentary's notes and included the making of the documentary in the plot of the show. De Lestrade's character, played by Luther's Vincent Vermignon, features in seven of the eight episodes.
What Did Jean de LeStrade Say About The Staircase Show?
While the show is quickly cementing its status as a true crime favorite, not everyone was happy about its release. On May 13, de Lestrade told Vanity Fair he felt "betrayed" by the HBO Max show's creator. "We gave [Campos] all the access he wanted, and I really trusted the man," he said. "So that's why today I'm very uncomfortable, because I feel that I've been betrayed in a way."
De Lestrade received a fee for selling the rights to his materials off to Campos (though the actual amount is disputed). He also received a co-executive producer credit on the adaptation, though he said it's merely "nominal" and he didn't even "ask [Campos] to read the script."
De Lestrade pointed out particular scenes he took issue with including some in Episode 5, which he says imply that documentary editor Sophie Brunet (played by Juliette Binoche) edited the original documentary because she was in a relationship with him. Brunet was romantically involved with Peterson, but both Brunet and de Lestrade say it happened after she ceased work on the project. De Lestrade also accused the HBO Max show of making them look biased. "It's alleged that we cut the documentary series in a way to help Peterson's appeal, which is not true," he said. Others from the documentary team also shared the same sentiments with Vanity Fair.
Per the outlet, De Lestrade even sent a letter to Campos demanding that "the offending allegations be removed from Episode 5 before it airs publicly" or that the series include a disclaimer about the show being fictionalized. The current disclaimer on the show says it's "a dramatization based on certain facts."
De Lestrade also pointed out that, "A series on HBO like this will get huge attention."
What Did Michael Peterson Say About The Staircase Show?
Weeks later, after the June 9 finale of the HBO Max series finally aired, it was Peterson's turn to cry foul. But he's not just mad at the show's creator — he's mad at de Lestrade, calling him "disingenuous" and "hypocritical."
In a series of emails sent exclusively to Variety, Peterson shared that he read de Lestrade's statements against Campos. "I have read about Jean de Lestrade's sense of betrayal by Antonio Campos and HBO Max's presentation of The Staircase, but what has been forgotten or overlooked or simply ignored is his betrayal of me and my family," Peterson told the outlet. "We feel that Jean pimped us out — sold OUR story to Campos for money — what word other than pimped describes what he did?"
Peterson also claimed that he wasn't consulted or informed about the HBO Max series and the deal that de Lestrade made with its creators. "Jean should have known that when you sell your ass/property, you assume the risk of getting f*cked/betrayed," Peterson said. "Every hooker knows this. So he got betrayed/f*cked. Why should he be surprised?"
The novelist also claimed that while de Lestrade was "compensated," he was not. "We didn't sell our story to Campos. We are the ones who were betrayed." Peterson also later pointed out that Campos lifted material from his memoir, Behind the Staircase, for the prison scenes, but claimed he was "not compensated" for that either.
"There are egregious fabrications and distortions of the truth in the HBO series, well beyond what may be considered 'artistic' license," Peterson continued, pointing to scenes where he claims his family was "falsely depicted as fighting among ourselves" which "NEVER happened." He called Campos' work a "fictional account of events" with "made up story lines that denigrate all of us in the eyes of millions."
At the end of the day, he said the blame is on de Lestrade. "It is disingenuous and hypocritical for Jean to talk about his integrity being challenged when he sold himself to Campos and showed no integrity or sense of responsibility to us," Peterson said, adding, "He is the individual responsible for what happened to us, and while I am sorely pissed at Campos for all the liberties he took with the truth ... I am angrier at Jean."
In the same Variety report, de Lestrade responded to Peterson's comments. Defending his decision to sell the rights to footage and notes, de Lestrade said he thought it better to "cooperate, and be involved in the process [than] to stay totally outside as a stranger." By doing so, he said he was "protecting Michael and his family by being involved." He also said Campos would've done the show with or without his notes.
"I'm working in France doing a big drama show," de Lestrade said. "I don't need to sell the rights to [The Staircase] to make money. But I can really understand Michael's position because [the series is] terrible for him and his family." He also pointed out that "in the documentary," he "really tried to do it with huge respect for Michael, and all his children."
Four out of Peterson's five children maintained his innocence throughout the legal ordeal. None of them have commented about the HBO series.