The Best Dating Apps To Find A Serious Relationship In 2022
And the pros and cons of each.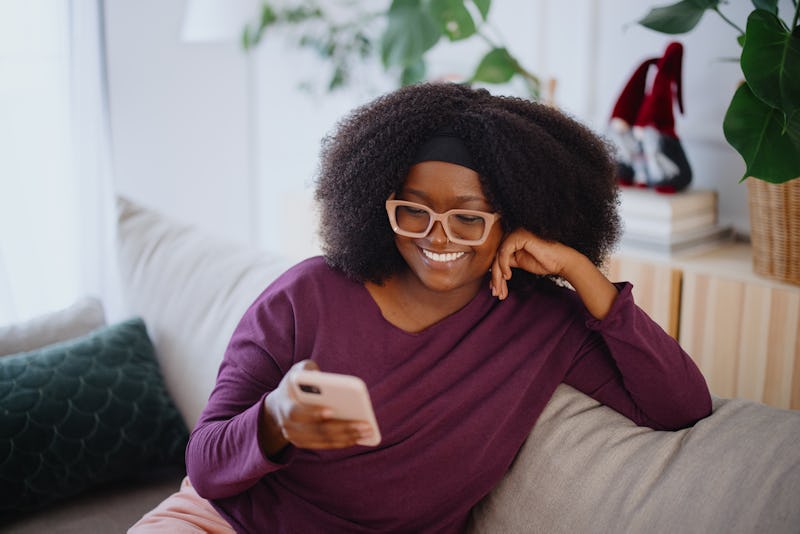 Anchiy/E+/Getty Images
For all their downsides (of which there are plenty), dating apps have made it way easier to meet new people. Just a few years ago, couples who met online were sheepish about proclaiming their humble internet beginnings, but now it's become the norm. In fact, a 2020 report from the Pew Research Center found that three out of every 10 Americans have used a dating app or site, and nearly 40% of online daters are in a committed relationship with someone they've met on the internet. If you're ready to get back in the ol' dating saddle and hoping to make a real-deal connection with someone, experts shared the best dating apps to try in 2022.
According to Kimberly Hill, international dating and relationship coach, dating apps are still a "fantastic" way to meet potential romantic partners today, and there are three reasons why. For one, you can meet people you wouldn't otherwise meet through your social circle. Two, you can move at a pace you're comfortable with before meeting up in person. Three, you'll end up with more dates, which ups your chances of finding someone you connect with.
"Finding the right person is a unique journey for everyone," Hill says. "While we can get introduced to new people through our existing social circles and workplaces, dating apps extend this even further. By using dating apps, you're going to meet and match with more people, helping in your search for finding that special someone."
With that, here are the best 2022 dating apps for anyone who's looking to fall in love.
Whether you're looking to meet new people within a specific community or to cast the widest net possible, there's a 2022 dating app out there that's perfect for you.
Sources:
Sameera Sullivan, matchmaker and dating expert
Kimberly Hill, international dating and relationship coach
This article was originally published on