29 Movies To Watch On Date Night That Won't Put You To Sleep
From Cruel Intentions to Meet Me in St. Louis, this list of films will make your next date night one to remember.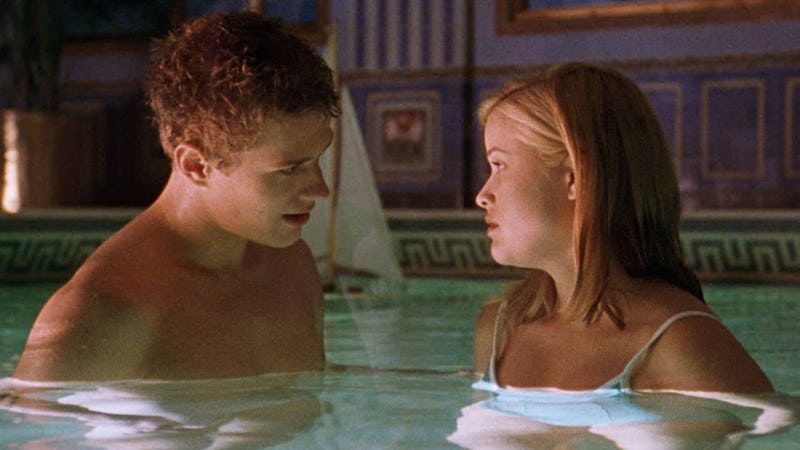 HBO MAX/SONY PICTURES
Finding the perfect date night movie is a delicate balance. You're not just trying to mesh two different tastes — you're also trying to do so while still maintaining a makeout-friendly mood. Scary movies can seem like a good way to go (cuddling!), but if you tread into gory territory, you might slice through every last trace of romance with a metaphorical chainsaw. You also may think that going über-romantic is best — but then, you'll just end up comparing yourselves to unrealistic, fictional romantic leads. And you might think action is a great idea, but... well, scratch that. Action is usually a good idea.
The point is, you're walking a tightrope here. You want to express a part of your personality to your significant other (or potential significant other, or just a regular old date), but you don't want to ruin the mood. The mood is key here, folks. Otherwise, it's not a date night movie... it's just a movie with that person you've been with so long you don't go on dates anymore, which is a different kind of night entirely.
If you still feel lost in the wide world of streaming options, fret not. We have you covered. Check out these 29 great date night movies, and get snuggling.
1. The Princess Bride (1987)
Adapted from William Goldman's 1973 novel of the same name, The Princess Bride is technically a romance, but it also features fencing, fighting, torture, revenge, giants, monsters, chases, escapes, true love, miracles, and more. The widely acclaimed film follows Westley (Cary Elwes), a farm worker who embarks on a long, dangerous journey through the evil kingdom of Florin to reunite with his one true love, Buttercup (Robin Wright). Widely regarded as one of the greatest films and love stories of all time, chances are it'll please you and your date.
2. Little Women (2019)
This isn't your grandparents' Little Women. Greta Gerwig's take on Louisa May Alcott's beloved book takes a few artistic liberties to freshen the Concord, Massachusetts-set story (no shade to Alcott). Saoirse Ronan is compelling as the headstrong Jo March, not to mention Florence Pugh, Laura Dern, Meryl Streep, and Timothée Chalamet's nuanced performances in the March sisters' classic coming-of-age story. The combination of Gerwig's ambitious screenplay and directing with the all-star cast makes Little Women a modern classic.
3. The Hours (2002)
Okay, hear me out. The Hours is one of the greatest films of all time, and a bit of a tearjerker — which means you can offer a shoulder for your date to cry on. Based on Michael Cunningham's Pulitzer Prize-winning novel of the same name, The Hours revolves around three women (including Nicole Kidman as Virginia Woolf) from various decades who are somehow tied to Woolf's Mrs. Dalloway. Also, the original score by Philip Glass is hypnotizing.
4. Once Upon A Time In Hollywood (2019)
Set in 1969 Los Angeles, Quentin Tarantino's ninth film is a great conversation starter, as you need a bit of historical Hollywood knowledge to fully grasp its premise. Leonardo DiCaprio stars as Rick Dalton, a washed-up 1950s Western film actor who spends his time drinking and hanging with Cliff Booth (Brad Pitt), his longtime stunt double. The Oscar-winning comedy-drama follows the pair through a rapidly evolving film industry — while cult leader Charles Manson (Damon Herriman) simultaneously gains notoriety, eventually leading to the murder of Sharon Tate (Margot Robbie).
5. Eternal Sunshine of the Spotless Mind (2004)
Eternal Sunshine of the Spotless Mind is one of those movies that's so out of the box it works for almost any occasion. After learning his ex-girlfriend Clementine (a blue-haired Kate Winslet) surgically removed all memories of their relationship, Joel (Jim Carrey) decides to undergo the same procedure. But as his memory is wiped, Joel relives the relationship's ups and downs in this Oscar-winning cult favorite sci-fi romantic comedy.
6. Malcolm & Marie (2021)
If you're looking for a moody romance flick, turn to Netflix's Malcolm & Marie, a black-and-white love story created by Sam Levinson (Euphoria) in secret during the height of lockdown in 2020. The film stars John David Washington and Zendaya in its titular roles as a writer-director and his girlfriend, respectively, who find themselves in a heated discussion about Malcolm's new movie after returning home from its premiere.
7. The To All The Boys Trilogy (2018-2021)
Netflix brought Jenny Han's best-selling young adult romance novels to life with 2018's To All the Boys I've Loved Before and its two sequels, 2020's P.S. I Still Love You and 2021's Always and Forever. Lana Condor stars as Lara Jean, a shy high schooler who pens heartfelt letters to her crushes with no intention of sending them. But after her little sister, Kitty (Anna Cathcart), delivers the letters to their recipients, Lara's life turns upside down in this lighthearted hit film trilogy perfect for semi-distracted date-night viewing.
8. Cruel Intentions (1999)
Upon its release, Cruel Intentions was pegged as "the dirtiest-minded American movie in recent memory." And they're not wrong. Featuring pretty much every teen heartthrob from the late '90s — like Sarah Michelle Gellar, Reese Witherspoon, and Ryan Phillippe — this cult classic revolves around teenagers with no empathy, huge trust funds, and a near-sociopathic knack for manipulation.
9. Crazy Rich Asians (2018)
Adapted from Kevin Kwan's 2013 novel of the same name, this Jon M. Chu-directed film follows NYU professor Rachel Chu (Constance Wu) as she travels with her boyfriend, Nick Young (Henry Golding), to meet his family in Singapore. There, Rachel quickly learns his family is one of the nation's richest and begins attempting to navigate the nuances of their affluent lifestyle. Nominated for multiple Golden Globes, the movie features a mix of comedy, drama, and romance perfectly suited for couples viewing.
10. The Photograph (2020)
Written and directed by Stella Meghie, this 2020 romantic drama follows Mae Morton (Issa Rae), a gallery curator who's famous photographer mother passed away when she was young. Lakeith Stanfield stars as Michael Block, a journalist investigating the death, who meets Mae and strikes up a complicated, yet undeniable romantic connection. Also starring Chelsea Peretti, Lil Rel Howery, and Courtney B. Vance, The Photograph received critical acclaim upon release, and it's sure to warm the hearts of you and your date.
11. Hustlers (2018)
Need a sexy and fun flick for date night? Look no further than Hustlers. Based on a New York Magazine article, this 2019 film follows strippers Destiny (Constance Wu) and Ramona (Jennifer Lopez), who begin drugging and scamming wealthy club-goers out of thousands of dollars to make up for income lost to the 2008 stock market crash. Also starring Keke Palmer, Lili Reinhart, Lizzo, and former real-life stripper Cardi B, this crime comedy is sure to steam up a hangout — and make you check your pockets before leaving.
12. Almost Famous (2000)
If you're dating a music or movie buff, watch Almost Famous. Set in 1973, the Cameron Crowe film centers on 15-year-old music fan William (Patrick Fugit), who's asked by Rolling Stone to follow rising band Stillwater on tour for an interview. Widely regarded as one of the greatest films ever made, the Oscar and Grammy winner also stars Kate Hudson, Frances McDormand, and Zooey Deschanel.
13. Love & Basketball (2000)
Released in 2000, Love & Basketball follows childhood friends and neighbors Monica (Sanaa Lathan) and Quincy (Omar Epps), both of whom wish to become professional basketball players. After sparking a romantic connection as teenagers, the film follows their separate paths to athletic success, complete with industry politics, injuries, and other drama. Once that's out of the way, they eventually find the path to a fruitful relationship as well in this NAACP Image Award-winning cult classic film.
14. What Ever Happened to Baby Jane? (1962)
What Ever Happened to Baby Jane is the movie that relaunched a thousand careers. Actually, it was closer to just two: Bette Davis and Joan Crawford. The Hollywood legends saw a dip in both their job prospects until this movie came along and made them stars again. Plus, the notorious off-screen feud between the two actors is Hollywood lore at this point (and fodder for a Ryan Murphy series). This horror-thriller will leave you cuddled in each other's arms for safety.
15. Uncut Gems (2019)
Don't be fooled by Adam Sandler's starring role in Uncut Gems, because it's not a comedy. Directed by the Safdie brothers, this crime thriller follows Jewish-American jewelry salesman and gambling addict Howard Ratner (Sandler), who's struggling with financial debt and dealing with a divorce. But after unknowingly giving away a priceless, rare Ethiopian black opal, Howard must put his life on the line to retrieve it. Also featuring Idina Menzel, The Weeknd (as himself), and Lakeith Stanfield, this film is sure to bring suspense, excitement, and strong New York accents to your date night.
16. When Harry Met Sally (1989)
If you want to go for the classics — or to become more-than-friends with your bestie — why not watch When Harry Met Sally? Starring Billy Crystal and Meg Ryan in the titular roles, this classic rom-com follows the pair as they first meet in Chicago and subsequently run into each other every five years before eventually succumbing to a relationship. The Rob Reiner-directed, Nora Ephron-written movie's hysterical insights into how men and women relate to each other have made it stand the test of time.
17. Love, Simon (2018)
The amount of films about straight teenagers falling in love is seemingly endless, which makes Love, Simon all the more refreshing. Nick Robinson stars as the titular character, a closeted teenager with a tight-knit friend group who's falling in love with an anonymous classmate online. But after a fellow teen threatens to out him, Simon finds himself messing with friendships in order to conceal his identity before eventually coming to terms with it. Notably the first major Hollywood production to center on a young gay romance, the heartwarming film is perfect for knocking down emotional barriers with your date.
18. Pitch Perfect (2012)
Who knew collegiate a cappella could be so funny (on purpose)? Released in 2012, this musical comedy follows fictional Barden University's all-girl a cappella group, the Barden Bellas, as its members work to revitalize their material in hopes of winning Nationals. The only problem with watching Pitch Perfect for date night is that you'll both walk away singing Anna Kendrick's "Cups," which, depending on your take, is either a great or terrible way to end an evening.
19. Jerry Maguire (1996)
You had me at hello? Try, "You had me at the human head weighs eight pounds." Despite the many years that have passed since Jerry Maguire came out, this 1996 film still holds up as a classic. The dramedy follows sports agent Jerry Maguire (Tom Cruise), who unexpectedly leaves his firm and starts his own athlete management company with just one client, Rod Tidwell (Cuba Gooding Jr.), working to succeed against all odds. You and your date will probably catch yourselves quoting the Oscar-winning film for days after, but at least you'll have a cute inside joke then, right?
20. Mr. & Mrs. Smith (2005)
Want a little more action with your sexiness? Try Mr. & Mrs. Smith, which follows frigid married couple John (Brad Pitt) and Jane Smith (Angelina Jolie), both of whom are keeping a big secret from one another: they're deadly assassins working for rival agencies. Even the most adamant members of Team Jen can't deny the chemistry between Brangelina: this is one of the hottest action movies made in recent decades.
21. Carol (2015)
Ranked by the British Film Institute as the best LGBT film of all time, this epic period drama centers on a forbidden romance. Set in 1950s New York City, aspiring photographer Therese Belivet (Rooney Mara) has a meet-cute with Carol Aird (Cate Blanchett), an older, glamorous woman looking to buy a doll for her daughter at the department store where Therese works. Both stuck in unhappy relationships with men, they form a connection destined to complicate their lives — but too strong to deny.
22. The Terminator (1984)
There may be no better date night film than The Terminator, mainly because you've both already seen it and don't need to pay much attention (wink wink). James Cameron's legendary romance-within-an-action-flick sees Arnold Schwarzenegger play a cyborg assassin sent back in time to kill pregnant Sarah Connor (Linda Hamilton) while human Resistance fighter Kyle Reese (Michael Biehn) also time travels in hopes of saving her.
23. Meet Me in St. Louis (1944)
This is one of those movies that's so charming and warm you're guaranteed to smile by the end of it. The Christmas musical follows a year in the life of the Smith family in St. Louis, mainly focusing on a budding relationship between Esther (Judy Garland) and her next-door neighbor, John Truett (Tom Drake). If your date happens to be scheduled around the holidays, this film is perfect for snuggling together on the couch by the fire.
24. Jurassic Park (1993)
Is there anyone out there who doesn't like Jurassic Park? Steven Spielberg's iconic 1993 sci-fi film centers on paleontologists Alan Grant (Sam Neill) and Ellie Sattler (Laura Dern) and mathematician Ian Malcolm (Jeff Goldblum), who are chosen to tour a new theme park featuring dinosaurs created from prehistoric DNA. But when the park's power goes down, the de-extinct creatures break out and terrorize everyone in their path. If the movie makes for a successful date night, there are four sequels to follow it up with.
25. Back to the Future (1985)
The ultimate date night movie is obviously the one about trying to set up your mom and dad because your mom inadvertently fell in love with you instead. We're kidding, but that's exactly what happens to Marty McFly (Michael J. Fox) in this 1985 blockbuster. There might be a lot of flicks that say romance, but none that say it quite like Back to the Future, which also happens to be a comedy/sci-fi classic.
26. The Avengers (2012)
If you're looking for something with mass appeal, why not go for one of the most popular movies ever made? Starring an ensemble cast including Robert Downey Jr., Chris Evans, Mark Ruffalo, Chris Hemsworth, Scarlett Johansson, and more, The Avengers sees the S.H.I.E.L.D agency recruit several superheroes to stop Thor's brother Loki from overtaking the planet. With comedy, action, and even a touch of romance (oh, Pepper), the Marvel action epic actually has everything for everyone.
27. Zola (2021)
"Y'all wanna hear a story?" Adapted from a viral Twitter thread by Aziah "Zola" King, this 2020 black comedy sees the titular part-time Detroit stripper (played by Taylour Paige) embark on a road trip with her colleague Stefani (Riley Keough) to Tampa, Florida, thinking they're about to make a ton of cash at a club. But after Stefani's mysterious roommate X (Colman Domingo) and boyfriend Derrek (Nicholas Braun) unexpectedly join them, Zola realizes she's in way over her head. A perfect date night movie if you're looking for adventure, Zola will have you cozying up afterward to scroll through the original tweets together.
Watch now on Showtime, Hulu, and Amazon Prime.
28. Gone Girl (2014)
Gone Girl isn't exactly a love story, but after Anne Hathaway told James Corden it's her favorite romantic comedy, we figured the thriller deserves a spot on this list. Based on Gillian Flynn's novel of the same name, the Missouri-set film centers on ex-writer Nick Dunne (Ben Affleck) and his chic wife Amy (Rosamund Pike), who seem to live a happy marriage. After Amy goes missing, however, Nick becomes a prime suspect in this postmodern mystery bound to spark conversation on your date.
29. Knives Out (2019)
After wealthy mystery novelist Harlan Thrombey (Christopher Plummer) suddenly dies at his 85th birthday party, private detective Benoit Blanc (Daniel Craig) is assigned to investigate the incident. He soon learns Thombey's relationships to his dysfunctional family members were strained, making everyone a suspect in this Oscar-nominated movie. Featuring a star-studded ensemble cast including Chris Evans, Ana de Armas, Jamie Lee Curtis, and Toni Collette, Knives Out makes for great date-night fodder, as you'll spend the whole film trying to crack the case.
This article was originally published on