4 Signs Most Affected By The January Full "Wolf" Moon
A lunation in Cancer will bring the emotions.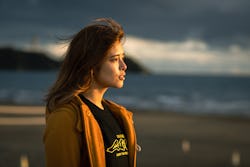 Susumu Yoshioka/DigitalVision/Getty Images
Have your favorite Netflix dramedy and a box of tissues ready because the first full moon of 2022 is on its way, and it's bringing all the feels. The January 2022 full wolf moon will illuminate the night sky on Jan. 17 as it enters emotionally sensitive Cancer, pulling at your heartstrings. You'll be asked to sit and assess your complex emotions — and you need it, too, after all the hard work you've been doing in the spirit of Capricorn season. You can finally put a pause on your razor-sharp focus on your work and feel inspired to investigate your feelings during this emotionally-charged lunation. But if you're one of the zodiac signs who are most affected by the January 2022 full Wolf moon, you may find it a bit more complicated than simply switching up your focus.
According to The Farmer's Almanac, the January 2022 full wolf moon gets its name because wolves were usually heard howling during this time, and people once believed it was due to being hungry during the cold winter months. In astrology, full moons indicate the lunar phase with the moon is at its brightest and fullest, acting as a metaphor for the blazing truths realized in personal reflections and analyzing emotions. It symbolizes a time for release and manifestation, and since this is the first full moon of the year, you can expect that whatever you've set your sights on releasing in the new year will come to a head during the full moon — and if you have a hard time facing your emotional side, this could be a challenging lunation for you. What's more, Cancer is ruled by the moon, meaning you may feel sensitive to the emotions of others.
Ready to find out if this intense lunation will be hitting you harder than others? Keep reading to find out if you're one of the few zodiac signs most affected by the January 2022 full wolf moon.