The 4 Bravest Zodiac Signs, According To Astrologers
Gutsy is an understatement.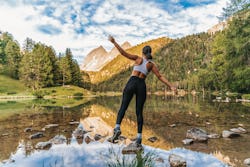 ljubaphoto/E+/Getty Images
If you're the type of person who diligently checks their horoscope or delves into other people's birth charts, then you're certainly aware of how astrology can offer us celestial insight into our personal characteristics and motivations. Your astrological profile is a great tool to understand why you're either on the sensitive side or veer more toward being tenacious and bold. If you've ever wondered why you're always down to go out there and confront adversity rather than step back and hope for the best, then you might not need to look further than your own birth chart. In fact, if the stars could speak, they'd probably tell you that you're one of the bravest zodiac signs.
Since your sun sign represents your core identity, it's a great way to tell whether you're the bold type. "Your sun sign is the part of your personality that spends the most time in the spotlight," Lauren Ash, an astrologer, tells Bustle. "While your chart is made up of a variety of placements, your sun sign signifies what your heart wants most in this lifetime."
According to Ash, the key to determining your astrological bravery is identifying the modality and element your sun sign is in. For example, if your sun sign falls under a fixed modality, meaning it's middle zodiac sign of a given season, you don't falter in confrontation or conflict, allowing you to stand your ground even in difficult moments. "The elements and modalities of the signs indicate how they approach challenges in life as well as how their overall energy operates," explains Ash.
If you want to dig deeper, another way of determining whether you're one of the bravest of the bunch is by looking at your Mars placement. Mars is the planet of determination and courage, so it can indicate how you hold down the fort in the face of fear. "Mars is key for indicating strength, which can indicate someone with the fortitude, passion, and grit to achieve their goals. The house of your Mars really shows where you are driven to succeed and take action, and the sign of your Mars shows how you take that action," Ash says. Knowing the traits of your Mars sign can help you understand your aggression and impulses. For instance, if your Mars sign is stationed in a bold fire sign on your chart, you likely have a gutsy edge to you and you don't let any doubts scare you from meeting your goals. "Fire signs have the easiest expression of boldness in their energy," explains Ash.
Do you wear your fearlessness like a badge of honor and revel in the thrill of it all? If so, you're probably one of the most brave zodiac signs. Read on to reveal the most courageous of the bunch.
This article was originally published on