The June 2022 New Moon Will Affect These Zodiac Signs The Least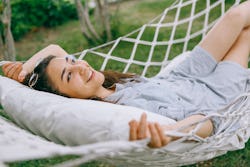 baytunc/E+/Getty Images
If you haven't felt completely energized by the warmth of the sun's rays lately, allow the next lunation to add some pep to your step. The June 2022 new moon, which arrives on June 28, is the first one since the invigorating summer solstice. The uplifting energy, courtesy of sensitive Cancer, is restoring your focus on your goals while inviting new ones. For the zodiac signs who are least affected by the new moon, these inspiring changes will welcome new opportunities as you cross off all the items off your bucket list this season.
In the same way a new moon kicks off the lunar cycle, it also symbolizes a fresh start. It's all about new revelations, beginning projects, and starting over. Since this fresh start is spending time in caregiving Cancer, the focus is on nurturing your passions and bringing comfort to your day-to-day. The water sign is all about emotion, but they're go-getters underneath their delicate surface — and instead of spending too much time in their feels, some zodiac signs who will be least impacted by this lunation will see it as an opportunity to expand their minds, spirits, and pockets.
The new moon in Cancer is centering our sense of belonging, but it'll take it easy on a select few. Keep reading to find out if you're one of the zodiac signs least affected by the June 2022 new moon.