The March New Moon Will Affect These 3 Zodiac Signs The Least
Consider it an excuse to rest.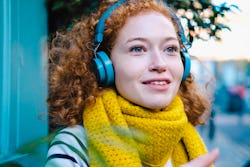 Westend61/Westend61/Getty Images
Even though 2022 just started, the collective is headed for a night of completion in the form of the March 2022 new moon, which stations in sensitive and supernatural Pisces on Mar. 2. Because the water sign completes each zodiac cycle, the next lunation is about surrendering to your feelings and letting go of what is no longer serving your spiritual purpose. That's because Pisces is all about liberating yourself from traditions and traversing the otherworldly parts of life — think spirituality and intuition. For many zodiac signs, this new moon in Pisces is more than a time to recharge, though. It also heralds in dramatic spiritual changes, renewal, and emotional release. But if you're one of the zodiac signs least affected by the emotional March 2022 new moon, the luminary's impact will be a lot more chill.
In astrology, new moons signify new beginnings, since they reset the lunar cycle each month. This stage makes for a great time to get rest, start new projects, and plan your next moves. Being that Pisces is ruled by Neptune, aka the planet of fantasy, in modern astrology, this new moon is a great time to take a much needed day off to rest and daydream. Pisces is encouraging the collective to free themselves of practicality and dream big when it comes to relationships and self-expression, and since Pisces is all about self-reflection, you can't go wrong with using this new moon to supercharge your shadow work.
This lunation is clarifying your intentions and helping you make room for bigger and better blessings. Read on to find out if you're one of the lucky few zodiac signs who are least affected by the March 2022 new moon.