The 4 Most Athletic Zodiac Signs
These folks love a good challenge.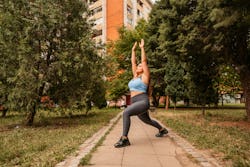 urbazon/E+/Getty Images
Astrology can provide a ton of insight into your unique personality traits. The more you delve into your birth chart, the more it can help you understand your inner strengths and power moves that contribute to your active lifestyle. Whether you find peace at the gym or atop a mountain, if you get an inexplicable joy out of pushing your limits, you can probably relate to the most athletic zodiac signs.
Your sun sign, which represents your core personality, is a great jumping-off point to testing your athletic limits. If it's stationed in a fire sign (Aries, Leo, Sagittarius) for example, you may be naturally athletic. Fire signs are the signs of action — they're bold, thrill-seeking, and competitive, which is why these energetic signs tend to be the athletes of the zodiac.
But your sun sign is only the surface of your chart, and some of your personal planets can help when discerning your athleticism. "Astrologers have long looked at Mars to better understand someone's athletic capabilities," astrologer Ryan Marquardt tells Bustle. So even if you don't have an athletic sun sign, your Mars placement might be able to explain why you veer toward competition. If your Mars sign is in sporty Aries, for instance, odds are you crave competition and allow your need for speed to lead you to first place.
Keep reading to find out if you're one of the most athletic zodiac signs.