The 4 Most Selfless Zodiac Signs
Astrologers weigh in on who's likely to offer you a helping hand.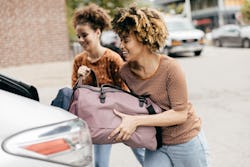 kate_sept2004/E+/Getty Images
Although several different factors can explain why some people are more selfless than others, such as one's upbringing, a person's zodiac sign can also be pretty influential. According to astrologer Sophie Won, there's one big thing that sets the most selfless zodiac signs apart from the rest.
When you're trying to figure out why some people behave the way they do, digging deeper into their zodiac sign can reveal a lot. Typically, a sign's ruling planet influences its basic personality traits while its element determines how a sign expresses itself. You can use these aspects of a zodiac sign to see how honest, responsible, or friendly someone may be.
But when it comes to selfessness, according to Won, a sign's modality or element isn't necessarily a strong indicator. "What ultimately makes a sign more or less selfless than others comes down to underlying motivation of that sign," she says. "It's the 'why' behind the sign versus the 'how,' which is what modality and element are."
For example, if you're ultimately motivated to create balance in all situations like Libra, there's a good chance you'll sacrifice your own needs to appease others. At the same time, if you're driven by competition like Aries, Won says you're more likely to be selfish because you prioritize your individual goals over the good of the entire team.
With that in mind, selfless zodiac signs are naturally motivated to help others in some way. These are the most selfless signs in the zodiac, according to Won.
Sources
Sophie Won, astrologer on Indian Matchmaking Season 2