The 4 Most Successful Zodiac Signs, According To An Astrologer
It's about drive, it's about power.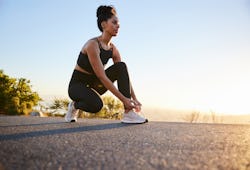 Goodboy Picture Company/E+/Getty Images
Everyone's definition of success looks a little different. Depending on your values and goals, your interpretation for being accomplished in life may be climbing the ladder to a CEO position, where someone else may find helping their community just as fulfilling. Astrologically, your birth chart is an insightful tool that can help you identify the strengths that allow you to crush your goals and move you closer to your version of success. Plus, it can pinpoint specific nodes that discern whether you were simply born with star quality. Whether you identify with Leslie Knope's level of achievement or have a burning feeling you were destined for greatness, odds are your birth chart shows that you're one of the most successful zodiac signs.
While your sun sign can give you a general rundown of your outward qualities, there are other elements in your birth chart that speak to your luck and your destiny like your Jupiter sign and your north nodes, respectively. According to astrologer Lauren Ash, your Jupiter sign is the part of your birth chart that will show you your fortune and luck. In astrology, auspicious Jupiter rules abundance, so if your Jupiter sign is Aquarius, for example, you may be #blessed with a buzzing social life, since the air sign is all about friendship and society.
Your north node, on the other hand, indicates your destiny, particularly when it comes to your career and personal calling. Ash says that having multiple planetary placements or your north node in your tenth house of profession and calling is usually a tell about whether you were born with luck in your career. "This is a sign of someone who will make a major mark or change in their field. These people feel as though their identity and happiness are closely linked to their ability to achieve things in life," Ash explains.
Are you destined for a life of achievement? Keep reading to find out if you luck out as one of the most successful zodiac signs.