Experts Say You Can Keep These 10 Thoughts To Yourself In Relationships
Some things are better left unsaid.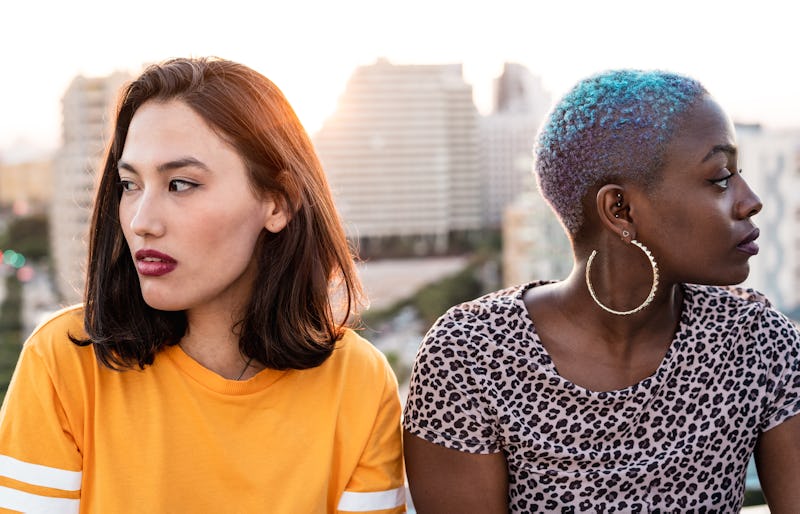 Addictive Stock / Rafa Cortes/Addictive Stock/Getty Images
Nine times out of 10, you're going to want to be open with your partner and let them know what you're thinking, feeling, hoping for, and so on. Communication is, after all, one of the most important factors in maintaining a relationship. But should you tell your partner everything? Experts agree that you don't have to.
"I absolutely think that is not only normal, not only OK, but really great to have some private thoughts or things in your life that are just yours," dating and relationship expert Cora Boyd tells Bustle. "And I don't think that has to exist in the same space [as] deceit or omission whatsoever."
In fact, keeping a few thoughts to yourself can be beneficial at times, especially if they won't contribute to your relationship in a positive way. "Total honesty isn't always the best policy," Jonathan Bennett, relationship and dating expert at Double Trust Dating, tells Bustle. If revealing this information will serve no real purpose, or if it will cause hurt feelings, he says, then it may be something worth keeping to yourself.
It'll be up to you to judge what needs to be said and what's OK to keep quiet. You may find that "some things are best kept private in order to spare others pain and keep peace in the relationship," Bennett says. As well as respecting boundaries and sparing feelings, keeping some thoughts private can also help you maintain an individual identity while in a relationship. "It's really, really important for the health of the relationship to continue to nurture and have a connection with your own individuality," Boyd says. This can come with breaking the notion that you have to tell your partner everything.
Of course, that's not to say you shouldn't discuss tough subjects or have deep conversations about whatever's going on in your relationship. Open communication is undoubtedly the key ingredient to a healthy partnership, and you should never be hiding information or starting sentences with, "Don't tell my boyfriend, but..." (If you find yourself prefacing convos with your friends like this, it might be time to reevaluate some things in your relationship.) Every couple is different, meaning that each pair will have their own communication styles that feel comfortable for them. So, while this is by no means a definite list, you may want to avoid some of the topics below in the interest of maintaining a harmonious connection.
You don't have to divulge every thought in order to have a strong relationship, especially when that thought might do more harm than good. So take your partner and your connection into consideration, and know that it's always OK to keep a few things to yourself.
Experts:
Cora Boyd, dating and relationship expert
Jonathan Bennett, relationship and dating expert
Dr. Racine Henry, PhD, LMFT, licensed marriage and family therapist and owner of Sankofa Marriage and Family Therapy
Michelle Fraley, MA, WPCC, psychologist, relationship expert, and professional matchmaker
Jorge Fernandez, LCSW, an individual and family psychotherapist
This article was originally published on