The 3 Zodiac Signs Virgo Is Most Likely To Marry
Someone who can appreciate their need for cleanliness is a must.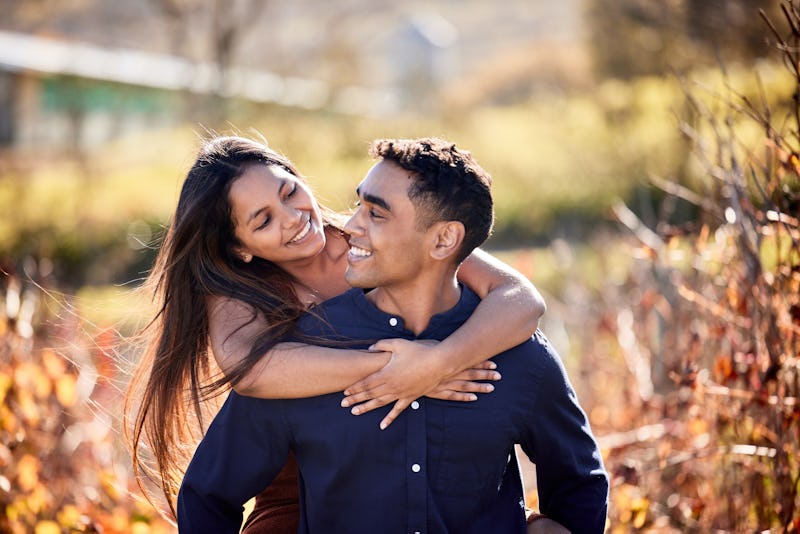 PeopleImages/E+/Getty Images
Virgos take marriage just as seriously as they do cleaning. If you've ever met a Virgo, you'd know how immaculate they like their space to be. As a practical and analytical Mercury-ruled sign, Virgo is definitely not one to rush down the aisle. In fact, it takes a very special someone to lock down the zodiac's earthy Virgin. According to astrologers, there are three zodiac signs Virgo is most likely to marry.
As Suzie Kerr Wright, astrologer and psychic medium, tells Bustle, Virgos like the idea of marriage, but are "very, very cautious" about committing to just anyone. "They'd rather be alone than in the wrong relationship. With the way they analyze and overthink, it's amazing how many do end up getting married," she says.
There are a couple of factors that determine whether a Virgo settles down with someone or not. For one, timing is everything. If getting married doesn't fit into their five-year plan, it's just not going to happen. Two, Virgos are notoriously picky. They tend to have high standards for not only themselves, but also the company they keep. So finding "The One" may take more time for them than a more desire-driven sign like Aries or Sagittarius.
In relationships, Virgos look for stability, honesty, reliability, honesty, and minimal drama. They also have a reputation for being very neat. As astrologer Clarisse Monahan tells Bustle, a partner who can appreciate their need for order and cleanliness is a must. "The messier or erratic signs tend to stress them out," she says.
But above all, Virgos need a long-term partner who knows how to communicate well. According to Monahan, communication is extremely important for this Mercury-ruled sign. "Being in sync in this area is essential," she says. They're most likely to be with a partner who's smart, can verbally bounce ideas back and forth with them, values stability, and can be a source of comfort whenever they're in overthinking-mode. Because of that, Wright and Monahan say Virgo is most likely to marry the following three zodiac signs.
Sources
Suzie Kerr Wright, astrologer and psychic medium
Clarisse Monahan, astrologer
Theresa Reed, astrologer
Lisa Kiss, astrologer
This article was originally published on