11 Things You Should Never Do Once You're In Bed, According To Sleep Experts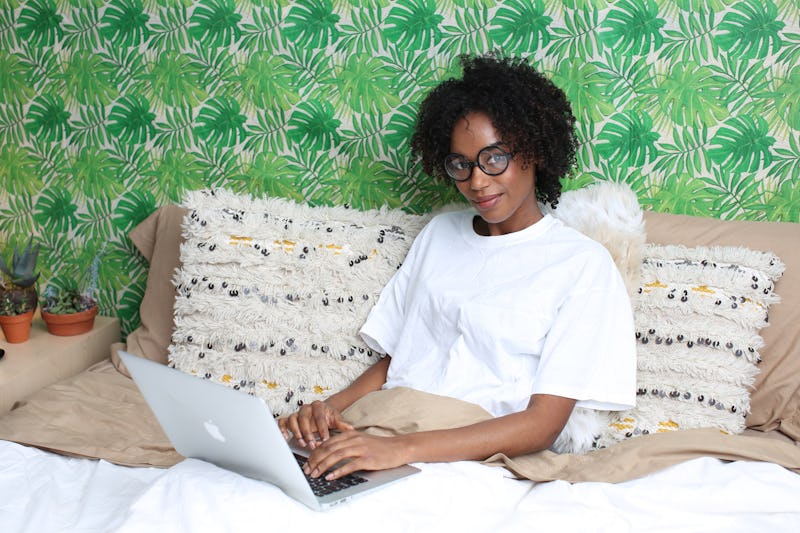 Ashley Batz/Bustle
Many of us treat our beds as a hangout spot, a home office, or as a place to lie awake for hours on end, worrying when we'll fall asleep. But these are all things you shouldn't do in bed, regardless of how comfy, productive, or "normal" it may feel.
If you want to drift off quickly, and get a good night's sleep, your bed should remain a place for rest — and not much else. "Your bedroom should be treated as a sleep sanctuary, as our bodies are creatures of habit when it comes to both sleep routines and environments," Bill Fish, certified sleep science coach and co-founder of Tuck, tells Bustle.
If you keep all activities (besides sleep and sex) out of your bedroom or away from your bed, you may notice that you sleep better. And this is especially true if you add in a relaxing bedtime routine. "A bedtime routine can make all the difference in your sleep," Catherine Darley, ND, of The Institute of Naturopathic Sleep Medicine, Inc., tells Bustle. "Take 30 to 60 minutes to get into a relaxed, parasympathetic state before bed."
This might include winding down with a good book, processing your thoughts from the day, taking a warm bath, or giving meditation a try. Once you climb into bed, it should feel as if you have nothing left to do, but sleep.
Here are a few things to avoid once in bed, according to sleep experts.