We Achieved All These Feminist Victories During Trump's First 100 Days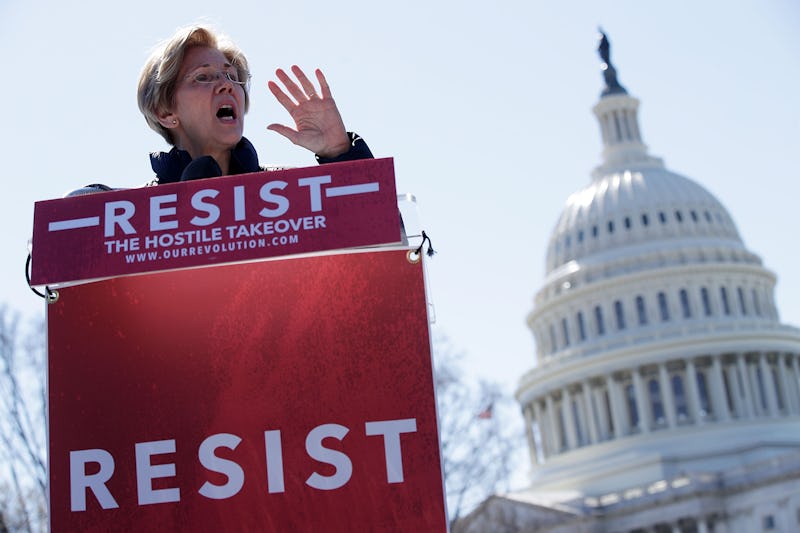 Alex Wong/Getty Images News/Getty Images
April 29 marks President Trump's 100th day in office. Doesn't it feel like it's been longer? Only 1,360 to go. It hasn't been easy — but you can definitely pat yourself on the back for these feminist victories during Trump's first 100 days in office. It's no secret that millions of Americans are not on the Trump love train as he waves his executive order pen with glee and attempts to sign away rights for immigrants, women, the LGBTQIA community, and more.
And, what do you do when you don't like something? You can either grin and bear it, or you can fight back. Many of you have chosen the latter, and because of that, despite Trump being president, we have victories to celebrate. From more women running for office to preserving the Affordable Care Act to halting Trump's immigration order, your dissent is making a difference.
I once heard that the mark of integrity is when you do the same thing when no one is watching as you would when everyone is watching. It's easy to say one thing and do another in private because, if I'm being honest, having the courage to stand up for your convictions is hard, and often downright scary. And, with Trump being president, many people have had enough. These 15 feminist victories during Trump's first 100 days in office exhibit integrity, and provide much needed inspiration for the future.