Place Your Bets With These 2017 Oscar Predictions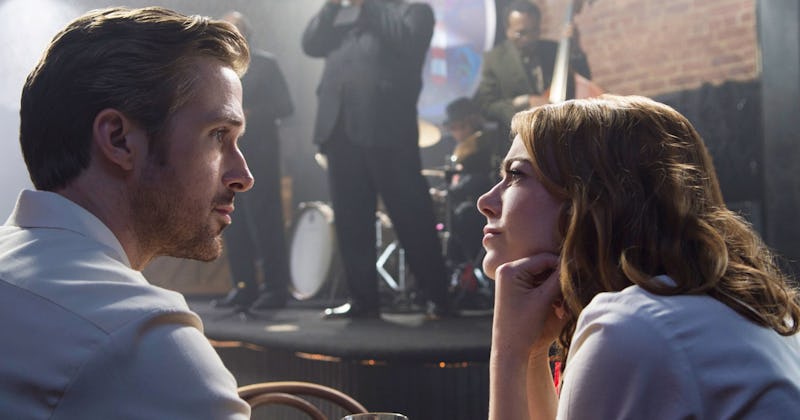 Summit Entertainment
When this year's Academy Awards end, will we be basking in "Another Day Of Sun" with La La Land? Or will we be glowing in the Moonlight? That's the question these 2017 Oscar predictions aim to answer, along with tough toss-ups in the ceremony's other major categories. While predicting the technical fields can be like throwing a dart across the room blindfolded, there is more of a science to foreseeing the outcome of the main contests referred to as the "above-the-line" categories.
Of course, there will always be an element of human error in the results; and thank goodness, because how boring would it be if there were never any surprises? But precursor awards like the Golden Globes, the BAFTAs (the British Oscars), and the various guilds (PGA, SAG, WGA) can give you a good sense of the trends of the awards season, and whose names are most likely to be called on Sunday.
Here are your best bets in the top eight categories at the 89th annual Academy Awards.
Best Original Screenplay
20th Century Women (Mike Mills)
Hell Or High Water (Taylor Sheridan)
La La Land (Damien Chazelle)
The Lobster (Efthimis Filippou, Yorgos Lanthimos)
Manchester By The Sea (Kenneth Lonergan)
Will win: La La Land
Could win: Manchester By The Sea
Playwright Lonergan was presumed to be the frontrunner for his dialogue- and character-driven script; but when he failed to win the Writers Guild Award (a prize taken by Moonlight, which isn't competing against Manchester at the Oscars), that status became less of a certainty. Instead, the Academy may choose to give La La Land's wunderkind filmmaker double honors for writing and directing the most buzzed-about movie of the year. This is a close one, though — Lonergan could still end up winning.
Best Adapted Screenplay
Arrival (Eric Heisserer)
Fences (August Wilson)
Hidden Figures (Theodore Melfi, Allison Schroeder)
Lion (Luke Davies)
Moonlight (Barry Jenkins, Tarell Alvin McCraney)
Will win: Moonlight
Could win: Arrival
Although it competed as an Original Screenplay at other ceremonies, Jenkins' script was deemed Adapted by the Academy, since it's based on an un-produced play. Now that it's not going toe-to-toe with La La Land and Manchester, the WGA winner should have no trouble winning here. If it's anybody else though, watch out for fellow WGA victor Arrival, which boasts a complex, circular, twist-heavy structure.
Best Supporting Actress
Viola Davis, Fences
Naomie Harris, Moonlight
Nicole Kidman, Lion
Octavia Spencer, Hidden Figures
Michelle Williams, Manchester By The Sea
Will win: Viola Davis
Could win: Nobody else
If you need to double-down on one category, this is the one to pick. Even if Davis hadn't delivered arguably the best performance by any actress last year, she'd probably still be the frontrunner thanks to her snub five years ago, when she lost for The Help in a shocking upset to Meryl Streep for The Iron Lady. Better late than never, I suppose.
Best Supporting Actor
Mahershala Ali, Moonlight
Jeff Bridges, Hell Or High Water
Lucas Hedges, Manchester By The Sea
Dev Patel, Lion
Michael Shannon, Nocturnal Animals
Will win: Mahershala Ali
Could win: Dev Patel
After winning prizes from pretty much every critics' group early in the season, Ali proved vulnerable with the major awards, losing the Golden Globe to Nocturnal Animals' Aaron Taylor-Johnson (who isn't nominated here), and the BAFTA to Lion's Dev Patel. His victory at the Screen Actors Guild Awards should clinch this for him, but there's a chance that his BAFTA challenger could pull another upset here.
Best Actress
Isabelle Huppert, Elle
Ruth Negga, Loving
Natalie Portman, Jackie
Emma Stone, La La Land
Meryl Streep, Florence Foster Jenkins
Will win: Emma Stone
Could win: Isabelle Huppert
It's been 12 years since any Best Picture winner even had a nominee in the Best Actress category — when Hilary Swank was nominated (and won) for Million Dollar Baby. So it's great to see a Best Picture frontrunner that's so dependent on the luminous performance of its female lead. After victories at the Golden Globes, SAG, and BAFTA, this trophy should easily go to Stone. But if anyone poses a threat, it's respected international actor Huppert.
Best Actor
Casey Affleck, Manchester By The Sea
Andrew Garfield, Hacksaw Ridge
Ryan Gosling, La La Land
Viggo Mortensen, Captain Fantastic
Denzel Washington, Fences
Will win: Denzel Washington
Could win: Casey Affleck
This is by far the biggest nail-biter of the night. For the longest time, Affleck was leading the pack; but when Washington stole the SAG Award from him, the tide turned in his favor. SAG hasn't been wrong about the Best Actor race in 13 years, and sexual harassment allegations in Affleck's past may give voters pause. (Affleck denied these claims back in 2010.) If Washington wins, he'd be only the seventh performer in history to win three Oscars for acting — and he'd be the first African-American actor to do so. That narrative might be hard for voters to resist.
Best Director
Damien Chazelle, La La Land
Mel Gibson, Hacksaw Ridge
Barry Jenkins, Moonlight
Kenneth Lonergan, Manchester By The Sea
Denis Villeneuve, Arrival
Will win: Damien Chazelle
Could win: Barry Jenkins
If 32-year-old Chazelle wins, he'll become the youngest Best Director winner in history, breaking a record that has stood for 84 years. If Jenkins wins, he'll become the first African-American director to win. Either way, history will be made this Sunday… but this is definitely Chazelle's to lose.
Best Picture
Arrival
Fences
Hacksaw Ridge
Hell Or High Water
Hidden Figures
La La Land
Lion
Manchester By The Sea
Moonlight
Will win: La La Land
Could win: Moonlight
While you can never quite count out a Crash-over-Brokeback Mountain type upset, it's impossible to imagine anything other than La La Land winning Best Picture this year. The movie musical has won top honors from the Critics Choice Awards, the Golden Globes, the BAFTAs, and the Producers Guild, and it will almost certainly do the same at the Oscars.
Find out who actually wins when the ceremony airs this Sunday, Feb. 26 at 8:30 p.m. on ABC.