6 Fascinating Ways Women May Experience High-Functioning Anxiety Differently Than Men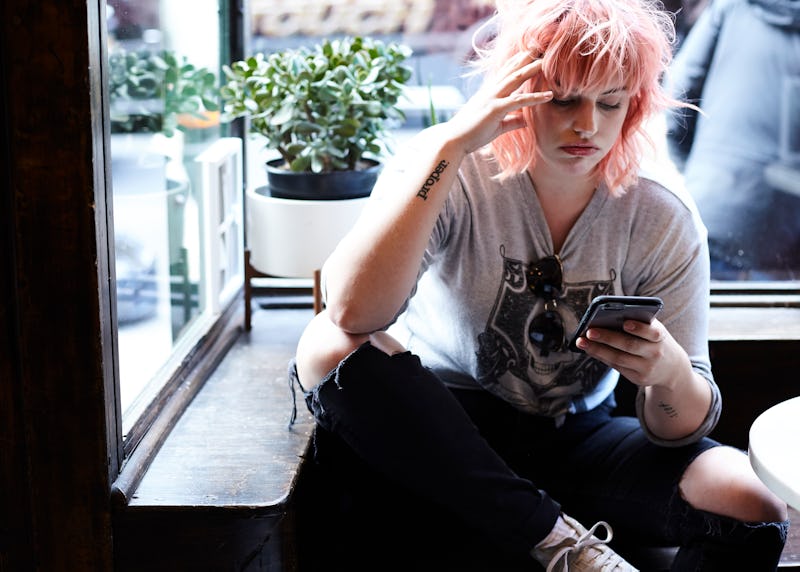 Hannah Burton/Bustle
While anyone can feel anxious and stressed, the symptoms of high-functioning anxiety don't look the same for everyone. In fact, there are many ways women experience anxiety differently than men, in terms of their symptoms and what they focus on.
"Even though gender equality has come a long way, women today still experience a 'double bind' of being expected by society to somehow balance being a perfect wife/partner, parent, and professional — all at the same time," Dr. Dana Udall, National Medical Director at Ginger.io, tells Bustle. "This is a common source of high-functioning anxiety for women."
Societal expectations play a role, but biology might as well. "Studies have also linked hormonal differences with stress and anxiety, as women experience greater hormone level fluctuations, which can affect mood," Dr. Jeff Nalin, PsyD, PhD, licensed clinical psychologist and founder and chief clinical officer at Paradigm Malibu Treatment Center, tells Bustle.
That's not to say, though, that men don't experience anxiety, but it may crop up in a different way. As Dr. Nalin says, "Very often, men themselves do not even realize that they are experiencing stress. Men tend to respond to stress by holding in their feelings or conversely by lashing out with bursts of anger and irritability." This may also have to do with gendered expectations which prevent men from expressing their emotions.
The good news is, there are ways for everyone to feel better. "For both men and women, high-performing anxiety can be managed and treated," Dr. Nalin says. "Little lifestyle changes, such as eating well, practicing mindfulness, exercising, [and] taking some 'me time' can help tremendously. Cognitive behavioral therapy is also extremely effective." With that in mind, here are a few ways women may experience high-functioning anxiety differently, according to experts.