Why Her Role In'A Wrinkle In Time' Is So Important For Black Girls & Women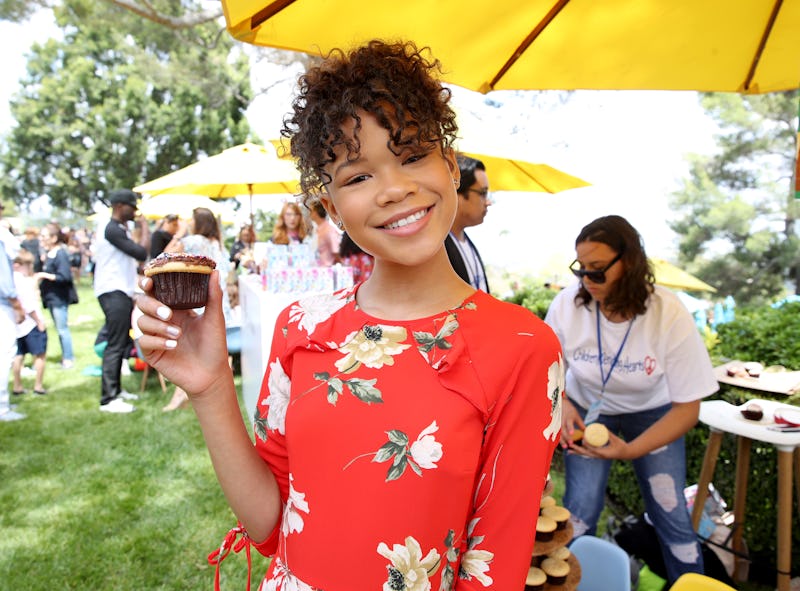 Jonathan Leibson/Getty Images Entertainment/Getty Images
Ava DuVernay's A Wrinkle In Time hits theaters March 9, and 2018 can't seem to get here fast enough. With all of the press surrounding the film — from cast and crew highlights to its mind-blowing first photos — there's no doubt that the production won't be inspiring to watch. But more specifically, Storm Reid hopes that A Wrinkle In Time will empower other little black girls, just like her.
The actor sat down with Entertainment Weekly to discuss her role as Wrinkle's leading lady Meg Murry, and couldn't help but boast about what the career move means to her. In the interview, Reid says,
"It means everything to be a girl of color and play Meg Murry because Meg Murry is, in the books, a Caucasian little girl."
The science-fiction novel, written by Madeleine L'Engle, follows the story of Murry as she tries to locate her scientist father in an alternate universe. Sci-fi fans can attest to the fact that it's pretty unusual to see a person of color at the helm of many of the genre's stories, and so Reid starring in its adaptation is kind of big deal. Diversity and inclusion within science fiction is hard to come by — whether that be having female lead characters, or lead characters of color. And along with recent film adaptations Fahrenheit 451 and sci-fi thriller Annihilation — placing women and people of color as their leads — Wrinkle is working to disrupt the genre's status quo.
In addition to having a diverse cast in front of the camera, having a diverse crew behind-the-scenes is as integral a part of the package. And today, there's no one better than director and producer Ava DuVernay to lead this production. From the start of her career, her mission has always been to tell inclusive stories, and by being a minority herself, she was able to recognize that there was a strong need to have a brown girl in the starring role of the adventure flick.
In a separate interview with EW in July 2017, DuVernay talked a bit about her efforts to cast a brown girl as "Meg" while developing Wrinkle, saying, "There aren't any other black women who have been invited to imagine what other planets in the universe might look and feel like. I was interested in that and in a heroine that looked like the girls I grew up with."
Representation in entertainment is important, and that's something that can't be stressed enough. Seeing images of people you can relate to — through race, ethnicity, sex, or similar circumstances — on the big and small screens can be rewarding. Knowing that your voice is being heard, or that someone like you is valuable enough to have pieces of your story consumed by the world is priceless. But when most of the art you consume isn't the least bit reflective of your experience — something that women and people of color know a lot about — you feel invisible. Like DuVernay, Reid also identifies with this struggle, and in her interview with EW, says:
"It's just surreal because I get to empower other little African-American girls around the world, and say that you can be a superhero, and you rock, and you can conquer the world, and you are beautiful just the way you are, and your flaws are nothing, and you're awesome. It feels really good to be able to inspire not only little girls [but] everyone."
The entertainment industry has certainly been making strides to bring more inclusive storytelling to the forefront, but science-fiction still seems to be lacking in its developing of leads who aren't white, cis-gendered males. And "Wrinkle" pushing those boundaries, and making it possible for young girls of color to see themselves in superhero capes, is so important.