'Bachelor' Nation Is Quick To Vilify Women, But Gives The Men So Many Second Chances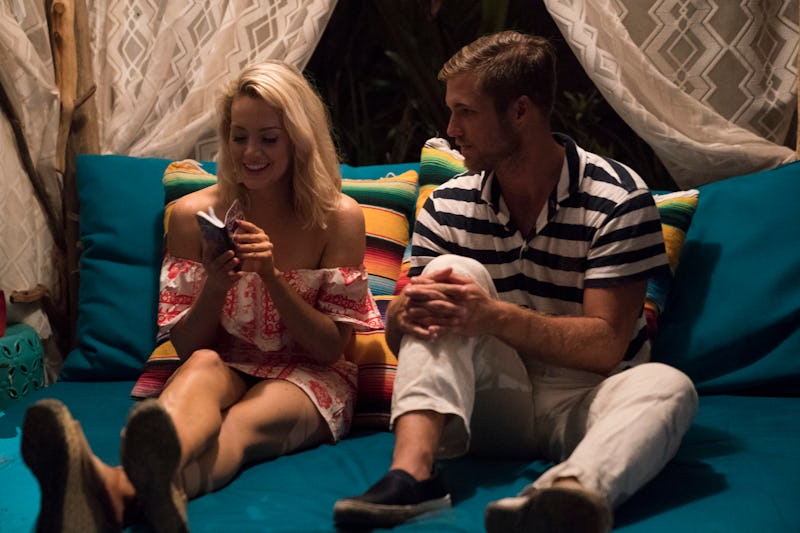 ABC/Paul Hebert
If you're a member of Bachelor Nation, then you already know the franchise has more than its fair share of drama — whether it's the recent Jenna and Jordan saga, or classic relationship quarrels. And when it comes to ups and downs seen across the various shows, you might notice a disappointing trend among the contestants: Bachelor Nation is quick to vilify women, particularly those who are involved in what are perceived as "scandalous" moments in the series. However, when it comes to the men who are involved in the very same situations, they're given multiple chances to redeem themselves. Until this issue is addressed, it will continue to be a sore spot among the Bachelor fandom.
This dichotomy has been on full display in the aforementioned Jenna Cooper and Jordan Kimball relationship drama. As you're probably aware, issues between the two Bachelor in Paradise contestants are still ongoing, despite the fact that they have since parted ways. After meeting on Paradise and even getting engaged, they eventually split after cheating allegations surfaced. The allegations came to light in early September after a series of texts were released via Reality Steve, where an unnamed man claimed Jenna was sending him messages while she was still with her then-fiancé Jordan.
In a statement to People, Jenna denied the claims. "I am aware of the allegations being made against me and they are simply untrue," she said. "I am choosing to focus on my relationship right now. Thank you for respecting my privacy at this time." Then on Oct. 15, Jenna released another statement, which she once again denied that she sent the texts. Her statement read:
"A comprehensive forensic examination of Jenna's devices by an independent third-party expert has definitively confirmed none of the text messages in question came from Jenna's phone. Given the conclusive findings of the forensic report, Jenna's team is considering all options available to Jenna relating to the fraudulent texts."
She shared evidence of this "forensic examination" to her Instagram page, noting that she's moving "Onward and Upward."
But despite not knowing exactly what occurred, there's been a clear "hero" and "villain" when you take a look at this Jenna and Jordan situation — at least according to the internet. All you have to do is check out any of Jenna's social media posts to get an idea of the negativity she's faced.
On one of her Instagram photos, a user wrote, "You are such a joke. Your 5 minutes has been up for a while," and others continue to lash out against the reality star using a number of disgusting expletives. Tweets about her have been equally harsh.
As for Jordan, he's gone through a total redemption arc after first making waves on The Bachelorette. There isn't nearly as much vitriol aimed toward him in relation to this situation (not that there should be any negativity thrown toward either party). In fact, after all this relationship drama, he's gotten another chance to shine on ABC by making an appearance on Dancing With the Stars alongside fellow BiP contestant Joe Amabile, aka Grocery Store Joe.
So, why did Jenna get the short end of the stick, along with all of the negativity attached to it? Well, it unfortunately goes along with an established trend involving women in Bachelor Nation. Numerous women in the series, like Jenna, have been instantly vilified when it comes to certain scenarios. In other words, the sexism problem among the series' fanbase needs to change.
On the most recent season of Paradise, this trend was on full display with yet another couple: Tia Booth and Colton Underwood. Tia and Colton had a back-and-forth relationship during the season (and on Becca's Bachelorette season too), which fans weren't exactly into, judging by social media. In simplest terms, many people were over the two contestants and the ongoing drama.
However, which one of those contestants now gets the chance to redeem themselves on another Bachelor series? Oh, yes, that would be Colton. Meanwhile, Tia was portrayed as love sick on Paradise. And let's not forget how when Tia made a cameo on Becca's season to admit her feelings for Colton, she received an unfair amount of shade from the fandom.
So not only are the women of the series quickly forced into this "villain" role, but unlike their male counterparts, they don't have nearly as many chances to redeem themselves publicly. And there's a pretty clear precedence for this male redemption arc on the series.
All one needs to do is look at Nick Viall's time on the franchise to see this type of redemption arc put into play. Nick made waves on not one, but two seasons of The Bachelorette, firmly cementing his "villain" role. During his first season, you might remember that he all but shamed Bachelorette Andi Dorfman for sleeping with him on the After the Final Rose special. He asked Andi on the program, "If you weren't in love with me, I don't know why you made love with me?" He was then involved in another scandal during Kaitlyn Bristowe's Bachelorette turn, when the two slept together in the middle of the season.
Despite being equally involved in these situations, Nick got the chance to come back to redeem his image, not only on Paradise, but also during a starring turn on The Bachelor. Fans welcomed him with open arms. Can you imagine what would happen to a woman who had done the same?
Well, you don't exactly have to imagine it, since the flip side played out for Kaitlyn. As Kaitlyn explained on the Men Tell All special, she received more than a fair deal of vitriol on social media after the Nick situation, with host Chris Harrison describing some of the nastiest responses. One person tweeted, "your the worst #bachelorette ever in history you're a little #wh*re so shut your little wh*re mouth #sl*t." Another user sent her a message that read, "Kaitlyn is a selfish wh*re with no morals and a pathetic excuse for a human being." Following that, did she have nearly as many chances as Nick had in the limelight? Nope.
There was also some controversy with a possible Dancing With the Stars stint that never came to be. As Kaitlyn explained to Entertainment Tonight, it didn't pan out because it was supposedly bad for Bachelor creator Mike Fleiss' brand. (In response to this claim, Fleiss wrote on Twitter, "@kaitlynbristowe has my total support if she wants to appear on DWTS!!!") But who got to go on DWTS a couple of years later? That's right, Nick did.
None of this is to say that Jordan, Colton, or any other male contestants automatically need to be the "villains" in these situations. But it's clear that there's a discrepancy between how female contestants are perceived when compared to their male counterparts, and who gets that second shot in the spotlight.
This is obviously an issue without a simple solution, as it's one deeply rooted in sexism — perhaps even unintentional. But what can be done to try and remedy this? First of all, the series creators need to understand this discrepancy, so they can treat both female and male contestants with the utmost respect when they're portrayed on-screen. This is also something that fans can try and be aware of, especially when it comes to how they discuss the franchise. Because addressing the problem head-on is one way for viewers to actually start to change the conversation.