Chris Harrison Teases That The Next 'Bachelor' Could Be A VERY Familiar Face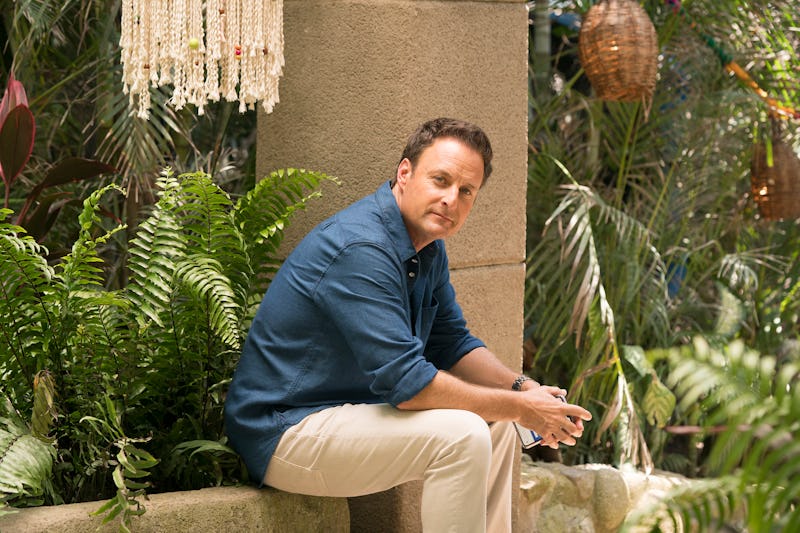 ABC/Paul Hebert
With The Bachelorette newly-wrapped, and Bachelor in Paradise in full swing, it's time to turn your attention to that age old game: predicting who'll be handing out roses next. Chris Harrison speculated on the next Bachelor in an interview with Entertainment Tonight, and while some of his picks are what you'd expect, you might be surprised by his first choice.
It turns out, Chris Harrison's first choice for the next Bachelor is Ben Higgins, who would be making his fourth appearance in the franchise, not counting his little cameo on Tuesday night's episode of BIP, if he returns to Bachelor Nation. The 29-year-old debuted on Kaitlyn Bristowe's season of The Bachelorette in 2015 and then helmed The Bachelor's Season 20 the next year, where he got engaged to winner Lauren Bushnell. After that relationship ended in May 2017, Ben went on 2018's Winter Games, where he again left without finding love.
All of which brings us up to the current day, with Harrison pushing for the former software salesman to be given one more chance. As the franchise host told ET, "There's an absolute, absolute opportunity for Ben to come back and be the Bachelor." However, he did acknowledge that he might be slightly biased; the 47-year-old has become close friends with the former Bachelor, and said that even though he's "selfishly" pulling for him, having a buddy in the hot seat has as many disadvantages as advantages.
Harrison continued:
"I would love for Ben to be the Bachelor. He is one of my very good friends. It makes it a little harder, because it's a little easier when I don't know them as well. I know that sounds weird, but going through it with a very good friend is difficult because I have less of a poker face with my friends."
So Harrison has made his own choice quite clear, but he added that nothing is confirmed yet, and he's still open to other potential picks. Before this current streak of unconventional Bachelors —  Season 22's Arie Luyendyk, Jr., who was pulled from a season five years prior, and Season 21's Nick Viall, who had twice been runner up — the tradition was to pull the next Bachelor from the most recent crop of Bachelorette contestants. And Harrison says that isn't off the table here.
He teased that Jason Tartrick, Colton Underwood, and Blake Horstmann all have strong shots at the coveted role, telling ET: "If you look at the final four, any of them could be [the Bachelor]," before explaining why he's unwilling to get any more specific. "Here's the thing about Bachelor Nation... what was the last flavor they tasted, that's who everyone is going crazy for." Harrison continued:
"When Colton said goodbye, everybody was going nuts for Colton and people were threatening to storm the castle if we didn't choose Colton, now it's Jason and people are, like, adamant it has to be Jason. Next week it might be somebody else... so it's kind of like, who did you last see cry in a limo?"
What Harrison seems to be hinting at is that the choice will likely come down to what happens in Mexico. Depending on what happens with Colton's relationship with Tia Booth on BIP, he could take himself out of the running. Or someone else who hasn't even been discussed could distinguish themselves enough on the summer series to warrant a leading role. With the new Bachelor season not airing until January, it's truly anyone's game.
Anyone, that is, except Peter Kraus, whom Harrison revealed isn't even in the running. "He's not in the mix," the reality host told the ET interviewer, adding, "Of all the people in the debate, his name I have not heard in any of the conversations." Although he did clarify: "Which isn't to say he couldn't pop up."
Basically, every option is still up in the air, including the option of having two Bachelors, but Harrison has come out hard in favor of Ben as a frontrunner. And since the host been with the franchise since the beginning, it will be interesting to see if he gets his pick, or if someone — or someones — on BIP proves too compelling to ignore.