You Need To Hear Issa Rae's Blunt AF Reaction To The 2017 Emmy Nominations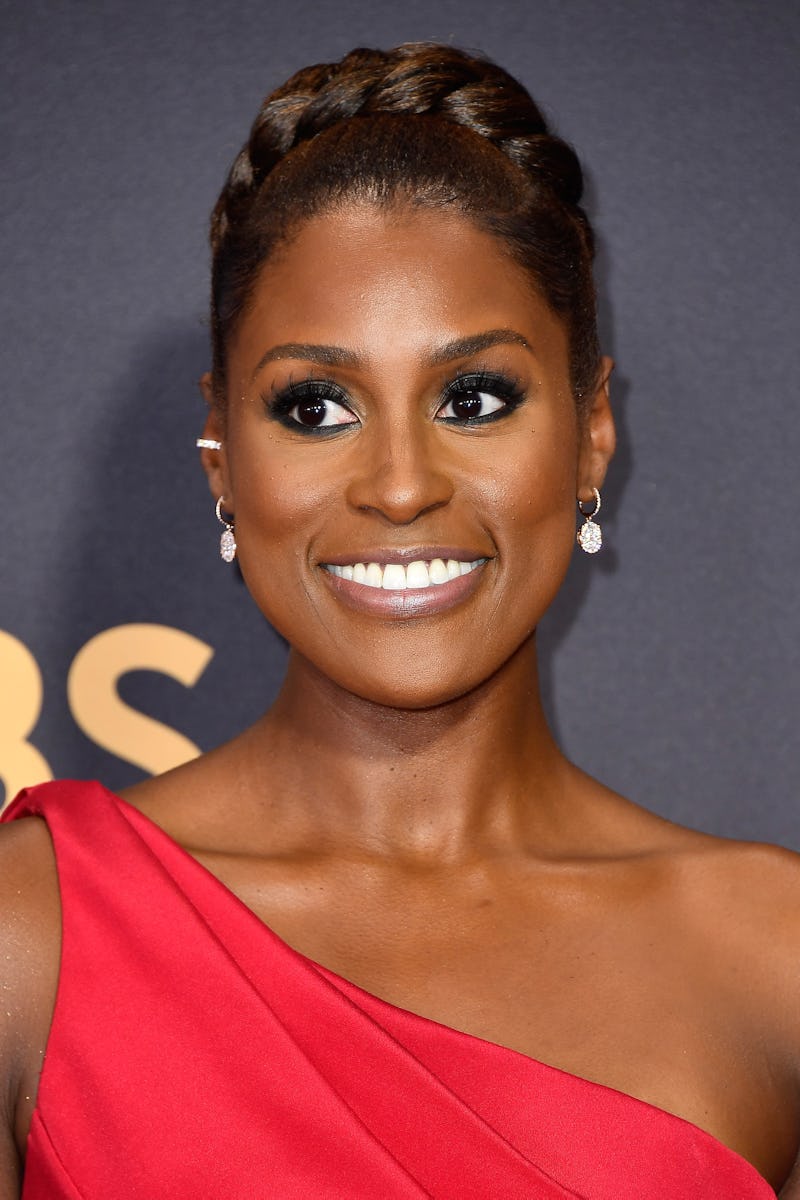 Frazer Harrison/Getty Images Entertainment/Getty Images
The world adores Issa Rae. Not only is the Insecure creator and star an amazing artist, but she's unapologetically herself and so matter-of-fact. On Sunday night at the Emmys red carpet, Issa Rae gave possibly the most honest answer the carpet has ever seen. Rae is rooting for black people at the Emmys, and the blunt way she said that is just too good. While asked about who she's rooting for out of all of the show's nominations, Rae said, "I'm rooting for everybody black." And, seriously, she just proved why everyone loves her so much, and her response was perfect for a couple of reasons.
One, it's impossible to get anymore candid than this, and, two, her answer is a nod to how increasingly diverse the Emmys have become over the years. According to Entertainment Tonight, the 2017 awards show is the most diverse one the Emmys has ever had, with 25 people of color being nominated across 18 onscreen categories — and that's definitely something that should be celebrated.
Rae's honesty may have come off a little crass to some, but seeing as people of color are, more often than not, left out of Hollywood's major award shows, it was definitely warranted. Diversity and inclusion is important, and that can't be stressed enough. Plus, if anything, Rae showed how this kind of forthrightness surrounding these topics in entertainment should totally be a norm.
In case you're unfamiliar, telling diverse stories is what Rae is all about. The writer and actor created her own avenue to success by launching her YouTube series The MisAdventures of Awkward Black Girl in 2011, and, in doing so, filled a void in entertainment that desperately needed to be filled. ABG has since become a cultural phenomenon, and its greatness can be seen in Rae's television production debut, Insecure, on HBO today.
Insecure's relevance to black culture can be compared to that of '80s and '90s classics like The Cosby Show and Martin. It unapologetically tells the very complex stories of black millennial women. And, seeing as it was created, written, directed, and even produced by black women and men, it's a direct reflection of the people it was meant to represent.
Along with Insecure, Aziz Ansari's Master Of None, Ava DuVernay's Queen Sugar, and Donald Glover's Atlanta have all been celebrated for beautifully telling the stories of people of color in America, crafted by those who share the same experiences. It's almost like a resurgence for minorities in the entertainment space, and it's one that was definitely needed.
In 2017, people of color can see pieces of themselves on the small and big screens, without also having to deal with stereotypes or micro-aggressions in those portrayals. And a lot of that can be attributed to having more black and brown people behind the camera to steer these stories in the right directions. To have a great pool of these talented people of color recognized for their great and culturally important work means that Hollywood is finally starting to hop on board with the community.
The joy that Rae feels when people of color are nominated or take home awards is something that should honestly be felt by everyone tuning in. Inclusion of more colorful stories doesn't mean that stories about white people will be excluded. It just means that entertainment will represent more of the world. To know that the entertainment you consume is a direct reflection of the many unique and diverse experiences on earth means that you're living in a country that's appreciative of its citizens. And that's something to be proud of.
Rae is a champion for more inclusion and diversity in Hollywood, and her brutal honesty on the Emmys red carpet is a loud reflection of that.
Editor's Note: On Jan. 13, Ansari was accused of sexual misconduct by a woman who went on a date with him. Ansari has since responded to the claims, saying:
"In September of last year, I met a woman at a party. We exchanged numbers. We texted back and forth and eventually went on a date. We went out to dinner, and afterwards we ended up engaging in sexual activity, which by all indications was completely consensual.
The next day, I got a text from her saying that although 'it may have seemed okay,' upon further reflection, she felt uncomfortable. It was true that everything did seem okay to me, so when I heard that it was not the case for her, I was surprised and concerned. I took her words to heart and responded privately after taking the time to process what she had said.
I continue to support the movement that is happening in our culture. It is necessary and long overdue."