Kesha Just Spoke Openly About Her Friendship With Taylor Swift & It Might Make You Emotional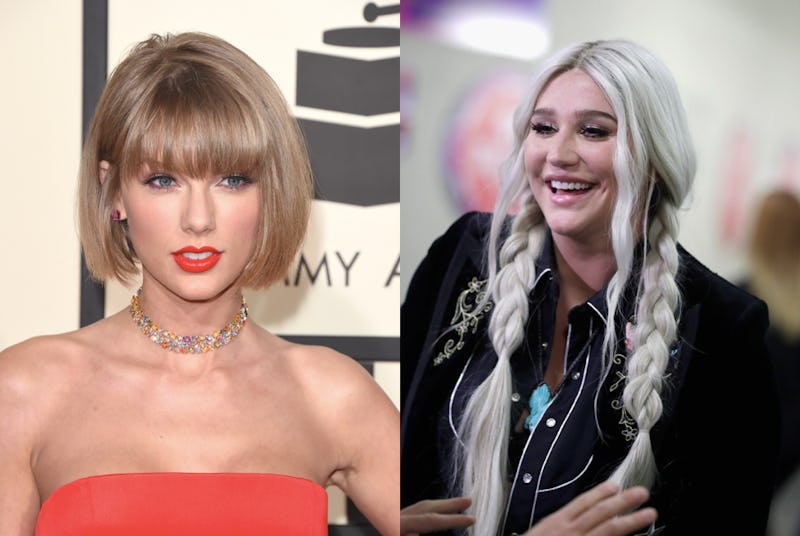 Jason Merritt/Getty Images Entertainment/Getty Images; Isaac Brekken/Getty Images Entertainment/Getty Images
You've seen their tweets and grand gestures for one another, but Kesha and Taylor Swift's friendship is more than meets the eye. In an interview with Rolling Stone that was released Wednesday, Kesha briefly discussed her relationship with T. Swift — and how real it actually is. According to the "Praying" singer, Swift "is a f*cking sweetheart. Very, very sweet, very, very genuine, extremely generous, picks up the phone every time I call her." She then added, "My mom doesn't even always pick up the phone!"
Despite what anyone may think of Swift or the controversies she continues to face, the Rainbow artist doesn't seem to pay attention to any of that. "I'm not really up on my pop culture," Kesha told Rolling Stone. "Should I know something about it? I live in my record player."
Based on her responses, it's clear that Kesha and Swift have a special bond behind closed doors. Though, the public has had a small taste of their friendship. It all started in February 2016 when the Reputation musician donated $250,000 to Kesha after a New York judge denied Kesha a court injunction that would have allowed her to record new music outside of Dr. Luke's Kemosabe Records. A spokesperson for Swift said in a statement (via Rolling Stone), "In a show of support, Taylor Swift has donated $250,000 to Kesha to help with any of her financial needs during this trying time."
The "trying time" Swift was referring to had to deal with the Kesha's ongoing legal battle with music producer Dr. Luke. In October 2014, Kesha sued producer Dr. Luke over sexual assault allegations. Dr. Luke has adamantly denied her claims. The case currently continues in New York, and includes Kesha trying to get out of her recording contract and Dr. Luke claiming Kesha breached her contract and defamed him, according to Rolling Stone. Last August, Kesha dropped a case against Dr. Luke in California.
On the flip side, Kesha supported Swift in August during the "Look What You Made Me Do" singer's trial involving radio host David Mueller, where the singer alleged Mueller groped her during a June 2013 meet-and-greet in Denver, Colorado before her concert. Mueller denied her claims and filed his own lawsuit in September 2015, alleging Swift's accusations were false and led to him getting fired from his job at KYGO. Eventually, a judge dismissed Swift as a defendant in Mueller's lawsuit filed against her, but the trial continued due to Swift's claim of sexual assault against Mueller. On Aug. 14, the jury's trial verdict was reached in favor of Swift, awarding her the $1 she sought from Mueller in damages. The jury unanimously found Mueller guilty of assault and battery.
"I acknowledge the privilege that I benefit from in life, in society and in my ability to shoulder the enormous cost of defending myself in a trial like this," Swift said in a statement from her rep released to Bustle at the time. "My hope is to help those whose voices should also be heard. Therefore, I will be making donations in the near future to multiple organizations that help sexual assault victims defend themselves."
As for Kesha, she tweeted before Swift won her case, ".@taylorswift13 i support you always, and especially right now and admire your strength and fearlessness. truth is always the answer."
Both Kesha and Swift have faced tough times — and publicly. So, their friendship makes sense. They can lean on each other when things get difficult. Even though their situations are different, they probably find common ground in what they've both had to deal with. Sometimes it's easier to work through an ordeal by talking with someone who can at least relate a little bit.
It's nice to hear from Kesha that her friendship with Swift is authentic — and that she has one more person who has her back when she absolutely needs it the most.