Lisa Rinna Live-Tweeted 'RHOBH' Season 1 & It's A Must-Read For Every Bravo Fan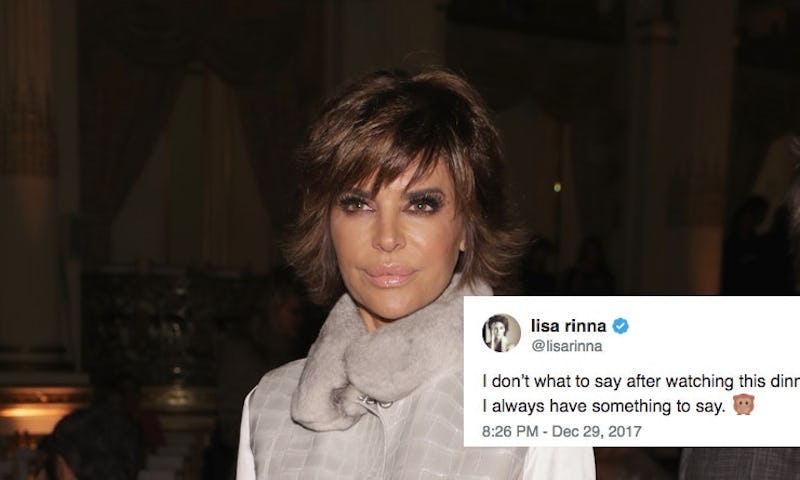 Cindy Ord/Getty Images Entertainment/Getty Images; Lisa Rinna/Twitter
Lisa Rinna ended the year 2017 doing the thing that so many Bravoholics did in the year 2010: She experienced the first season of The Real Housewives of Beverly Hills for the first time. Never one to pass up a chance to entertain the masses, Rinna tweeted her reactions to RHOBH Season 1. And when her feelings went beyond 280 characters? She took to Instagram Stories, of course.
Yes, Rinna somehow managed to go this long without experiencing the pre-Rinna era of RHOBH. Sure, she'd watched snippets here and there, but she never got around to sitting down with all of the episodes that happened before she became a main cast member on Season 5. "I've never watched these seasons I've seen the clips of the major moments but never watched the seasons," she tweeted on Thursday. But last week, she decided it was time to change that.
When she started the marathon on Wednesday, she called Season 1 "GOLD." A day later, however, she said she "had to take a break. It's getting too real and too sad." But just less than an hour later, she started it up again: "I can't stop. I'm back binging. I'm on episode 6 season 1. Can't stop. Won't stop." At some points, she seemed happy to be watching Season 1. Other times, she regretted checking out what happened on the show before she was added to the roster. And every now and again, she wished former Beverly Hills Housewife Camille Grammer would return to the main cast.
Oh, and she also spotted another cellophane-wrapped rabbit. Yes, several years before that stuffed bunny toy was crowned the winner of the Season 7 reunion, another rabbit that'd been swaddled in plastic was on the show. What a stunning motif.
And then, it happened: She got to the Dinner Party From Hell. And yes, the Dinner Party From Hell cut her to her core like only the Dinner Party From Hell can.
But it wasn't all Dinner Parties From Hell and jabs at Lisa Vanderpump; Season 1 had some truly heavy moments, and Rinna seemed to be affected by those scenes. When a fan asked her if she would've acted differently on RHOBH if she had watched the pre-Rinna seasons before joining, Rinna replied, "I don't know.... but I would have had information and history which probably would have colored my decision making process I would imagine." A day later, she said she "learned a great deal just watching season 1 of RHOBH. It's all spelled out in season 1 clear as a bell." Several minutes later, she added, "To tell you the truth I wish I hadn't seen it ... There's a reason why I never watched it."
Rinna doesn't flat-out say what that reason is, but even the most casual of RHOBH viewers probably has a hunch. At the risk of wading too far into the speculation waters, it seems reasonable to suspect Rinna is alluding to her incredibly tumultuous relationship with Kim Richards. Had Rinna watched RHOBH Season 1 before signing on, would she have eased up on Kim? Would she have been inspired to think twice before gossiping about Kim's sobriety? Until a Bravo time machine exists, those questions will remain unanswered.
Again, Rinna's comments may have nothing to do with Kim or the raw and gut-wrenching conclusion to Season 1 that was the Richards sisters' limo fight; for all any of us know, she could just be talking about that bizarre Cedric storyline.
Ugh, Rinna's Real Housewives commentary is something else. Could you imagine her reactions to the Brooks Ayers scandal of Real Housewives of Orange County? The "Who said that?" feud of Real Housewives of Atlanta? Or Aviva Drescher throwing her leg across on the table on Real Housewives of New York City? She'd scream, "Own it, baby," over and over at the screen while she got an IV drip and it would probably be the best TV show ever.