Ariana Grande's "7 Rings" Isn't About Pete Davidson, But He Still Gets A Shout-Out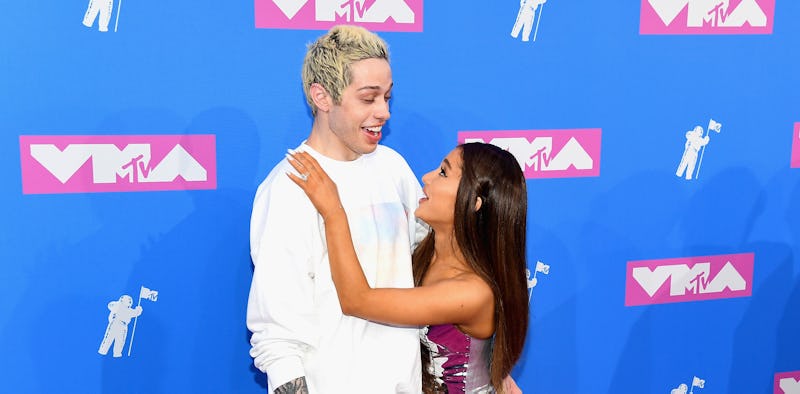 Nicholas Hunt/Getty Images Entertainment/Getty Images
Ariana Grande might not be rocking her engagement ring to Pete Davidson anymore, but her song "7 Rings" makes it crystal clear (or, diamond clear?) that she's more than fine with that. Yet, there are a few references to Pete Davidson in "7 Rings." As Grande explained on Twitter and in her Woman of the Year Billboard interview, the song is about a day in fall 2018 when she went to Tiffany & Co. with her friends and bought each of them a diamond ring. Since reports that Grande and Davidson called off their engagement surfaced on Oct. 14, it's not hard to make the connection to these events. And while the "7 Rings" music video makes it seem that Davidson couldn't be further from her mind, her ex still has a presence in the song.
A song about diamond rings certainly could be all about fiancés and marriage, but "7 Rings" isn't actually about Davidson. Instead, it's an ode to Grande's friends, her independence, and her absurd amount of wealth. But that doesn't mean Davidson isn't referenced at all. After all, their breakup has been the catalyst for her Thank U, Next album. So while Grande reportedly gave her engagement ring back to Davidson in October, "7 Rings" highlights how she doesn't need him to rock a diamond — especially when she has her friends by her side helping her to live a fabulous single life.
As you jam to "7 Rings," you might think about the song and video's extravagance. But you'll also think about Grande and Davidson's whirlwind engagement, thanks to these references.