26 Amber Perfumes For Fall 2023 That Give Cozy Cabincore Vibes
Cooler weather calls for warmer perfumes.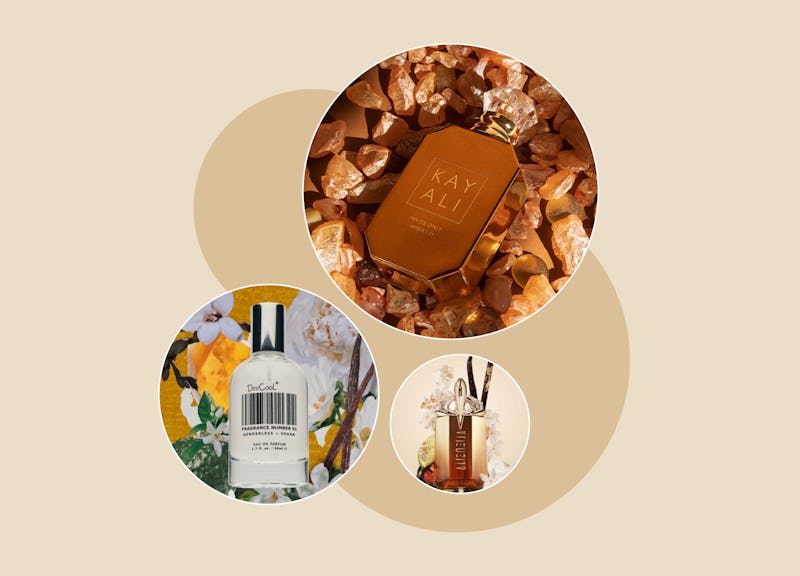 We may receive a portion of sales if you purchase a product through a link in this article.
Alright, alright — summer has seemingly just begun. But in the world of beauty and fashion, mid-July is just around the time when tastemakers tend to look ahead to autumn trends.
With regard to fragrance, sun-filled summertime is undoubtedly defined by juicy fruity aromas (like peaches, for one), along with warm floral notes, like honeysuckle and orange blossom. Fall, on the other hand? Well, perfumes associated with the chillier season are most often a bit heavier and cozier, not dissimilar to throwing on a leather jacket or wrapping yourself in a chunky knit blanket. As for specific notes to watch for: Amber is no doubt leading the pack, alongside other faves like vanilla, or even the rising guaiac wood.
Carina Chaz, the founder and nose behind Dedcool's cult-loved scents, says this of beloved note: "For centuries, the amber scent profile has symbolized beauty and radiance. [It's] dynamic, elevated, and warm, [and] adds a layer of sweetness to any composition." And being that it pairs so beautifully with just about every other note in a perfumer's diverse palette, the aroma is entangled in countless compositions on the market (many of which you may already own).
Craving a bit of coziness by way of eau so cabincore aromas? Here are 26 amber-filled perfumes to get you ready for 2023's upcoming fall SZN.