The 8 Absolute Best Sport Sunscreens To Wear When Working Out
I put them all to the sweat test.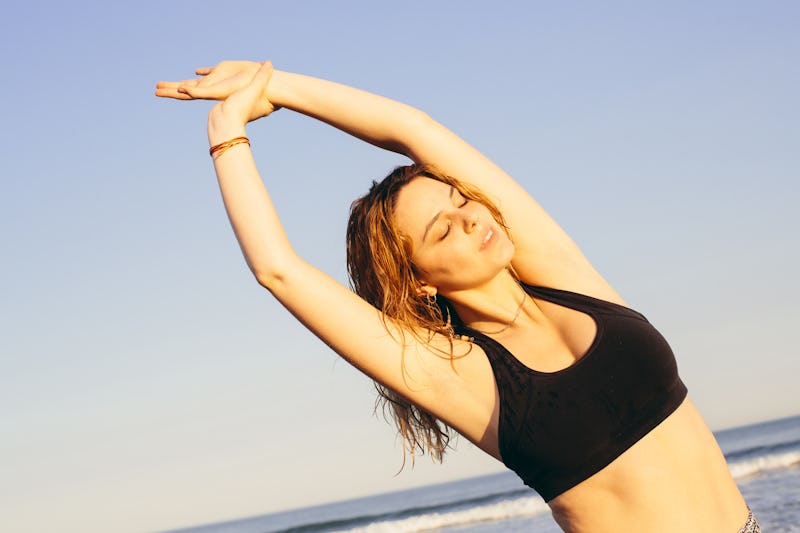 Getty Images/ Brad Gregory
Typically, I'm doing a great job when I apply sunscreen — any sunscreen — to my face in the morning. As long as it's broad-spectrum and sits well under makeup, my skin is covered in the sun protection department. But when I decide to work out outside (or go on a hike or to the beach or merely walk around New York City in the summer heat), another SPF feature becomes of utmost importance: water (and sweat) resistance.
This is something you don't want to learn the hard way. Essentially, your sunscreen will melt off your face (or your body) as you sweat or swim — which means your skin will no longer be protected from the sun. "When swimming or doing activities outdoors where you anticipate sweating, wearing a waterproof sunscreen is important," says Dr. Adarsh Vijay Mudgil, M.D., a board-certified dermatologist based in NYC. That's precisely why sport sunscreens exist, aka SPF formulas that are meant to withstand schvitzing. "These sunscreens are specifically formulated to allow for sustained protection against UV rays, even when one's skin is wet," Mudgil explains.
That said, it's important to remember that sweat-resistant or water-resistant sunscreens aren't completely waterproof. Mudgil notes that they'll still need to be reapplied to maintain their protective effects. "They're generally rated to provide protection for either 40 or 80 minutes when wet," he tells Bustle. The product label will tell you when you should slather on some more.
Since these products are so essential for your skin — especially this time of year — I tested a bunch while working out to see which rank as the best sport sunscreens for all your sweaty activities. Keep scrolling to shop my picks.
We at Bustle only include products that have been independently selected by our editors. We may receive a portion of sales if you purchase a product through a link in this article.