How To Style Your Hair For A Festival, According To Maya Jama's Hairstylist
Claw clips are essential.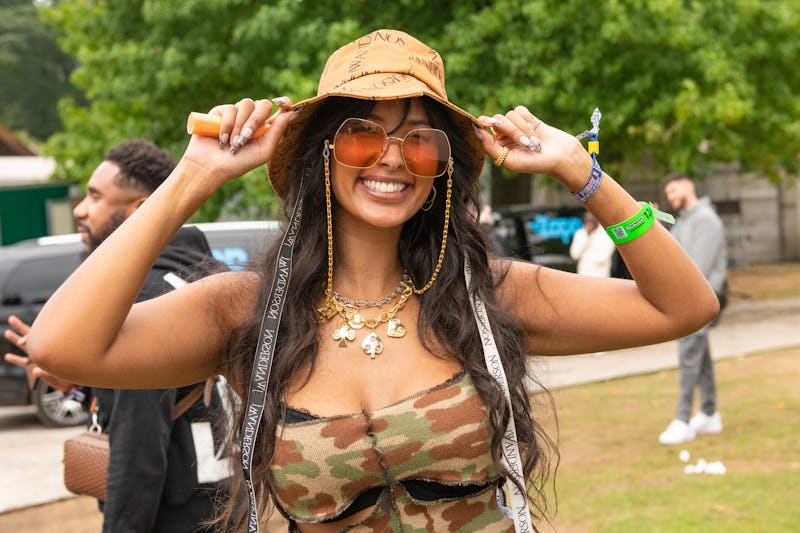 Joseph Okpako/WireImage/Getty Images
With Glastonbury, Wilderness, and Wireless festivals just around the corner, chances are you're already planning what outfits you're going to wear. But festivals aren't just about what you put on your back. If you're a beauty aficionado, you'll be wondering what Euphoria-inspired makeup looks to wear, and most importantly, how to style your hair for partying in a field. That's why we have enlisted celebrity hairstylist and Tangle Teezer ambassador Patrick Wilson to break down all the latest hair trends you'll see everywhere this year.
Usually when you're at a festival, you want to be relaxed when you soak in the atmosphere, and the best way to do this is to wear your hair down. "When it comes to festival hair, you really want something that's adaptable and will provide longevity throughout the festival," Wilson shares. "Most clients I work with always like to start day one with their hair done. Think of that cool girl hair: it's effortless, wearable, and looks even better on day two."
If you're looking to switch it up or keep hair off your neck to cool you down, then you can opt for an easy up-do. "On day two, you might want to add more texture or start to think about opting for some sort of hair-up," Wilson continues. "We have definitely seen the revival of the claw clip, whether you want to go for that Pamela Anderson '90s bombshell look, or keep it sleeker like Bella Hadid with a tighter knot at the back with strands out."
Wilson is known for working with celebrities like Maya Jama and Bridgerton's Simone Ashley. He also coined the "Snatch Patch" ponytail, and recommends the style for when you want your facial features to pop. "It gives the illusion of a lifted silhouette, it awakens the face, and does something to the eyes that makeup can't, similar to the way face tape pulls and creates lift in the eye area."
There are many ways to snatch the hair, but Wilson personally thinks it works best when the base is not too fresh. Day three will be perfect since you can work with the hair's natural oils. Whether you wear it in a pony or in a bun, it needs to be pulled tight. Wilson swears by Tangle Teezer's Ultimate Styler, £15, to achieve a sleek base. Secure the hair by using a hair bungee rather than elastic band.
Also in Wilson's festival kit is Sam McKnight's Lazy Girl Hair Cleanse Cloths, £17, for a quick refresh on the go, GHD's Unplugged Cordless Styler, £239, to create a sleek base or soft waves, and Kératase's Elixir Ultime, £18.81, to nourish your ends and use as a heat protectant.
If you have kinky, coily, or curly hair, Wilson recommends prepping the hair by putting them in braids. "Curls are so versatile and when you have textured hair, you know curls can often have a mind of their own," he adds. "Festival conditions may not allow you to follow your usual hair routine, so I'd recommend opting for a braided look before heading off. This way you'll keep your curls protected and save time in the morning if you're camping."
To add to that festival glamour, we recommend using Easilocks Hair Tinsel Shimmer, £5, or adding hair gems around your baby hairs with this Face Gems Rhinestone Stickers Kit by Outus, £8.99.
For longevity, Wilson recommends starting your prep at home and ensuring you have the perfect base to work with. "Adding a root lifter or a mousse to the roots can really make your blow dry last a lot longer," he says. "Then, once you're at the festival, I would recommend you take a hairspray that is brushable. This is normally where people go wrong. They think by using a strong hold hairspray will make it last longer when actually it will weigh the hair down, giving you product build up and making your hair feel heavy or greasy." The stylist recommends Sam McKnight's Modern Hairspray, £22, a versatile hairspray that keeps your hair in place all-day but also brushes out with ease.
Ready to stand out from the crowd? Check out our recommendations below to get you festival-ready in no time.