How To Perfectly Apply Self-Tanner To Your Face
Get a faux glow without any streaks.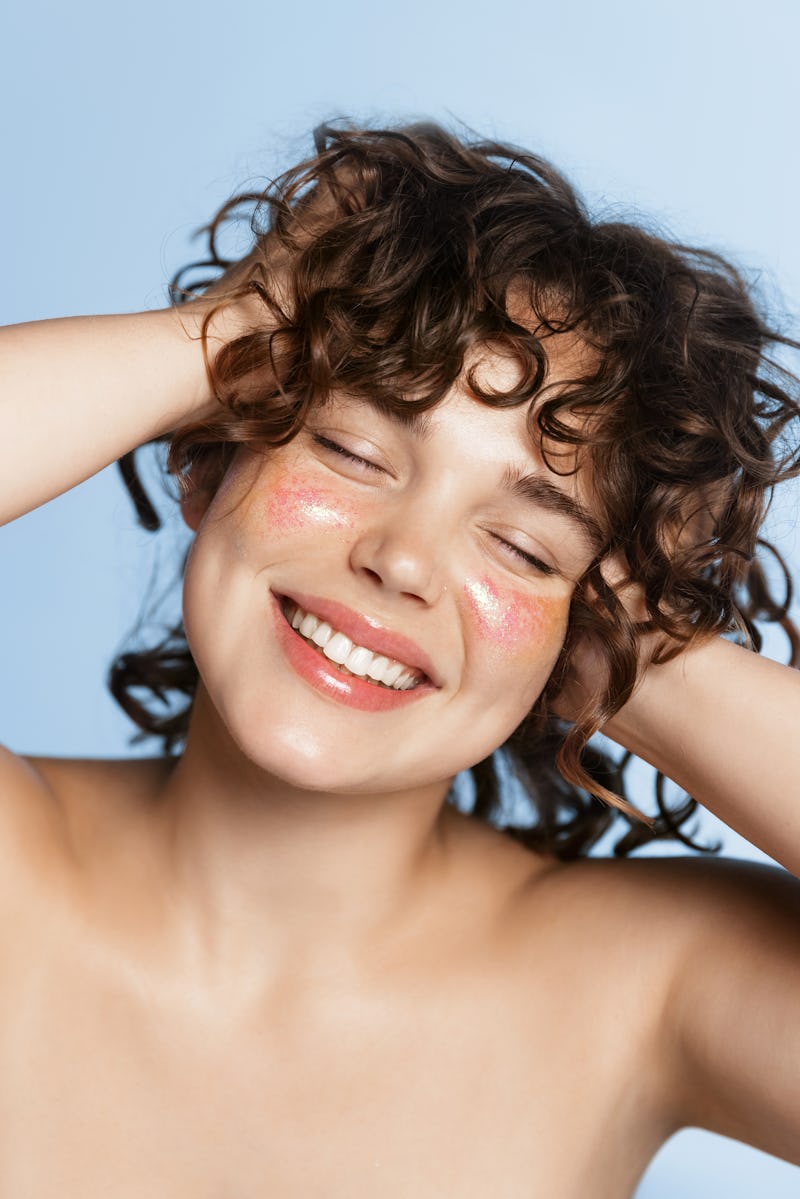 Shutterstock
If you love looking tan but don't like roasting in the sun, self-tanner may be your dream beauty product. When you know how to apply self-tanner to your face properly, the formula provides the best of both worlds: a flawless, sun-kissed glow without any risk of getting sunburnt or damaging your skin with UV rays.
That said, a faux tan could go awry. Put the product on incorrectly and you'll wind up with uneven streaks on your skin or — even worse — your face turning orange. Fortunately, there are several ways to ensure your tan maintains its intended color, as well as a wide array of bronzing products designed to help prevent the dreaded carrot-like result.
Ready to tan like a pro? Read on for more expert advice on how to apply self-tanner to the face without looking like you just made out with an Oompa Loompa.
We at Bustle only include products that have been independently selected by our editors. We may receive a portion of sales if you purchase a product through a link in this article.
How To Prep Your Skin For Self-Tanner
Dermaplane The Day Before
The foundation to achieving the perfect sun-kissed glow is all about your skin prep — and some experts believe that prep should start the day before applying a self-tanner. According to Jules Von Hep, celebrity spray tan expert and founder of Isle of Paradise, you should wax or shave (aka dermaplane) your face at least 24 hours before slathering on your tanning product. Tarryn Feldman, celebrity makeup artist, echoes this: "Shaving removes the hair and dead skin to create a great canvas for your tanning products," she tells Bustle.
Cleanse Your Skin
Right before applying self-tanner, be sure to wash your face and remove all makeup, oils, and other products from the skin, says Natalia Radosz, tanning expert and CEO of Glow 2 Go NYC. "I recommend using [a gentle cleanser] to get rid of any residue and make sure your skin is completely clean," she says. Otherwise, leftover makeup or debris can contribute to uneven patches of tanner on the skin.
For this reason, Von Hep says you should even brush your teeth before applying self-tanner. "Toothpaste can collect at the side of your mouth and remove tan if you do it afterwards," he explains.
Exfoliate & Prime
Once your skin is clean, Von Hep recommends gently exfoliating with a facial polish to help prep the complexion. "This will help deliver a uniform skin tone and ensure your tan fades evenly like a real tan would," he says. Pro tip: After exfoliating, splash your skin with cold water to close your pores.
Next, use a prime on the skin — just as you would do before applyng makeup. "This will help lower your skin's pH and will help the tan penetrate deeper into the skin," adds Von Hep.
How To Apply Self-Tanner To The Face
Use Product Formulated For The Face
Experts assert it's best to use tanning products specifically formulated for the face — especially if your skin is sensitive. "Self-tanners designed for your face will often have key skin care ingredients infused in the formula so that your skin is nourished whilst achieving a gorgeous glow," says Liz Agresta, founder and director of Australian Glow.
Mix Product With Moisturizer Or Serum
Another way to ensure you achieve a prominent yet natural-looking bronze is to mix the self-tanning product with your serum or moisturizer, Agresta tells Bustle. This way, it becomes part of your skin care routine — making it easier to apply (and reapply) — and hits all areas for a more seamless blend.
Another similar technique is to use a self-tanning mist, water, or spray. "Spritz it onto your face as you would any other face mist," says Von Hep.
Apply With A Makeup Brush & Blend
When applying a thicker tanning product to the face, Agresta advises doing so with a makeup brush for all-over coverage. "Once developed and washed off, the color will be much more natural, so it's always nice to do this while at home or before bed," she says.
Once you've finished, Von Hep suggests taking a blending brush, like the Isle of Paradise Blending Brush or a beauty blender, and lightly buffing off excess product from your face. "Sweep around your ears lightly," he says. "This technique can also be used around the hairline and neckline to make sure the tan is blended well and help avoid any streaking." And don't forget to apply product to your ears, he adds. "This is something people always forget — and it is key to making your tan look natural."
How To Maintain Your Tan
Keep Skin Moisturized
Face tans tend to fade quicker than those on the body because of all the active ingredients used in facial skin care routines, Radosz tells Bustle. That said, keeping your skin well-hydrated should help it maintain its shade for longer. Feldman says using a tinted lotion afterwards can also keep you glowing. "This gives a subtle gradual glow and works to extend any tanner you already have on," she tells Bustle.
Avoid Active Ingredients
Experts advise against using harsh or strong active ingredients in you regimen while preserving a fake tan. This includes most anti-aging and acne-fighting products, Radosz explains — think toners with alpha-hydroxy acids (AHAs) or anything with retinol. "If it has acids or oils, avoid it," she says. Stick to gentle and lightweight moisturizers and hydrating serums instead.
Re-Apply Often
Finally, remember that there's not a set time frame that your self-tan will last for. "The longevity of your tan really depends on your skin type and habits," Von Hep explains. Factors like how often you shower, whether you swim in a pool with chlorine, or use chemical exfoliants can affect how long your faux glow stays intact — which is why it helps to reapply often. "I personally tan my face every third day to keep my glow looking its best, but I also cleanse and exfoliate often," says Von Hep. Essentially, your self-tan is in your hands.