Kendall Jenner Is Singlehandedly Bringing Back The Massive Handbag
Your work tote has entered the chat.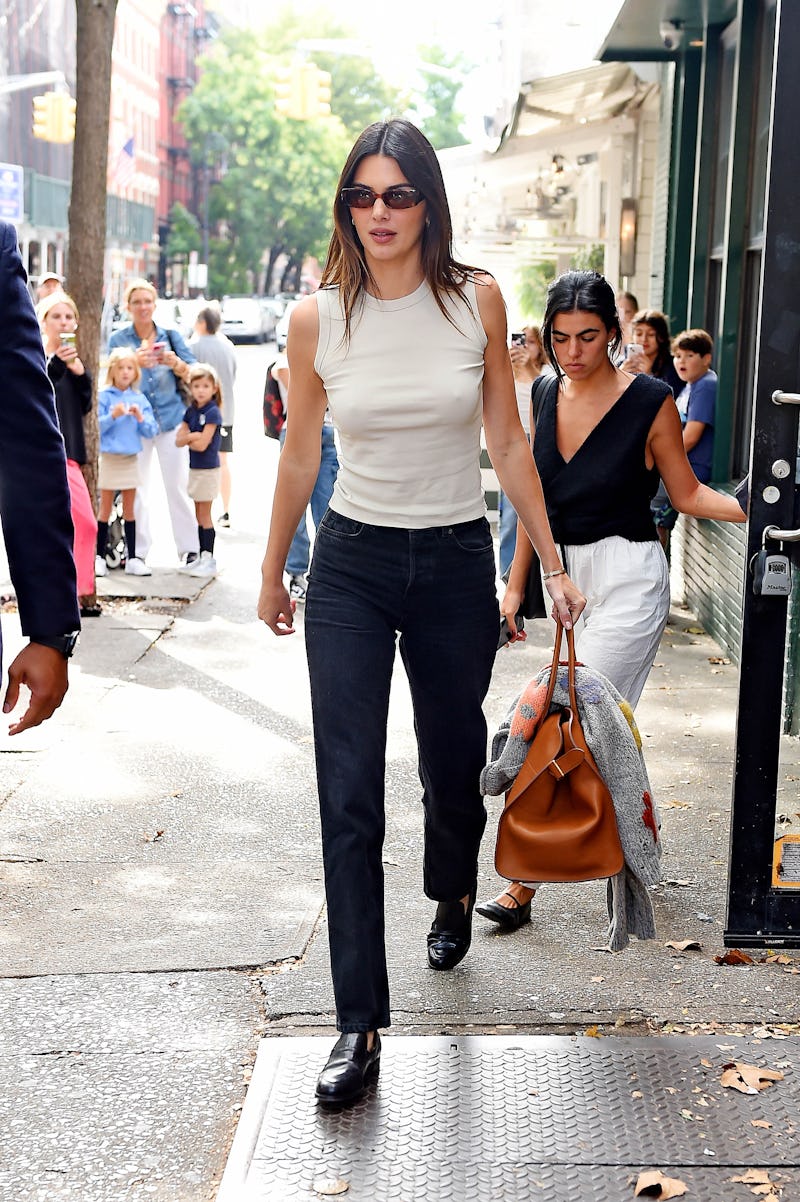 MEGA/GC Images/Getty Images
We may receive a portion of sales if you purchase a product through a link in this article.
Kendall Jenner is a style chameleon — it's part of her job description as supermodel. Depending on what brand, campaign, or runway she's working, Jenner effortlessly transforms into whomever she needs to be stylistically, whether that's a horse whisperer in the buff or channeling Princess Diana.
Her IRL style persona, on the other hand, tends to hit on either end of the sartorial spectrum. Some days she's taking the boldest of fashion risks, typically embracing risqué looks that the majority would shy away from. (For instance, she has been freeing the nipple since 2014.) She even spearheaded the now-ubiquitous no-pants trend.
Some days, however, the Keeping Up With The Kardashians alum comfortably sits on the opposite end of the scale. The normcore aesthetic is one she's equally known for, often rocking minimal, chill-girl 'fits. Lately, she's been leaning into it — while wearing a single, surprising accessory befitting of the low-key look.
Jenner's last four outfits have all included spacious, work-friendly totes — handbags so huge, they're practically duffels. On Monday, she stepped out in a gray tank, black trousers, and pastel yellow coat. Her gargantuan leather accessory, however, was even more attention-grabbing than her blindingly sunny outerwear.
Gotham/GC Images/Getty Images
MEGA/GC Images/Getty Images
In recent days, Jenner has been utterly obsessed with the statement accessory — a far cry from the micro bags that have been trending over the last few years. Just last week, she rocked several 'fits featuring handbags that were so roomy, she could very well have been headed to the airport. (Spoiler alert: she was not.)
Her go-to ensemble DNA seems to be a simple tank, loose-fit jeans, and a massive purse in classic black or cognac. She's even toted a similarly-sized (AKA ginormous) handbag to the beach, albeit in raffia.
Robert Kamau/GC Images/Getty Images
Robert Kamau/GC Images/Getty Images
Gotham/GC Images/Getty Images
The supermodel isn't the lone Jenner to take to spacious leather goods. Her sister Kylie was spotted rocking multiple exaggerated tote bags — all in the same overstated, triangular shape — just this week.
It's no surprise, really: The penchant for oversize accessories runs deep in the KarJenner clan. (See: Kim Kardashian and her massive metallic Louis Vuitton bag, which she matched with Y2K icon Paris Hilton, way back in 2006.)
Dust off your work tote. Big bags are officially back.