The Product That Finally Gave Me The '80s Curls Of My Dreams
They're full and shiny — even in the summer heat.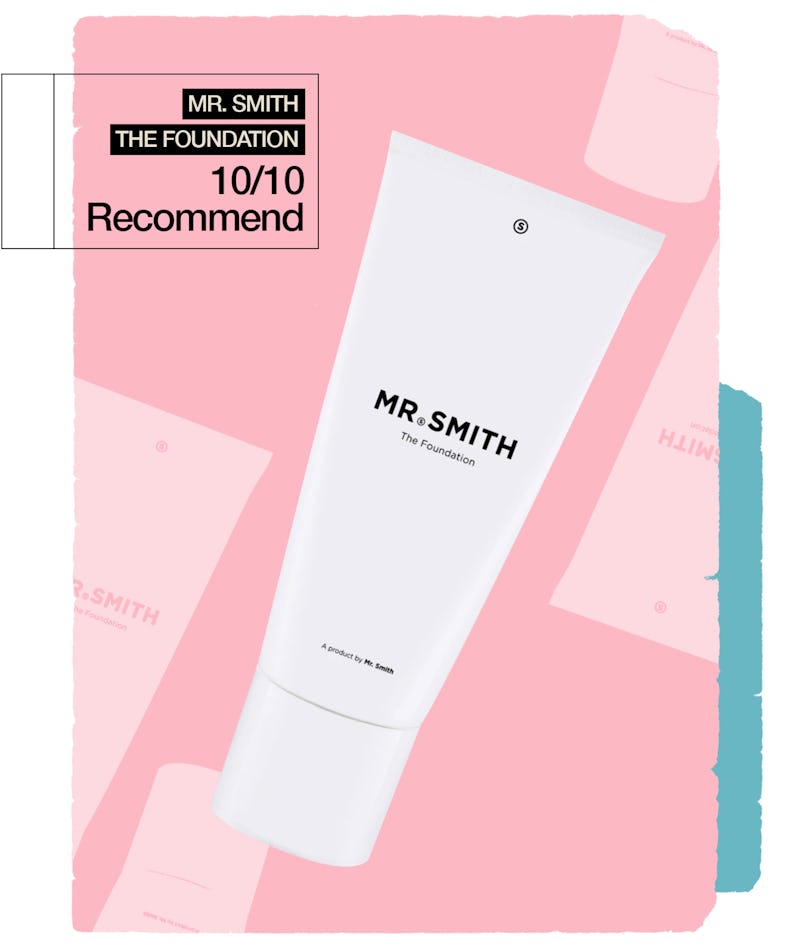 Mr. Smith
My curls are never the same two days in a row, but they become truly chaotic when the dry, cold air of the winter and fall months starts to transition into warmth and humidity. My hair basically loses all grip, texture, and volume. So coming across Mr. Smith's The Foundation has been a sort of miracle.
Even though it happens with each seasonal change, what happens to my curls leaves me dumbfounded every. single. year. My hair becomes so silky, which I understand can be a desirable trait for straighter strands... but isn't when it means looking like a deflated balloon. If I touch my hair too much, it becomes smooth and curl-less. And if I put it up with a scrunchie for just five minutes, it already needs a reset.
While there are plenty of products meant to tame this issue, I have never found The One. I am incredibly wary of products and hair care lines not formulated specifically for curls, which rules out a lot. That said, I will try any beauty product once — and I was intrigued with the concept of hair brand Mr. Smith's coyly named The Foundation as a styler that enhances the body of your strands. Here's why it's become a mainstay in my hair care regimen.
We only include products that have been independently selected by Bustle's editorial team. However, we may receive a portion of sales if you purchase a product through a link in this article.
First Up: The Basics
Think of The Foundation as the primer of your hair care routine: It supports the steps that follow. It's meant to be the first styling product within your regimen — thankfully, it's light in texture so doesn't add weight to your mane. You can easily layer over it or build on top of it with other products, so it's really customizable.
Its formula is packed with nourishing ingredients: quandong and desert lime extract, both of which are potent sources of vitamin C; lemon aspen, a B-vitamin that protects; and ginger root oil to strengthen. An extra perk is that it's UV protective — so your hair and your scalp, areas people tend to forget in their SPF routine, get shielded from sun damage. It's also free of sulfates, so it works to keep moisture in your strands as you're getting the styling benefits.
You can use The Foundation in all sorts of ways because it's virtually imperceptible in the hair. But, however you use it, you'll have added volume, shine, and hold. For the most low-maintenance way to reap its body-boosting perks, simply apply it to your hair after the shower when it's still wet.
Why I'm Obsessed
I have a very specific mood board in mind for my locks: the voluminous, curly-haired vixens of the '80s. I'm thinking Julia Roberts, pre-Sex & The City Sarah Jessica Parker, and Cher. My hair post-using Mr. Smith's Foundation is the closest I've ever gotten to achieving that iconic look.
After combing my hair through in the shower, I wring it out and then squeeze enough of the product to coat both my hands. I'll run my hands over the top of my head and the underside by the nape of my neck, and then tousle it deep between the strands. That's it — I just leave my hair to air dry while occasionally running my fingers through and shaking my curls out.
Once it's settled in, it makes my hair feel so unbelievably light — I don't experience any of the sweaty irritation my curls are typically plagued with during the summer. I'm also blown away by how it doesn't change my curl pattern — it amplifies it. Frequently, I experience a situation in which a curly hair styling product shrinks my hair into tighter coils or pulls them down into looser waves. But my curls were the same with The Foundation, just better: full of grip, volume, and shine while still having all of their natural texture. When I use it, I feel like my hair becomes the lovechild of Farah Fawcett and Cher circa Moonstruck.
Although the product is made with the intention that you can build on it, I don't. My philosophy is to keep my routine as streamlined as possible, and this stuff does the trick.
The TL;DR
I've been using The Foundation for two months and I'm still surprised by the end results every single time. My curls look thick, full, and glossy. Not only has it has minimized my hair routine, but it's also the only non-curl-specific hair care product I've ever fallen in love with. If you're looking for a go-to styler that amps up the volume, add this to cart.