This Sunday Will Be The Biggest Day For Dating Apps This Year
Experts reveal their top tips for the swipe-a-thon.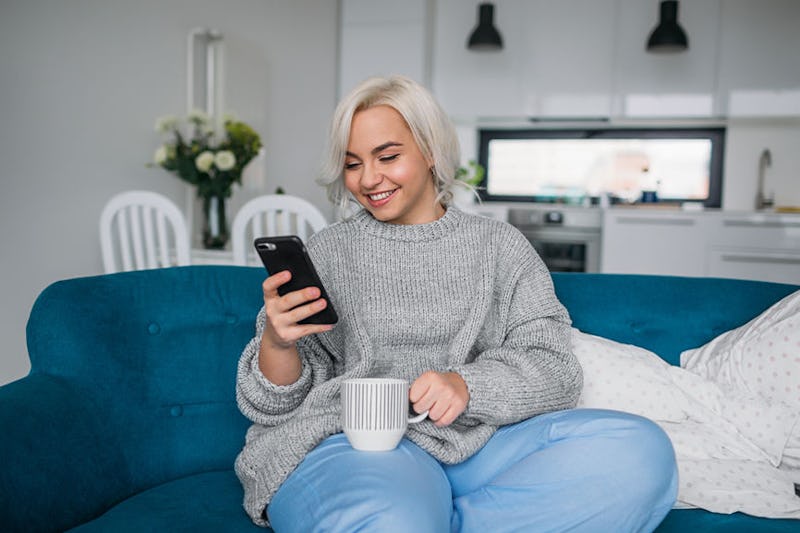 Studio Firma/Stocksy
It's time for the biggest holiday of the year — not Christmas, not New Year's, not even Arbor Day, but Dating Sunday. The day to find your true love and connect on a soul level. Or, at the very least, to find someone to FaceTime with. So, what is Dating Sunday? The first Sunday in January typically marks the busiest online dating day of the year. People spend it swiping, and chatting, and super liking — and it's been going on for quite a while now. Way back in 2017, for instance, Dating Sunday led to 44 million Tinder matches being made in a single day. And in 2018, Hinge reported that usage shot up by 22.5% on Dating Sunday.
Tinder told Bustle in 2018 the spike likely stems from the tradition of setting goals for the new year, as well as people being open to trying something new — like signing up for a dating app for the very first time. But these aren't the sites that experiences a huge surge in matches.
In 2021, OkCupid expects to see over 25 million new matches made in January alone, Melissa Hobley, the app's global chief marketing officer, tells Bustle, which is why you'll want to amp up your profile in preparation. Ready to get more matches on Jan. 3? Then read on below for some tips from the experts.
Sources:
Saskia Nelson, professional photographer
Melissa Hobley, OkCupid's global chief marketing officer
Aimee Hartstein, LCSW, relationship therapist
This article was originally published on