The Difference Between Loving Your Partner & Being "In Love" With Them
The relationship experts weigh in.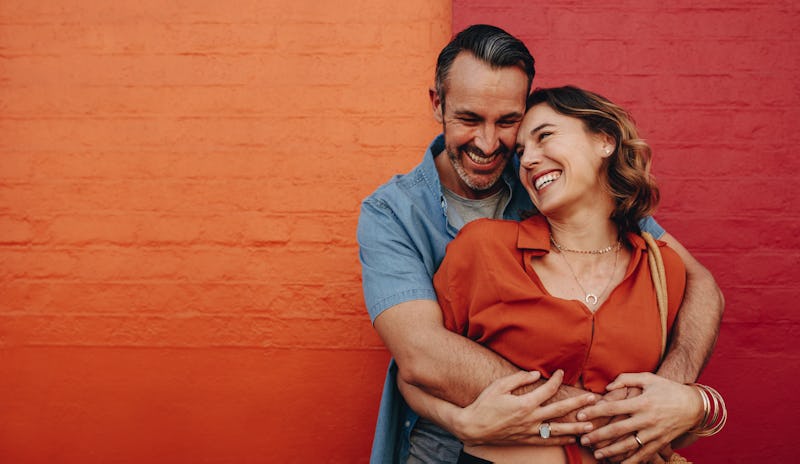 Shutterstock
While they may seem identical, loving a partner and being in love with a partner are two totally different things. They often share a lot of the same qualities, like butterflies, excitement, and a desire to spend every waking moment together. But the latter often runs a bit deeper than the former — in subtle but important ways.
"Being truly in love with someone often feels like having a genuine friendship with the added bonus of ongoing attraction and sexual intimacy," Dr. Carla Marie Manly, a clinical psychologist and author of the upcoming book Date Smart, tells Bustle. When they're "in love," you often hear people say they've found "their person" — someone they click with in every way and want to be with long-term. And that's a really great way of to describe it.
So what should you do if it seems like you have the other kind of love? "We all deserve to get what we want and need out of a relationship and no one should sell themselves short," therapist Erica Cramer, LCSW tells Bustle. "Defining your feelings helps to define your relationships and you can be realistic about whether you're fulfilled or fulfilling someone else and when it may be time to close that chapter and end things when someone isn't your match — even when you really want them to be."
It can be a tough realization, but one that will open doors to finding someone who truly ticks all the right boxes. Here, 15 more ways to tell the difference between love and being in love, so you can make the best choice for you.
Sources:
Dr. Carla Marie Manly, clinical psychologist
Dr. Josh Klapow, clinical psychologist
Dr. Julie Gurner, psychologist
Erica Cramer, LCSW, therapist
Laurel House, relationship expert
Dr. Carolina Castaños, relationship expert
Jonathan Bennett, certified counselor
This article was originally published on