Lana Condor On The "Weird" Wellness Ritual She Swears By
The actor shares her very chill self-care routine.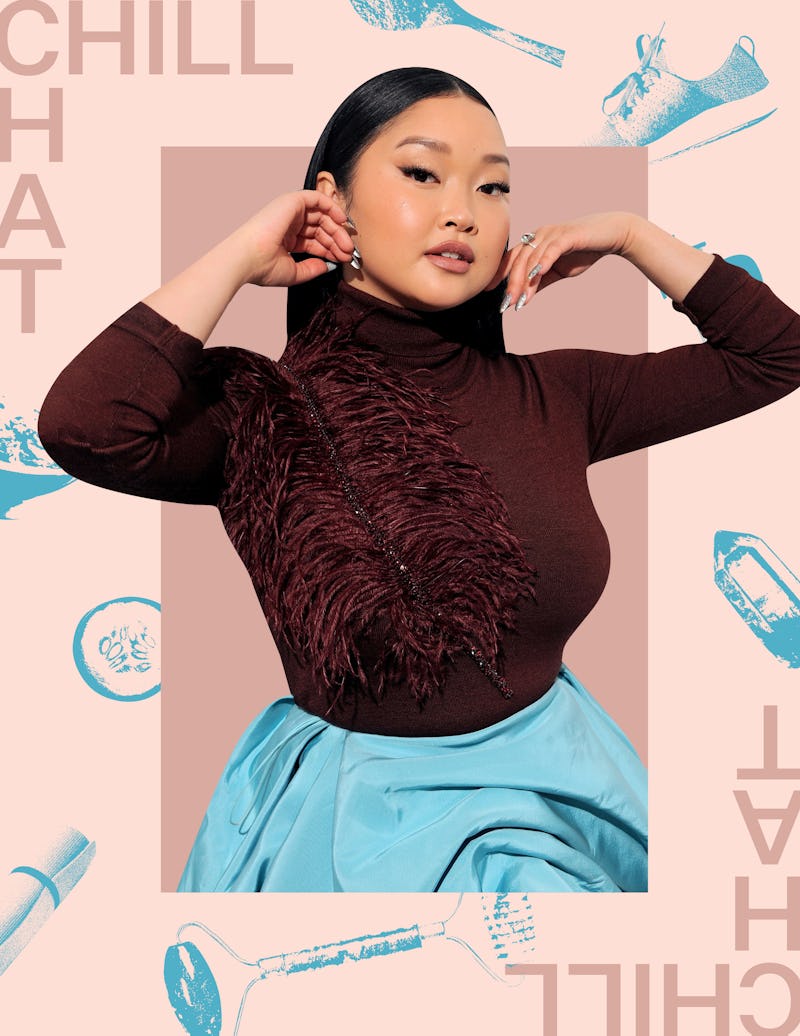 Stefanie Keenan/Getty Images
In Chill Chat, Bustle sits down with stars to chat about all things wellness, from their favorite workout to their hacks for getting a good night's sleep. Here, actor Lana Condor reveals her typical morning routine, her post-sweat sesh "celebration" habit, and her idea of a perfect bath setup.
Lana Condor logs onto Zoom approximately .25 seconds after finishing a breakfast sandwich. "I wish it was a McMuffin," the notorious foodie jokes of her egg-and-spinach combo, "but I'm trying to be healthier."
Health is top of mind for Condor, who's been turning to Zumba workouts during the pandemic — she even co-hosted the dance-based fitness brand's virtual 20th birthday celebration back in April. The star, who tells me she's been a dancer since she was 13, attended conservatory-style camps most summers growing up, where instructors would have her take Zumba to loosen up. "Ballet is very structured and very, very precise. The instructors would always want us to incorporate more of a truly fun, loose, and energetic way of dancing," she recalls, noting that it helped her with ballet, but also with her mind and spirit. "Zumba is meant for you to have a good time, to enjoy moving your body, and [to] be thankful that you can."
Though Condor hung up her pointe shoes a while back, she loves making dance a part of her regular workouts (as well as what she considers her post-workout "celebrations"). But her wellness routine goes much further than getting her heart rate up. Here, the To All The Boys I've Loved Before actor walks Bustle through her perfect workout playlist, her wind-down rituals, and the wellness advice she aims to live by.
What's on your workout playlist?
I really enjoy working out to Ariana Grande or Shawn Mendes. Hear me out about Shawn Mendes: You probably didn't think he's a workout vibe, but his music is very inspiring. You know the song "Wonder"? I'm so moved when I hear that when I'm working out. I'm like, "You're right Shawn! I wonder what it's like!" Weirdly, sometimes when I'm riding my bike I'll listen to country music — I don't know if this is true, but I heard that country music has the same rhythm as your resting heart rate, so it's good for you. [Editor's note: Kind of!]
You've had a really busy past couple of years filming the To All The Boys I've Loved Before series. How do you wind down after a hectic day?
I'm the type of person who works out in the morning to get it over with, because I know that when I get home, I just want to take a bath and eat some pasta and watch a show. So that's what I do. Anthony [de la Torre], my boyfriend, and I have been doing these incredible magnesium CBD baths every night. That's been really amazing for my muscles because I've been working out more to get ready for my next movie. With everything our bodies have gone through in the past year, it really is so important to tell your muscles that it's OK to relax and to let your body heal. So I highly recommend tub time.
Is there a wellness routine that people would be surprised to learn that you do?
I recently got into saging. There was some weird energy at work one day, and someone I work with lit her sage. I felt so much better. It's part of my nightly routine now where I'll sit up on my roof — I'll fully sage myself. It says it's to cleanse negativity and anxieties out of your life, or any darkness, and I'm all about that.
"Hear me out about Shawn Mendes: You probably didn't think he's a workout vibe, but his music is very inspiring."
What about a piece of wellness advice you love?
Whenever Anthony and I finish a workout or finish doing something that will better our physical bodies or our mind, he makes us clap and validate ourselves. We put on... I think it's called "Celebration."
Like, "celebrate good times, come on"?
Yes! He puts on "Celebration" on speakers around the house. We're supposed to celebrate ourselves for 30 seconds or a minute because, he says, you have to tell yourself to celebrate these small steps that you've taken to take care of yourself. So when I finish working out, we clap and dance. It's awesome.
This interview has been edited and condensed for clarity.