15 Ways To Tell Someone Was Just Talking Behind Your Back
If you sense tension, it might help to talk to them about it.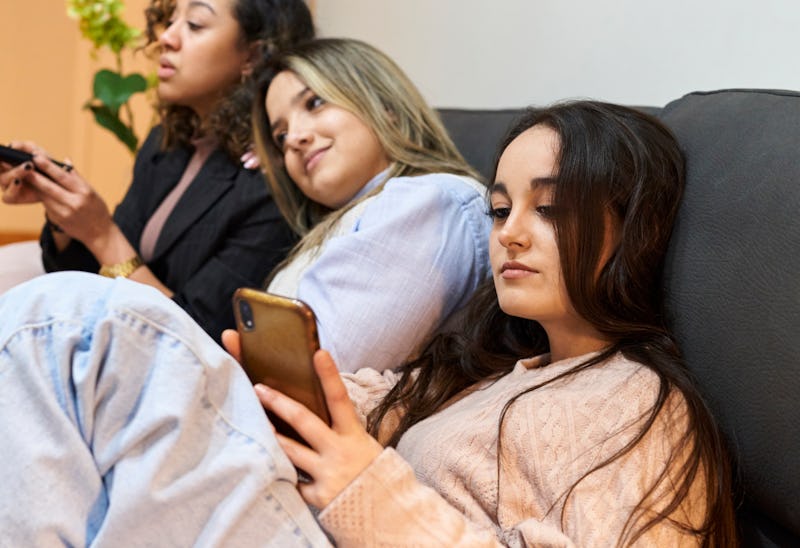 aire images/Moment/Getty Images
You've probably experienced that awkward moment when you walk into a room and feel like someone was just talking behind your back. Maybe they were saying something great. Maybe they were gossiping and being mean. But either way, they probably tried to cover it up and act like it didn't happen — and that's what tipped you off. As it turns out, there are some common behaviors you can use as hints that someone was just talking about you.
While it's important not to jump to conclusions or assume the worst about a person, their reaction and behavior can tell you a lot about the situation. Awkward body language, a strange silence in the room, and even just that gut feeling that something's off can all add up to confirm your suspicions.
If you do sense tension or think there's conflict, talk to them about it! If things like this keep happening and you'd like to know what's up, don't be afraid to clear the air. "Confrontation may be uncomfortable, but it doesn't have to be aggressive," Eliza G. Boquin, MA, LMFT, a licensed psychotherapist and relationship expert, tells Bustle. "Start by giving them the benefit of the doubt and take the stance of curiosity."
Ask them about it, point to specific evidence, and ask for their side of the story, and then "pay attention to how they respond," Boquin says. "If they admit it, tell them how hurt you are," and how this will now impact your ability to trust them. "Maybe their intentions weren't malicious, but don't be afraid to set stricter boundaries with them moving forward," Boquin says.
Read on for a few body language cues that may be signs someone is talking about you behind your back.
Whether it's a friend, coworker, or family member, don't be afraid to ask them about it in a kind and understanding way. By talking about how they made you feel, you can help clear the air and hopefully salvage the relationship.
Experts:
Eliza G. Boquin, MA, LMFT, licensed psychotherapist and relationship expert
Patti Wood, MA, body language expert
Toni Coleman, LCSW, CMC, psychotherapist
Traci Brown, body language expert and author of Persuasion Point
Adina Mahalli, MSW, certified mental health and relationship expert
This article was originally published on