15 Signs You Are Experiencing Trauma After A Toxic Relationship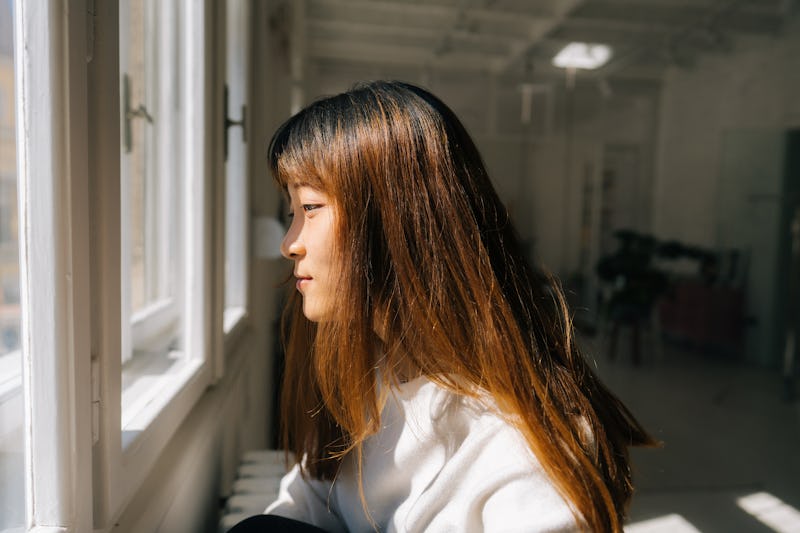 AleksandarNakic/E+/Getty Images
While many people feel down or upset when a relationship comes to an end, there's a big difference between taking a moment to pause and reflect — or even spending a few days crying — and experiencing post-traumatic relationship syndrome (PTRS). If you're coming out of the relationship with intense baggage, hangups, or symptoms that seem similar to post-traumatic stress disorder (PTSD), there's a good chance you were in a toxic relationship, or had an emotionally or physically abusive partner, and are suffering as a result.
Trauma symptoms might stem from mistreatment from an abusive partner, unhealthy dynamics, or even confusion resulting from being strung along by someone who was emotionally unavailable. It could be mild. It could be intense. But recognizing the signs is a key aspect of moving on.
"Most people who leave toxic relationships report post-traumatic stress disorder (PTSD) symptoms," Shari Botwin, LCSW, a licensed clinical social worker and trauma specialist, tells Bustle, pointing to the way they were treated by their ex. Gaslighting, manipulation, lying — it can all result in nervousness, trust issues, or the desire to isolate. The list goes on and on. Essentially, PTRS has become a "newly proposed mental health syndrome that occurs subsequent to the experience of trauma in an intimate relationship," relationship expert Dr. Tarra Bates-Duford, PhD, MFT, CRS, CMFSW, tells Bustle. "It includes the intrusive and arousal symptoms of [PTSD] but lacks the avoidance symptoms required for a diagnosis of PTSD due to a very different mode of coping with the traumatized state from that which is characteristic of individuals with PTSD."
It takes work to move out of the trauma response, says Botwin, who notes you'll need to re-evaluate messages you have internalized in order to access your anger. "You need a therapist, friends, or support group members to help you understand these behaviors or statements told to you are about the person who is demonstrating toxic behaviors." (Hint: You shouldn't blame yourself for being mistreated.)
Whether you qualify for PTRS or are simply having a difficult time moving on, these feelings can be very real, and they can prevent you from finding a healthier relationship in the future. So the sooner you can seek treatment, the better. "The treatment approach should emphasize that traumatic relationships can not only be survived, but [that] post-traumatic growth can often occur," says Bates-Duford.
If you were in a toxic relationship, went through a breakup, and are experiencing any of the signs listed below, reach out for support ASAP so you can begin moving on.
Warning: This article contains information about abusive relationships, which some may find triggering.
This article was originally published on