8 Surprising Signs Your Partner May Be Cheating
A psychotherapist breaks down the tells.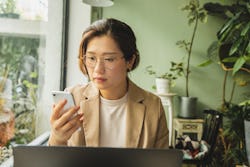 Kilito Chan/Moment/Getty Images
If they're acting fishy, it'll only be a matter of time before you take a deeper look at the signs your partner is cheating. Because even if you trust them, something small but strange — like the fact they're always hiding their phone, or don't talk about you on social media — can make you feel uneasy.
And rightfully so. While there are plenty of reasonable explanations for these odd habits — maybe they're planning a surprise party, or have decided they don't like Instagram — it's important to trust your intuition, and not ignore the signs of a cheater.
If something feels off, the best thing to do, according to Dr. Fran Walfish, a relationship psychotherapist, is to chat with your partner. "Talking is the glue that holds people together," she tells Bustle. Not only will it spare you needless worry, if nothing's going on, it'll also begin a potentially relationship-saving conversation about boundaries, trust, etc.
While you don't need to have your eyes peeled 24/7 for signs of trouble, knowing what's worth worrying about can come in handy. Below, experts explain what to look for, and others share stories about changes they picked up on, right before they found out their partner was cheating.
There is no one-size-fits-all way to tell if a partner is cheating, but weird changes likely feel weird for a reason. If you can't shake your concerns, find time to talk ASAP, so that you can both sort it all out.
* Names have been changed.
Experts:
Dr. Fran Walfish, relationship psychotherapist
Dr. Caroline Madden, LMFT, licensed marriage and family therapist
Dr. Catherine Jackson, licensed psychologist
Adele Alligood, couples therapist
Dr. Ellen Kenner, PhD, licensed clinical psychologist
This article was originally published on