11 Yoga With Adriene Classes That'll Stretch Your Entire Body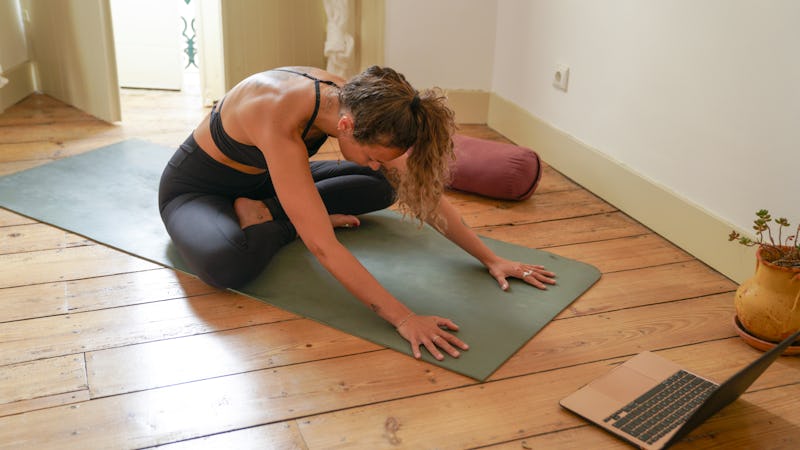 AscentXmedia/E+/Getty Images
If your body is officially as tight and stiff as the Tin Man from The Wizard of Oz, one of the best things you can do is pull out a yoga mat. When you're flowing through multiple bendy poses (or asanas, in yoga speak) your entire practice ends up feeling like a revitalizing stretch session — aka WD-40 for your body, basically. And you know where you can find a ton of videos on the matter? Yoga With Adriene.
The ever-so-popular YouTube channel, run by certified yoga instructor Adriene Mishler, has entire workout playlists dedicated to stretch flows, as well as videos that zero in on the parts of the body that tend to get the achiest. Whether you have tight hamstrings, stiff shoulders, or a sore neck or back, Mishler's got a feel-so-good stretch class for you. (Because, besides being an awesome mind-body workout, yoga doubles as an effective way to wring out your body.)
In her videos, Mishler recommends stretching on a regular basis, both to shake out the tension that accumulates from sitting for too long as well as to relieve stiffness that can occur after an intense workout sesh. So moving through these yoga videos can do the trick post-gym class, after a jog, or whenever you just need to unwind tightness.
Whether you want a quick 10-minute flow that targets your shoulders or a 30-minute session designed to stretch your entire body, just remember to take Mishler's advice and have fun as you give your muscles some TLC. Here, 11 Yoga With Adriene stretch classes to try the next time you're feelin' stiff.