25 Game-Changing Golden Globes Nominees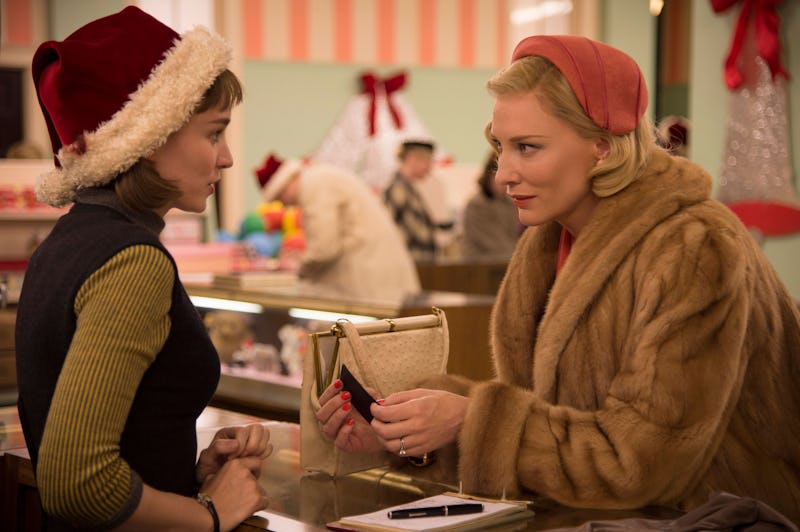 With every new year, the entertainment industry should be aiming to become more progressive and on the cutting edge of social issues, so it's amazing that film and television can still seem stunted in 2015. But I have faith that some influential Golden Globes nominations will help change that. The nominees for the Hollywood Foreign Press Association's (HFPA) Jan. 10 ceremony were announced on Thursday morning and caused much buzz about snubs for some of the best TV and movies of 2015. But, let's look on the bright side! Some of the Golden Globe nominations are groundbreaking — or at the very least, just making fans pretty happy.
When a lesbian love story gets the most nominations of any film, you know that's a good sign for representation. And the Globes have recently had more racially diverse nominees than the Oscars due to their inclusion of television categories. The Golden Globes also often provide a clue to who will be nominated or win at the big dog award ceremony, the Academy Awards. So while the boozy awards show is easy to write off as just a lavish party for celebs, the HFPA's awards show has significance.
The Globes had 20.9 million viewers in 2015, so when the ceremony is watched by millions of people come January, I expect these 25 influential nominees to be in the spotlight.
1. Carol for Best Motion Picture - Drama, because it puts a lesbian love story front and center.
2. Mad Max: Fury Road for Best Motion Picture - Drama, because you've got Charlize Theron's Imperator Furiosa to thank for that nomination.
3. Leonardo DiCaprio For Best Actor — Motion Picture Drama, because DiCaprio will win an Oscar one day, dammit!
4. Eddie Redmayne for Best Actor — Motion Picture Drama, because The Danish Girl tells the story of one of the first-known transgender people to undergo gender confirmation surgery. Plus, it would make Redmayne a back-to-back winner if he takes home the award in 2016.
5. Mark Ruffalo for Best Actor — Motion Picture Musical Or Comedy, because Infinitely Polar Bear depicts the true story of a dad with bipolar disorder.
6. Cate Blanchett for Best Actress — Motion Picture Drama, because this is Blanchett's fifth Globe nomination in this category and the award-winning actress portrays an "older" woman who has a sexual awakening in Carol.
7. Rooney Mara for Best Actress — Motion Picture Drama, because both of the women in Carol are considered leads after the Globes rejected Mara being "supporting."
8. Alicia Vikander for Best Actress & Best Supporting, because the Swedish newcomer is nominated in two acting categories and is a rising star.
9. Lily Tomlin for Best Actress in a Motion Picture & Television Series, because the openly gay, feminist actress proved in 2015 that her talent has only increased over the span of her career.
10. Maggie Smith for Best Actress, because if she wins, she'll be the oldest person to ever win a Golden Globe. (The British actress will be 81 by the time of the Jan. 10 ceremony.)
11. Sylvester Stallone for Best Supporting Actor, because Creed shows that Rocky Balboa is still inspirational almost 40 years after he first hit movie screens.
12. Mark Rylance for Best Supporting Actor & Best Actor In A Limited Series, because he proves that you don't need a big name to earn a Globe nom.
13. Jane Fonda for Best Supporting Actress, because if she wins for Youth, she'll be two years older than her father was when he won back in 1982 for On Golden Pond .
14. Amy Schumer for Best Actress, because Trainwreck may finally make her an award-winning actress!
15. Jennifer Lawrence for Best Actress, because the already award-winning actress is nominated in the same category as her BFF Schumer.
16. Emma Donoghue, for Best Screenplay, because she's the only female nominee in the male-dominated category for writing the female-starring film, Room.
17. Mr. Robot for Best Drama Series, because this first-year fan-favorite is getting the awards recognition it deserves.
18. Outlander for Best Drama Series, because the Starz show depicts sexual situations better than fellow nominee Game of Thrones ever has.
19. Transparent for Best Comedy Series, because it marks the second time the series about a transgender woman and her family snagged a Globe nomination, after winning last year.
20. Jon Hamm for Best Actor In A Television Drama Series, because it's one of the last times that he can be recognized for playing Don Draper.
21. Aziz Ansari for Best Actor In A Television Comedy Series, because Ansari has been addressing racism towards Indian actors head-on in Master Of None. (And because he is the best.)
22. David Oyelowo for Best Actor In A Motion Picture Made For Television, because his turn in Nightingale may make up for last year's awards snubbing.
23. Lady Gaga for Best Actress In A Limited Series, because Mother Monster proved that she can live up to her nickname in American Horror Story: Hotel.
24. Tobias Menzies for Best Supporting Actor In A Series, because his character's actions in Outlander may be horrific, but that doesn't mean he shouldn't be recognized for the challenging and disturbing role.
25. Uzo Aduba for Best Supporting Actress In A Series, because seeing Crazy Eyes get nominated back-to-back years just brings me immeasurable joy.
Images: The Weinstein Company; Giphy (7)