She Didn't Really Need a Makeover 30 Years Ago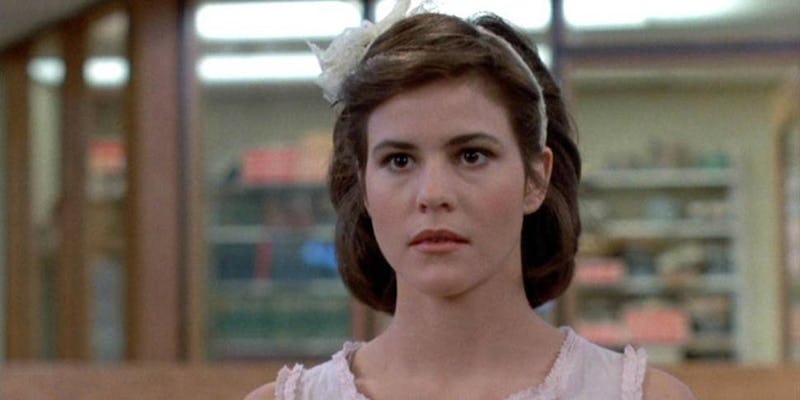 February 15, 2015 marks the 30th anniversary of the release of the classic John Hughes teen comedy The Breakfast Club. Thirty years later, and the movie about a group of high schoolers from different social cliques serving a Saturday in detention is just as iconic as it was in1985. It features some of the most memorable one-liners ("Don't mess with the bull, young man, you'll get the horns") and random dancing outbursts ever captured on film. One of the film's undeniably unforgettable moments comes when the "basket case" of the gang, Allison Reynolds (played by Ally Sheedy) gets a makeover from her goth look into a pink-clad mall-hopping lookalike.
In that one defining moment, Allison all but loses her signature style and her personality as a wonderful weirdo, and then gets the attention of the cute jock Andrew (played by Emilio Estevez). Sigh. Next to the inexplicable glass-shattering moment, it's the one thing about the otherwise-perfect movie that doesn't quite work.
Of course, Allison's unnecessary makeover is hardly the first time an already-beautiful woman undergoes a transformation that she doesn't even need in the first place, and then is seen in a whole new light. As we look back on The Breakfast Club, here's nine more absurd makeovers in movie history.
Rachael Leigh Cook in She's All That
Rachael Leigh Cook's transformation from high school art geek to full-fledged babe by simply taking off her glasses and trading her smock for a dress is as silly as these things get. In fact, it was a punchline in the raunchy parody Not Another Teen Movie.
Sandra Bullock in Miss Congeniality
No matter how ratty her hair was or how terrible her table manners were at the beginning of that movie, Sandra Bullock was still a beauty queen-caliber knockout, clumsy or not. (Same goes for when she had to look "hotter" in the club in The Heat.)
Anne Hathaway in The Devil Wears Prada
Sure, Anne Hathaway's character wasn't exactly dressing for the job she had, but the jabs at her gorgeous figure were baffling. If she hadn't been in her "frumpy" clothes she'd have been considered beautiful enough to appear on the cover of Runway. (Anne Hathway also underwent a makeover in The Princess Diaries.)
Julia Roberts in Pretty Woman
Again, a clothing/styling issue, because the only reason that anyone would be taken back by Julia Roberts was because she was such, well, a pretty woman.
Olivia Newton-John in Grease
Just so you're caught up: "good girl" Olivia Newton-John is not hot, but leather-clad "bad girl" Olivia Newton-John totally is.
Drew Barrymore in Never Been Kissed
Sorry, but in no world is Drew Barrymore gross-y or un-kissable, braces or not.
Audrey Hepburn in My Fair Lady
The word "fair" hardly does Audrey Hepburn justice, before or after her iconic on-screen transformation.
Jennifer Lopez in Maid in Manhattan
J.Lo in a maid uniform? Average everywoman. J.Lo in a ball gown? J.Lo. Magic!
Brittany Murphy in Clueless
Brittany Murphy always looked adorable, even with her grunge/skater/slacker look in the teen comedy classic.
The Breakfast Club is being remastered and rereleased on Blu-Ray March 10, and will also be shown in select theatres.
Images: Universal Pictures; tumblr.com; wifflegif.com; giphy.com; rebloggy.com; stayclassy.com; madelist.blogspot.com; fanpop.com; giphy.com; teen.com