When Does 'Jurassic World 3' Come Out?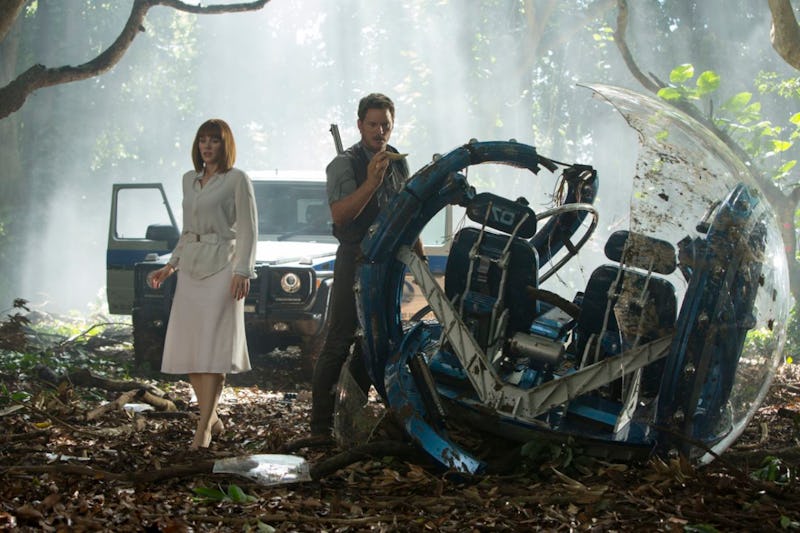 So you've seen Jurassic World. You've gone to the theater, you've seen those Chris Pratt memes, and you've thought long and hard about how you'd manage to survive a dino-pocalypse if there ever was a need. You've probably even begun thinking about the possibility of a sequel, and were elated to find out that Jurassic World 2 is likely in the works, and that it'll reportedly be the second of at least three movies. For some fans, though, knowing that the sequel is on its way just isn't enough — they need more, and fast. So when is Jurassic World 3 coming out? There's only so much waiting a dino-fan can handle.
Unfortunately, there's no set release date for Jurassic Park 3, or even an official confirmation that the movie is definitely happening, besides quotes from Pratt and co-star Ty Simpkins saying that they've signed on for a few more films. Yet I've done the math, and I think I have a pretty good guess for when we can expect the franchise's third movie to be in theaters. Considering that the first one came out in June 2015, and the next will likely come out in June 2017, I predict that the third will be released in... wait for it... June 2019. Crazy stuff, right?
I could be totally wrong, of course — maybe the second movie will take longer than expected to make, and it won't be out for another three years, throwing my entire calculation off. Yet if things go as planned, I would expect dinos to be taking over the country four summers down the line. Even the potential second movie is still a long ways away, though, and fans might be in need of more Jurassic-like entertainment in their lives long before 2017 rolls around. There may not be another dino movie coming soon, but here are eight other films you can watch until it arrives featuring the Jurassic World cast and crew:
1. Passengers, Starring Chris Pratt
The long-planned space romance (yes, seriously) is finally on the way, starring Pratt and Jennifer Lawrence in the lead roles. Filming is set to begin in September, so you can expect Passengers to be released sometime in late 2016, right in time for Oscar season.
2. Book of Henry, Directed By Colin Trevorrow
Few details have been released about this upcoming film, except that it's an "original" story that the director has described as coming from "a remarkable piece of screenwriting." Production starts this fall, so prepare for a 2016 release.
3. Pete's Dragon, Starring Bryce Dallas Howard
Howard's next big project is a remake of the 1977 musical, about an orphan and his pet dragon. Set for an August 2016 release, it also stars Robert Redford, Wes Bentley, and Broadway star Oona Lawrence.
4. The Magnificent Seven, Starring Chris Pratt
Another remake, this one set for January 2017, The Magnificent Seven is a crime thriller with an A-list cast: Pratt, Denzel Washington, Ethan Hawke, and even Pratt's Jurassic co-star, Vincent D'Onofrio. Speaking of...
5. In Dubious Battle, Starring Vincent D'Onofrio
James Franco is both directing and starring in this upcoming drama, based on John Steinbeck's 1936 novel. D'Onofrio plays strike leader London, and co-stars alongside Josh Hutcherson, Bryan Cranston, Selena Gomez and more. No release date is set yet, but filming took place this spring, so the movie could premiere as soon as the end of the year.
6. Bridge of Spies, Directed By Steven Spielberg
Spielberg, who produced Jurassic World, will direct this Cold War drama, starring Tom Hanks as a lawyer assigned to negotiate the release of a captured U.S. pilot. It'll be released on October 16.
7. Meadowland, Starring Ty Simpkins
The talented teen already has an incredible resume, with movies like Iron Man 3, Little Children, and Revolutionary Road on the list. Next up is Meadowland , a drama also starring Olivia Wilde and Luke Wilson. It'll be released in October.
8. Intelligent Life, Directed By Colin Trevorrow
In addition to Book of Henry, Trevorrow will direct and co-write a sci-fi thriller called Intelligent Life . Little is known about the film except that aliens may be involved, and that Spielberg is producing. No release date has been set.
It might still be a long time before Jurassic World 2, 3, and so on come to theaters, but in the meantime, these eight projects should more than do the trick.
Images: Universal Studios; Giphy (5); parksandrecgifs/Tumblr (3)